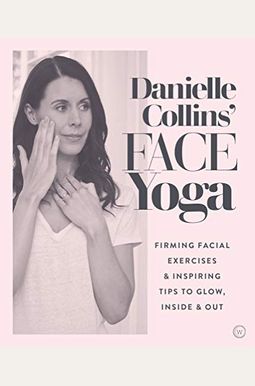  
Danielle Collins' Face Yoga: Firming Facial Exercises & Inspiring Tips To Glow, Inside And Out
Book Overview
Have you ever thought why every workout you have ever done stopped at the neck? Or wondered why traditional yoga calms the mind, tones the body but forgets the face? Are you looking for a natural way to look and feel younger and healthier?
Danielle Collins, TV's Face Yoga Expert, believes we should all have the opportunity to look and feel the very best we can for our age and to care for our face, body and mind using natural and holistic techniques. Her method requires just 5 minutes a day and could not be easier to get started. Integrating practical facial exercises with inspirational lifestyle tips, including diet and skincare, Danielle Collins' Face Yoga is a revolutionary new programme to help you achieve healthier, firmer, glowing skin.
Frequently Asked Questions About Danielle Collins' Face Yoga: Firming Facial Exercises & Inspiring Tips To Glow, Inside And Out
Books like Danielle Collins' Face Yoga: Firming Facial Exercises & Inspiring Tips To Glow, Inside And Out
Book Reviews
(10)
Did you read Danielle Collins' Face Yoga: Firming Facial Exercises & Inspiring Tips To Glow, Inside And Out? Please provide your feedback and rating to help other readers.
clear + concise

Derived From Web

, Nov 8, 2021

Find the Book '' meets my need for clear and concise information, and is a great addition to her app videos. I am just figuring out how I want to incorporate these exercises into my life. Typically, I do the facial exercise I typically incorporate as I go about my day. I have tried different facial exercise programs over the past few years and while I've found exercises to use from all of them, I had to stop the complete programs because I started to have jaw pain that I didn 't have before trying the programs. However, with the face yoga program by Danielle Collins, I am able to complete the exercises in full without any jaw pain at all. It is too early to tell if I notice any changes in the facial muscles, but I really like this program of facial exercises. I feel confident that based on the changes I have seen over the years, they will be helpful in performing specific lip exercises.
Excellent exercises for face and neck muscle and skin rejuvenation!

Derived From Web

, May 19, 2021

I highly recommend '' this book! Danielle Collins techniques are very effective and the book is easy to follow. You can choose and work on areas you can choose and all the exercises are truly effective, especially when used in combination!
Not worth the money, IMHO

Derived From Web

, Apr 5, 2021

Instead of pictures, there should be diagrams. I have had better instructions for putting together a product from Ikea that was made in the Far East. Each exercise has a picture of her starting position. But then put a pinkgray background behind each for some reason. Then for a number of the exercises, what she wants to do lacks clarity.
It's ok

Derived From Web

, Dec 30, 2019

The book does great in telling you great ways to have healthy skin. The face - Yoga - Part was hard to move, but most of it was tapping and not really moving the muscles. I have seen her videos and think, I would prefer to do that then follow this book.
Are you going to do this every day?

Derived From Web

, Dec 30, 2019

I want to say I thought I used it, but I just don 't think that I will use it as much as I originally thought. If you're dead set on practicing it several times a day, every day, then this will be a good purchase. If it is not a good purchase for a person like me, who thought this would be a several times a week exercise, it's not a simple purchase.
It's a must have book

Derived From Web

, Nov 15, 2019

I love this book ''. The instructions are detailed, yet very simple, so that you avoid doing the exercises in the wrong way. There is a sufficient amount of explanation at the beginning of the book that makes you familiar with the ways to practice and to ease in. This book is the must for anyone who wants to look natural and beautiful and prevent wrinkles and skin damage in the radiant way.
If you want to look good on the outside as well as feel wonderful on the inside:)

Derived From Web

, Nov 8, 2019

I love this book, its well written with illustrated pictures of the facial yoga exercises as well as a description of what it does for you. I might be a little biased because I have been following Danielle for quite some time now and find her incredibly inspiring as well as I can see a huge difference in my face and my skin just feels stronger. It is also a very handy book and in a cute pocket sized book, which makes it easy to carry in handbag or such. Iia thanks Danielle for sharing your secrets x.
It works!

Derived From Web

, Jul 21, 2019

This is a simple yet comprehensive guide to yoga. The book explains how to achieve a more youthful face. I have taught and practiced these techniques and we all love the results! Book is great!
Absolutely lovely!

Derived From Web

, Jul 19, 2019

I did Danielle's class on the Daily Om and loved it! I was very happy when she came with a book. I find the exercises effective, but also very relaxing. I love self-care emphasis.
Even better than expected!

Derived From Web

, Jul 10, 2019

I have been a fan of Danielle Collins face yoga for many years and have all her dvds and follow her on Facebook and Instagram so that I have been so looking forward to her book and arrived yesterday! Have already looked through it and it will be so easy to use every day and can take it with me when I travel. I love the way it is divided by parts of the face, making it easy to target concern areas. Danielle is so positive and inspirational and I will gift this book to friends!!!