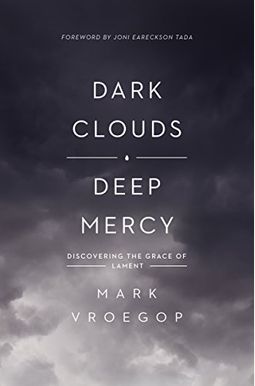 
 
Dark Clouds, Deep Mercy: Discovering The Grace Of Lament
Book Overview
Named the ECPA 2020 Christian Book of the Year
Lament is how you live between the poles of a hard life and trusting God's goodness. Lament is how we bring our sorrow to God--but it is a neglected dimension of the Christian life for many Christians today. We need to recover the practice of honest spiritual struggle that gives us permission to vocalize our pain and wrestle with our sorrow. Lament avoids trite answers and quick solutions, progressively moving us toward deeper worship and trust.
Exploring how the Bible--through the psalms of lament and the book of Lamentations--gives voice to our pain, this book invites us to grieve, struggle, and tap into the rich reservoir of grace and mercy God offers in the darkest moments of our lives.
Frequently bought together
Frequently Asked Questions About Dark Clouds, Deep Mercy: Discovering The Grace Of Lament
Books like Dark Clouds, Deep Mercy: Discovering The Grace Of Lament
Book Reviews
(10)
Did you read Dark Clouds, Deep Mercy: Discovering The Grace Of Lament? Please provide your feedback and rating to help other readers.
Ehh

Derived From Web

, Nov 9, 2020

Lots of repetitious talk which seems to be a page filler _ doesn't quite hit home, especially as expected and billed as such, Morgenthau said. If I can't find it, I'd keep searching. It arrived on time, as described by the seller and manufacturer, the packaging was undamaged and the product itself was made with quality materials.
Timely Book for the Church Today

Derived From Web

, Oct 14, 2020

The book is a how-to manual for the times we live in. We don't have the answers to all that troubles us in these uncertain times, but we know the One who does. In The Power of Grace, Raymond Floyd shows how to get from what troubles us to a place of trusting in God. In this deeply personal and introspective book, Raymond laments the loss of his soul and the need for lament. What God showed him is a new language in which to approach God, a minor-key prayer where we are honest with God in our struggle, he said. The book is highly recommended for all who want to draw near to God in their affliction, pain and tension. He uses examples of death, sickness and racial injustice. 0 3171 3171 He writes about death, sickness and racial injustice.
A Timely and Desperately Needed Book

Derived From Web

, Apr 15, 2020

As he laments, the church needs to discover, or shall I say rediscover the grace of lament. Mark is an excellent resource for us to use. However, there are few pages in the book that provide powerful truths and extremely helpful application. This is a book that I found very helpful when I first read it a year ago, and it's truths are needed desperately during the chaos of Covid-19, he said. I've returned to these books repeatedly over the past year and I recommend or even gift them to those who are struggling with tragedies -- big and small.
Would recommend to anyone, struggling or not

Derived From Web

, Dec 3, 2019

I was looking for a book to use for a women's book discussion and wanted something that would be theologically rich but also allow people to be engaged in discussion without feeling overwhelmed by heady knowledge. This book is theologically rich but also easy to read, easy to engage with, and intimately provoking. After reading about a dozen books, I settled on this one. The author is personally engaged but puts Scripture at the center and makes the conversation about the depth of God's love and mercy and being drawn in to trusting God as we come to him with our hurt and suffering. The church has lost the art and purpose of lament and the author does a great job helping people to understand what it means to lament and what the end of lament should be, seeing God's character and love for us and so trusting in Him through our pain.
A Needed Call to Biblical Lamentation

Derived From Web

, Sep 28, 2019

In the psalms, laments are common, but not all. Though we don't know all the reasons why, the mere weight of that percentage suggests to us that lamenting in prayer is normal and expected. The Episcopal Church, for example, has no such record. This book will rock your world about lament and the rightful and holy place of sharing your grief to God, Raymond said. I don't think I will approach the psalms the same way again. He says lamenting is the path we go from our pain to trusting God. It's a great book to prepare Christian readers for suffering and walking through grief with others.
Amazing resource for biblical counseling

Derived From Web

, Sep 10, 2019

This book is by far the most helpful I've ever read. The book laments the often neglected teaching of the Bible. Lament rises from a firm belief in the character of God, and understanding of the brokenness of sin, and a heartfelt longing for the completion of God's redemptive plan. I plan to use this book in biblical counseling with counselees experiencing deep sorrow, as a means to point them to God and give them really practical steps to walk the path of sorrow.
Excellent book on the topic of grief

Derived From Web

, Aug 13, 2019

As a spiritual director, I am always looking for useful books on the topic of grief, and this is by far, the best that I have read. He provides a biblical method for journeying through grief and other trials, both large and small. He demonstrates the value of articulating our pain, complaints, and confusion directly to the Lord, asking for what we need and then verbalizing that trust in His mercy even when that trust feels shaky. This book will surely turn to time and time again in my ministry.
Incredibly helpful, biblical, and needed in the church today.

Derived From Web

, May 5, 2019

Wow! That was pretty impressive, right? In my 28 years in the Episcopal church, I have never heard anyone lament and grieving this way. He moves us toward lament, complaining to God, and healing our hurting souls in such a way that is gentle and biblical, he says. An amazing book to help center your hurting heart on God's goodness and faithfulness no matter what grief and hurt you are feeling.
Four fatalities, Mark Vroegop's book provides healing!

Derived From Web

, Mar 23, 2019

5 years ago, my twin sister was one of four people killed in a church bus crash. I have purchased 25 copies of Mark Vroegop's book, "The Healing That Biblical lament can provide." It is now one of my top favorite books on working thru grief.
Dark Clouds Deep Mercy

Derived From Web

, Feb 23, 2019

Good book, combines the spiritual and the practical. The book includes the author's own experiences with lamenting and examples of how people also mourned over loss in the Bible. Good, read and sobering encouragement to approach God in mourning instead of acting like everything is okay when in reality everything is not okay. Thanks for the book, and for a future reference.