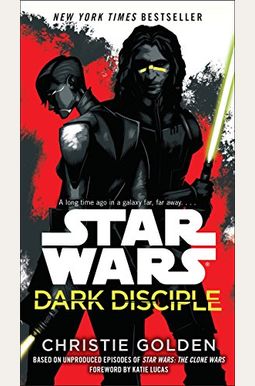  
Frequently bought together
Frequently Asked Questions About Star Wars: Dark Disciple
Book Reviews
(10)
Did you read Star Wars: Dark Disciple? Please provide your feedback and rating to help other readers.
Asajj falls in luuurve...

Derived From Web

, May 25, 2022

There are plenty of action, some romance, but not enough to detract from the main story. I found myself '' rooting for Asajj through much of it. She is in some ways similar to the character Jaime Lannister in the Star Wars novels, but is actually very complex with experiences that make some of her actions less snobbly than they seem in terms of their intent.
Great story and character development!

Derived From Web

, May 25, 2022

Christie Golden is an excellent writer and does justice to the Star Wars universe. Without giving away any spoilers, I think this novel is a great story for the main characters. It was a great novel, full of everything that makes Star Wars one of the greatest stories told.
An Eloquent Addition to the Clone Wars!

Derived From Web

, May 25, 2022

This book is a must have for any fan of the animated series Star Wars the Clone Wars. Whether you have seen the series or not, this book will be an exhilarating experience. In the novel, the reader discovers the morally grey assassination plot of the Jedi Council for Count Dooku. This book also reveals the fate of Ventress and explains Count Dooku's weaknesses. My reason is that the main character in the book, Quinlan Vos, has a unique personality. He isn 't what the reader would expect when imagining a Jedi Knight. Fortunately, his clone demeanor is illustrated in this odd wars episode visually. In addition, the book makes several references to this episode when describing Vos'character. However, even without watching the episode, the novel is a gripping story worthy of any reader's collection.
The book was a quick and easy read. The chapters were on average 15-20 pages

Derived From Web

, May 25, 2022

The chapters were on average 15-20 pages long, but it seemed like they were half that long. I also liked this book because it mentioned certain incidents such as incidents on Vanqor as well as the incidents with Dooku's betrayal of Ventress, both of Ventress's attempted murders, one involving Savage Oppress and the slaughter of the night sisters. One more thing I enjoyed was the Clone Wars, which brought back Quinlan Vos. I wish I could have seen more from him on the show before it ended. Overall, this was a great book and I would recommend to other Star Wars fans, especially those who enjoyed the show. I wish that this book was intended as much for the show The Clone Wars as it was made.
Unexpectedly Good

Derived From Web

, May 25, 2022

At first, I was a bit skeptical about romance and I thought this might read like a well-written fanfiction. But as the book progressed, things started to come together. The plot was good and thought out. Probably a challenge with the subject matter in this novel, which was probably a challenge. I really enjoyed it and hope that more novels come out of lost clone wars arcs.
A deeply complex character made even better in this medium.

Derived From Web

, May 25, 2022

I was not sure what I was doing when I started this book. I was interested in what became Asajj Ventress with the cancellation of the TV series, but I was not sure that she would translate well into the print medium. I was wrong, of course. The complexity of her character was added by the author and additional levels were nailed. While writing Asajj's story comes to a satisfying end, here's a hope that she'll make appearances in future novels.
If you like Ventress, you'll love

I always liked Ventress's character though the Clone Wars series and this book sealed the deal for her being my favorite character in the Star Wars universe! It almost disappoints me that they didn't make this book an arc in the Clone Wars series. The foreward by Gearge Lucas's daughter Katie is also fun to read! Would definitely recommend this book.
YES!

Derived From Web

, Feb 28, 2020

"I could be bounded in a nutshell and count myself a king of infinite space, were it not that I have bad dreams.
Amazing book

Derived From Web

, Jun 26, 2018

This is one of the better books I have read in awhile, and I recommend it to anyone who wants to read more about Star Wars. In the new Cannon, most of the focus is on Luka, Han and Leia. This focus is on Obi wan and other Jedi. It deals with the good and the clone Wars and is associated with redemption and love.
Asajj Ventress is the best character ever written into a Star Wars story!!

Derived From Web

, Apr 10, 2017

Asajj Ventress was revealed as not quite Jedi, but certainly not Sith. Well, I can be as a rattan as well. I admit that I fell in love with her strength, charisma, her weakness and vunerability, in short her humanity. I love the stories of the Jedi, but I think they have missed something very significant. Love is the most powerful force for good in the universe, and should be embraced, not rejected. Perhaps it is their flaws that draw us to them, much as Ventress drew me in this story as a character to her. Asajj rest well and know that you will be missed and remembered.