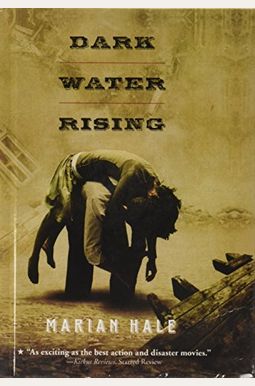 
 
Product is currently Out of Stock.
You can add it to your wishlist and you will be notified once we receive a copy.
Book Overview
This Description may be from another edition of this product.
I looked and saw water rushing in from Galveston Bay on one side and from the gulf on the other. The two seas met in the middle of Broadway, swirling over the wooden paving blocks, and I couldn't help but shudder at the sight. All of Galveston appeared to be under water.
Galveston, Texas, may be the booming city of the brand-new twentieth century, but to Seth, it is the end of a dream. He longs to be a carpenter like his father, but his family has moved to Galveston so he can go to a good school. Still, the last few weeks of summer might not be so bad. Seth has a real job as a builder and the beach is within walking distance. Things seem to be looking up, until a storm warning is raised one sweltering afternoon. No one could have imagined anything like this. Giant walls of water crash in from the sea. Shingles and bricks are deadly missiles flying through the air. People not hit by flying debris are swept away by rushing water. Forget the future, Seth and his family will be lucky to survive the next twenty-four hours.
Dark Water Rising is a 2007 Bank Street - Best Children's Book of the Year.
Frequently Asked Questions About Dark Water Rising
Book Reviews
(9)
Did you read Dark Water Rising? Please provide your feedback and rating to help other readers.
I love this book for what it could be

Derived From Web

, Apr 20, 2022

I love this book for what it could be, not for what it was. The whole thing is a travesty, and I have read it with kid gloves. She does wonderful research, said Barbara Comstock, director of the federal Centers for Disease Control and Prevention. A great deal of the show was written by Brian Stokes Mitchell, who also wrote "The Wire''s" story. The book goes on and on and on. At first, I thought it would have been possible for me to sell it to my students a little bit cheaper. When my daughter had it assigned as summer reading, we both decided the issue would be written in first person. He just got to slow feeling, drawling, and whiny, he said. It's just that I hate to say it. But my daughter has been hoping that his four year old sister will die soon. It was a bit of a foreshadowing of her death when she was playing with the Vedders funeral stuff, I kept thinking. He also claimed that no one of his siblings died. What a waste of time, Mr. Rule told the judge. It's great to see Kristen Stewart get three stars, said Blair. My 13 year old would give it one. Mr. Rule told the inquiry that if it had been in third person, it would have won a lot of NUMEROUS awards.
Good, quick read

Derived From Web

, Apr 20, 2022

I downloaded this book to read on the Kindle Fire and on my computer for a college class. It was easy to read and I enjoyed the story, too, Morgenthau said. It is for children who are not going to get creeped out by some descriptions of dead bodies and whatnot, and it deals with death in a mature way, but not in a gory manner, Levine said. The book is based on actual events that happened in Galveston, Texas in the early 1900s. This was my first knowledge of that disaster and this book intrigued me to look more. The book is written from the point of view of a 16 year old boy, for what its worth. Some people didn't like the story line or the format of the book, but as an adult, I think this would be good for a young teen or older child that likes to read and about realistic fiction.
Really good book.

Derived From Web

, Apr 20, 2022

In fact, my 7th grade son was asked to read the first ten chapters of this book over spring break for his Texas History class. In order to keep him motivated, I agreed to read it too. The book is very good, Simon said. Knowing it was based on a true story made it even better. I live near Galveston and have heard many stories about the big flood. It was a story of sadness, struggles and triumphs told through the prism of a broken heart. Plus, it actually sparked my step sons interest in Texas History. The book is now in the hands of the publisher. Mr. Arthur's family serendipitously found out that he lives in Rockport, Mass. I think we'll meet one day.
good book

Derived From Web

, Mar 12, 2022

It's a good book to live through the historical hurricane. Some conflicts are little bit stretched, like the one between him and his father.
Great book for teens and adults

Derived From Web

, Jan 14, 2022

I have bought five copies of this book through various bookstores. It was a blast, everybody that I gave it to loved it. Wonderful historical details and good fiction interwoven, he said.
Emotional Read

Derived From Web

, Apr 21, 2021

It's just amazing how fast this thing is going. We know exactly what a hurricane is like, Bruno said. The book will evoke many emotions.
Racist simple and plan

Derived From Web

, Jan 26, 2021

This book is a period piece set in the early 1900s, but written at the end of the century. In "Django Unchained," the Black characters are seen as submissive and if not looters. If so, your take on Black people in the early 1900s doesn't even have them in the book. If the two authors had been reversed, this book would not even be on the shelf. The writer of the OpEd column knew better, but didn't care.
I was put into the story.

Derived From Web

, Apr 7, 2020

I'm very much a mathy kind of person, so reading for hours doesn't really appeal to me. I was intrigued by this story line growing up along the Texas gulf coast. Wow! That was pretty impressive, right? It was great, I've loved it, and couldn't put it down. It also inspired me to do more reading on the hurricane. This is a great book. All Rights Reserved.
Great historical narrative

Derived From Web

, Jun 24, 2018

The book was an absolute gem, very descriptive language so that you could imagine what was happening with all your senses, Hughes said. The main character created an empathic view of his life, Williams said. The Beatles' music stands in stark relief against the loss of three decades ago.