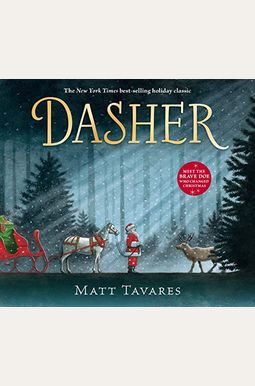 
 
Dasher: How A Brave Little Doe Changed Christmas Forever
Frequently bought together
Frequently Asked Questions About Dasher: How A Brave Little Doe Changed Christmas Forever
Books like Dasher: How A Brave Little Doe Changed Christmas Forever
Book Reviews
(11)
Did you read Dasher: How A Brave Little Doe Changed Christmas Forever? Please provide your feedback and rating to help other readers.
Touching tale

Derived From Web

, Jan 15, 2022

Dasher is a very touching story that will love both children and parents. Every year we buy a new Christmas book and this year we picked a winner.
Perfect Christmas book

Derived From Web

, Dec 11, 2021

My son loved reading this great story. We enjoyed it together a wonderful Christmas story about the wishes, Santa's magic and helping others.
A great addition to our holiday library

Derived From Web

, Jan 21, 2021

I came across this book at our local library and the kids loved it, so I had to add it to our holiday collection. It is a great story that explains how Reindeer ended his sleigh with Santa. Dasher is a female who excited my daughter and is much more realistic for a reindeer that has a full set of antlers at that time of year.
Avoid unless you're in the mood to discuss cruelty to animals!

Derived From Web

, Dec 2, 2020

Dasher has to escape from bad conditions in a traveling circus and must choose to leave her family to do so... Generally speaking, I feel comfortable teaching my child about adult mature issues such as animal cruelty, but was not really in the mood to do so while reading a book about Santa and Santa Reindeer. Honestly, I am shocked that this book has so many positive reviews ''. The illustrations are beautiful, but I had to quickly add Li's and gloss over much of this book to avoid animal cruelty and abandon your family while you escape to the freedom story line.
Dasher - you will love this story!

Derived From Web

, Feb 15, 2020

This was a great story about how Santa acquired his reindeer. Sweet and heart-worning, engaging. .
Not just another reindeer story!

Derived From Web

, Dec 22, 2019

This book is perfect for the aspiring photographer! I love this story ! This opened a fantastic mini-talk discussion as a teacher that led to a huge research day. The delightful story introduced some spectacular vocabulary and focused fully on one of the most beautiful sentiments of the Christmas family. I am so glad that I chose to add it to my collection!
Beautiful addition to our Christmas picture books!

Derived From Web

, Dec 19, 2019

I have a collection of Christmas picture books that I read aloud to my children every year. I am always on the lookout for new books to add. This year, one of our favorite additions is Matt Tavares, how a Brave Little Doe changed Christmas Forever by Dasher. The illustrations are beautiful and the story is so sweet. I know that one of my children will ask me to read over and over again.
Beautiful.

Derived From Web

, Dec 16, 2019

I fell in love with this new book by Matt Tavares really. The story revolves around a group of reindeer who live with a circus and traveling with them. Despite a desire to escape, the family of Dasher is afraid of the possible consequences. One night the gate opens to Corral, allowing Dasher to escape. Dasher sets out to find the land of Ice in the north that her mother has told her. But as she follows the North Star, she finds out she is not any closer. Just as she is wondering what to do next, she overhears a man and horse talking nearby. It turns out that the horse can no longer pull the sleigh alone, so Dasher volunteers to help. Here the real highlight is Tavares's gorgeous illustrations.
Buy this now!

Derived From Web

, Dec 11, 2019
A book for every Christmas, now and forever

Derived From Web

, Dec 6, 2019

This is the best Christmas book I have ever read in ages. It is a prequel to Rudolf and much deeper in depth. It touches the heart and art does justice to the story.