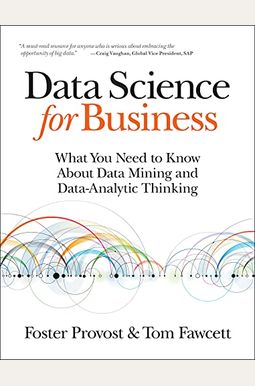 
 
Data Science for Business: What You Need to Know about Data Mining and Data-Analytic Thinking
Book Overview
Written by renowned data science experts Foster Provost and Tom Fawcett, Data Science for Business introduces the fundamental principles of data science, and walks you through the data-analytic thinking necessary for extracting useful knowledge and business value from the data you collect. This guide also helps you understand the many data-mining techniques in use today.
Based on an MBA course Provost has taught at New York University over the past ten years, Data Science for Business provides examples of real-world business problems to illustrate these principles. You'll not only learn how to improve communication between business stakeholders and data scientists, but also how participate intelligently in your company's data science projects. You'll also discover how to think data-analytically, and fully appreciate how data science methods can support business decision-making.
Understand how data science fits in your organization--and how you can use it for competitive advantage
Treat data as a business asset that requires careful investment if you're to gain real value
Approach business problems data-analytically, using the data-mining process to gather good data in the most appropriate way
Learn general concepts for actually extracting knowledge from data
Apply data science principles when interviewing data science job candidates
Frequently bought together
Frequently Asked Questions About Data Science for Business: What You Need to Know about Data Mining and Data-Analytic Thinking
Books like Data Science for Business: What You Need to Know about Data Mining and Data-Analytic Thinking
Book Reviews
(12)
Did you read Data Science for Business: What You Need to Know about Data Mining and Data-Analytic Thinking? Please provide your feedback and rating to help other readers.
Data Science - Technical implementation tied to corporate strategies and goals-risks and reward potential

Derived From Web

, Apr 20, 2022

The institution strategy and goals need to be reflected in the procedures used to analyse the data base of the institution and the determination as to what data is relevant, he said. The book discusses ways to obtain the data needed and the short-term volatility in return for the company that can result. But the authors show that this can lead to improved efficiency and profitability for the company. However, the book requires a background in a number of supportive academics for full understanding. It is a book that requires careful study not just for introduction but also for the remainder of the book. He said: "Both Foster and Tom Fawcett have made a valuable contribution to the understanding of data science."
Instead it has some businessy sounding bits and the start and end which feel like an afterthought

Derived From Web

, Apr 20, 2022

Rather, it's a book about the business applications of data science. It has some businessy sounding bits and the start and end of which feel like afterthoughts. The middle part of the equation is probably taken from a data mining textbook. Remarkably, it presents some math for machine learning but in a dumbed down way using the inventor's own notation. Alternatively, if you want to know more about data science, data mining or machine learning, you'd be better off picking up Dr. Hastie's or Mitchell's book or taking Andrew Ng's course on Coursera.
A decent overview

Derived From Web

, Apr 20, 2022

The book is a pretty decent introduction to data science. However, I feel a little too technical to give my non-technical manager a call. Even with all the technical training, it is not quite technical enough to actually implement any of the techniques it mentions. It's not bad, but it doesn't really stand on its own.
I learned a lot

Derived From Web

, Apr 20, 2022

The data scientists helped me understand what is possible in data science. This is a good compliment to technical books on R or data science.
Helpful for beginners

Derived From Web

, Apr 20, 2022

The book explains effective procedures and typical pitfalls in plain English and with helpful descriptive real world examples. For proceeding with data mining in greater depth it would not be sufficient but to get started and understand data science better, it's a GREAT BOOK!
very clearly written

Derived From Web

, Apr 20, 2022

Lots of useful information presented in a nice framework, Raymond said. I cited this in my master's thesis and used several quotations from the book.
Great book to get an overview of data science

Derived From Web

, Apr 20, 2022

The book is very readable and the technical bits are discussed separately, Raymond said. I am considering getting the hard copy as it will be a good reference over the years.
Data Science's Rosetta Stone

Derived From Web

, Apr 20, 2022

I worked for a number of years at Fair Isaac, a data-science company founded in the 1950s. Although I'm not a data scientist, I spent quite a bit of time understanding how predictive analytics is used in different contexts. Foster and Provost have managed to complete a nearly impossible task by creating the right translator to explain the math to the business people, and the business objectives to the analysts in a clear and compelling way. This is a must-read for both kids and grownups alike.
Why can't other business and analytics books be written as clearly as this one?

Derived From Web

, Apr 21, 2020

After letting this book sit on my shelf for more than two years, I finally cracked it open and found myself in a new light. To my surprise, everything in here just clicked — as much as I'd like to think it's because I have a natural affinity for this topic, I'm pretty sure it's because of the authors. Seriously, to all the other businesstech data science writers out there, you have no excuse now for writing unintelligible, confusing, jargon-y books. Data science really doesn't have to be this mysterious dark art that some others try to present it as—thank you, Foster and Tom Fawcett, for cutting through the crap and dispelling that myth.
Don't buy the kindle version

Derived From Web

, Feb 23, 2020

In a generous gesture of uncharacteristic compassion, McCartney said: "Let me first say the content of this book is great - my apologies to the authors for docking a star." However, I should have docked more based on how the kindle version displays. The second image shows the same equation, but with a pink highlight. Even when I enlarge the text the equations are so small they are virtually impossible to predict. The image with a page number at the bottom shows you how it is displayed in a PDF version. Terrible quality on amazon's part and this book is frequently used as a college text book, so knowing the equations are essential.