Buy 3 Get 1 Free
Our Best Sale Yet! Add 4 Books Priced Under $5 To Your Cart     Learn more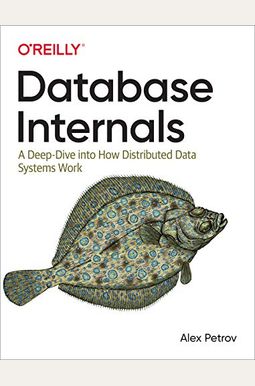 
 
Database Internals: A Deep Dive Into How Distributed Data Systems Work
Book Overview
When it comes to choosing, using, and maintaining a database, understanding its internals is essential. But with so many distributed databases and tools available today, it's often difficult to understand what each one offers and how they differ. With this practical guide, Alex Petrov guides developers through the concepts behind modern database and storage engine internals.
Throughout the book, you'll explore relevant material gleaned from numerous books, papers, blog posts, and the source code of several open source databases. These resources are listed at the end of parts one and two. You'll discover that the most significant distinctions among many modern databases reside in subsystems that determine how storage is organized and how data is distributed.
This book examines:
Storage engines: Explore storage classification and taxonomy, and dive into B-Tree-based and immutable Log Structured storage engines, with differences and use-cases for each
Storage building blocks: Learn how database files are organized to build efficient storage, using auxiliary data structures such as Page Cache, Buffer Pool and Write-Ahead Log
Distributed systems: Learn step-by-step how nodes and processes connect and build complex communication patterns
Database clusters: Which consistency models are commonly used by modern databases and how distributed storage systems achieve consistency
Frequently Asked Questions About Database Internals: A Deep Dive Into How Distributed Data Systems Work
Books like Database Internals: A Deep Dive Into How Distributed Data Systems Work
Book Reviews
(8)
Did you read Database Internals: A Deep Dive Into How Distributed Data Systems Work? Please provide your feedback and rating to help other readers.
I've been looking for this book for years

Derived From Web

, Apr 16, 2021

For a long time, I've been looking for a book that covers these topics. Even if it is only possible to work with different databases on a day-to-day basis, it is incredibly helpful to understand how components of each database actually work. Moreover, the themes addressed in this book span a very wide array of different topics and techniques, which are incredibly handy for distributed systems. It is really hard to find this much information in a single book. You'd have to know each of the topics you are interested in and then buy an entire book on that topic. This book combines a pretty in depth view on several topics related to database systems into a book without needless fluff. I highly recommend this book not only to people working on distributed data systems, but also to anyone working with databases. This is one of my most often referenced books that I own.
Great on database systems design, fundamentals and techniques for programmers

Derived From Web

, Mar 27, 2021

Great book for programmerssoftware engineers interested in having a more complete understanding of the motivations and underpinnings of different DBMSs, with countless references to other technical material for the more-curious. Covered topics include DB design fundamentals, algorithms. I found the text on data processing engines particularly insightful and worthwhile ''.
Presents a logical progression of design decisions for a database

Derived From Web

, Aug 2, 2020

This book is a physical progression of the decisions in the logical design of data structures needed to support a database either as a single entity or as replicas. This book considers only open-source database engines and avoids discussion of proprietary database engines, such as Oracle RDBMS or Microsoft SQLServer. I found this book for its technical detail very interesting.
A lot of material, but incomplete and fragmented

Derived From Web

, Jun 30, 2020

Unlike designing data-intensive applications, this book does not read a coherent one. Each chapter is more like a standalone post where the author attempts to mention all aspects of the topic without putting too much effort on building a flow that would lead to understanding. Overall, it feels like there was a goal to cram as much material as possible into a relatively small volume of the book. The book has definitely good parts to it, but the target audience is not clear. For high-level understanding of the topic, designing data-intensive applications makes the job so much better, and for those looking to find implementation level understanding, some chapters might be useful, but remains high-level in the overall book.
Not deep enough

Derived From Web

, May 17, 2020

The first part introduces DB internal, how DB stores data on disk, data structures. The second part talks about the high concept of how distributed system DB works. Some of the key concepts such as the consensus, the leader - election etc. The books covers a lot of core concepts. However, it is not deep enough. i would recommend this as a distributed SystemDB entry level book, where you can learn many many concepts, but you have to google more to learn it in depth. It is my personal opinion completely. If the book does not put Deep Dive in the title. i would give it 4 or 5 stars.
One of the Best Books out there

Derived From Web

, Nov 3, 2019

This is one of the best texts on database internals. Databases are used daily, and understanding what happens under the hood is a daunting task. This book takes a practical approach on the topic, starting with the basics and then taking a deeper dive into how the basic data structures and the concept come together. This book will appeal to both database developers and engineer's who want to understand how databases work. This book is really important for engineer who want to get into database development. Otherwise, this book is a must have reference in general. I personally liked the attention to details in the book on what really does matter when writing a real database. Concepts are also applicable to SQL and NoSQL databases.
A Great Resource for Understanding Database Internals

Derived From Web

, Nov 3, 2019

This is an internal book about the amazing workings of a database. I highly recommend this book if you are looking to understand how a database actually works. Building a major database is a huge undertaking, but after reading this you should be able to understand how most of the databases work and even build your own. It also has a distributed section that goes over great systems. This is the only book I know of which has all this information relevant to database design in one place. As someone who has read a lot of the resources listed in this book, it is nice to see all this information consolidated into a single book.
Good content shame about the printing odor

Derived From Web

, Nov 1, 2019

I have put it aside and sometimes flip through the pages hoping that the odor will clear. From what I have been able to see in short spells of reading, it has useful and interesting content.