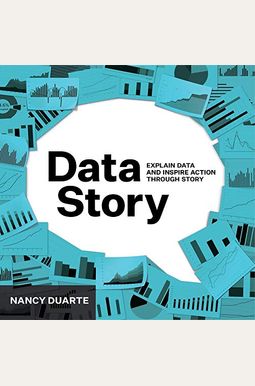 
 
Datastory: Explain Data And Inspire Action Through Story
Book Overview

Winner: Axiom Award Gold Medal (Networking)

Scientists have proven that stories make the brain light up in ways no other form of communication does. Using story frameworks as a communication device for data will help make your recommendations stick and be acted on.
Organizations use data to identify problems or opportunities. The actions others may need to take today from your insights in data could reverse or improve the trajectory of your future data. So, communicating data well, drives very important outcomes.
Even though most roles depend on data, communicating well is the top skill gap in roles using data. The essential skill for today's leaders (and aspiring leaders) is shaping data into narratives that make a clear recommendation and inspire others to act.
Almost every role today uses data for decision making. As you grow in your career, you can become a strategic advisor and ultimately a leader using data to shape a future where humanity and organizations flourish.
Duarte and her team have culled through thousands of data slides of her clients in technology, finance, healthcare, and consumer products, to decode how the highest performing brands communicate with data.
DataStory teaches you the most effective ways to turn your data into narratives that blend the power of language, numbers, and Read More chevron_right
Frequently Asked Questions About Datastory: Explain Data And Inspire Action Through Story
Book Reviews
(8)
Did you read Datastory: Explain Data And Inspire Action Through Story? Please provide your feedback and rating to help other readers.
100% of All Business Professionals Need to Read this Valuable Book...Immediately!

Derived From Web

, Jan 27, 2020

One of my mantras as a leadership and presentation coach -- as well as in my role as a NYU and Columbia University professor -- is that numbers are completely meaningless in and of themselves. What really matters is the story that these numbers tell. Too many business people -- especially those in data-driven fields -- tend to drown and bore their audiences with numbers without providing context... and without effectively targeting their story to their audience. But Nancy Duarte, in her wonderful and indispensable new book, demonstrates why -- and how -- we can all do a more effective job of presenting our data and inspiring people by leveraging the power of story. DataStory will join Duarte's other amazing, bestselling books -- especially Slideology and Resonate -- not on my bookshelf as a trophy, but at my desk, within arm's reach for ready reference at all times.
Garbage in, Garbage out. Terrible data book.

Derived From Web

, Dec 15, 2019

This book is complete garbage as a data scientist and algorithmic trader. It is an appeal to introduce cognitive and emotional bias in decision making. It is short on data, but has tons of emotional hogwash and female centric reasoning. This is at best a guidebook on the cheap and idiotic marketing ploys.
A Data Storyteller's Must Have Book!

Derived From Web

, Dec 15, 2019

Nancy Duarte is a guru in the field of data storytelling! Before writing this book, read this book before drafting your PowerPoint to tell your next data story. It will save you a ton of time and keep you grounded and focused as you share your big idea powerfully to inspire others. It is also such a pleasure to read, because it is so beautifully designed and illustrated. In the field of data visualization, our goal is to teach students how to tell a clear story quickly and clearly and to make it memorable.
Author's ego overrides the content

Derived From Web

, Nov 13, 2019

I am 55 pages into this book and am shocked that it has made it past the editors. The only thing I learned so far is that CEOs are extremely busy and that the people handling the data must realize this and most important, don 't waste the time of CEOs. CEOs are so busy that they cut her hair short to save time, Tim Cook wakes up at 430 : 00 am, the author herself is so busy that she and her assistant use code words for who should and shouldn 't make it on her schedule... I could go on, but hopefully this gives you an idea of the contents of this book. For me, too much author ego is too much to read the book. The only thing I remember about the book is how much I wouldn't want to work for her!
95% story and 5% data

Derived From Web

, Nov 5, 2019

I am a huge fan of Nancy Duarte's and have devoured and applied all her previous works. This is a good introductory book to communicating with stories, but I was disappointed by the amount of data in a book called DataStory. The strengths of this book are in the examples and accessible application to a business setting, but if you have a need to create effective visuals to go along with your story, you'll need to look elsewhere, as this book is not deep enough in how to choose a chart that moves your story along.
Gets to the ♥️ of how successful data-enabled leaders take action

Derived From Web

, Sep 26, 2019

By leveraging the power of storytelling with data-driven mindset to inspire action and improve decision-making for advisors, leader or executive. She not only weaves from her decades of experience into the best of these concepts of visualization, narration, and persuasion. Duarte also expands the help readers on fundamentals, from the selection of powerful words to advanced concepts such as leveraging temporal dimensions in presentations. As someone who has been successful with data, but sometimes struggles with overwhelming others, I truly feel this will be an asset with the walk-through, examples and resources to improve my verbal and visual storytelling skills.
This book is a game changer

Derived From Web

, Sep 20, 2019

I work at a design agency where 99% of my coworkers are right-brain creatives, while I serve as lead data analytics for the company. This book gave me so many tactical ways to change the way I present information to my team and communicate it.
Don't just think about data... help others ACT on it!

Derived From Web

, Sep 17, 2019

All we hear is DATA, DATA, DATA and how there is so much power in DATA. ESA Valuable Data! But what does any of this matter... unless something is done with the data? Unless someone uses the data and makes a recommendation based on that data. It gives you step by step instructions to help you move from explaining data... to exploring it in such a way that moves someone to action. Sure... it could be... but the fact is that unless you're willing to move from DATA to RECORD BASED OFF OF DATA, you will never advance in your career. Seriously, I've never played this game. You are only seen as an analyst. Do you want to settle for the analyst? You want to be something more ''. This book is a well-written, challenging, but entertaining read. If you've liked Nancy Duarte's past books, you will also get a huge kick out of this one.