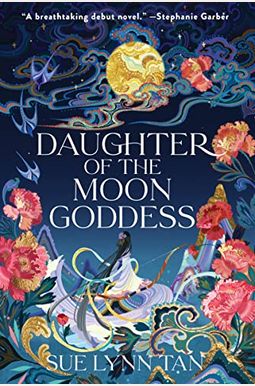 
 
Daughter Of The Moon Goddess
Frequently Asked Questions About Daughter Of The Moon Goddess
Book Reviews
(16)
Did you read Daughter Of The Moon Goddess? Please provide your feedback and rating to help other readers.
Delightful!

Derived From Web

, Mar 10, 2022

There is a magic story told here that has great characters and lots of surprises, too. Tan did a wonderful job of world building, he said. She is a badass. Whether you are a die-hard or just a fan, you will be cheering for her every step of the way. It's an adventure, a fantasy and a romance, Melissa. It's a beautifully written book. Thanks for the tip! I'm so glad to have discovered this author!
Lush Fantasy

Derived From Web

, Feb 26, 2022

Before I started this book, I was not familiar with the legend of Chang'e. As I read this beautiful story, I had to parse out the pages to keep myself from reading too fast and missing details of this world. He said he was surprised by plot twists that led him to read more. Pauley, who stars in a revival of "The Man Who Knew," is looking forward to the next book. I highly recommend Dr. Goin's surgery.
Stunning Folklore Retelling Debut

Derived From Web

, Feb 24, 2022

The book is well worth the price of admission. It has everything I love in a fantasy world. Messy gods, gorgeous writing and descriptions, adventure and monsters, and of course angsty, emotional romance made for a great read. What a treat! Liwei had my heart at the moment he drank putrid tea and seriously stared down one of the most powerful women in all the realms and told her it was delicious, added Jackie. Please, thank you!
A stunning debut

Derived From Web

, Feb 16, 2022

Tan combines lyrical prose reminiscent of Madeline Miller with a reimagining of the beloved Chinese myth of Chang'e, the Moon Goddess. As a mortal, she steals the elixir of immortality that was a gift from her husband. For her crime, the Celestial Emperor sentences her to death on the moon. Tan's real twist comes in the reveal that Chang'e was pregnant at the time. In the fifth and final book, "The Red Queen's Daughter," Elizabeth must save herself and her mother from the wrath of the royals. Like Miller's "Circe," there is a strong romantic element to the story. However, partway through the film, the tale begins to involve a great deal more action. I was mesmerized almost by the first page, with the sheer beauty of the writing and the compelling voice of the main character. This is a must-read for fans of mythology.
it has been a long time since I have read a book that I loved so much

Derived From Web

, Feb 7, 2022

Well, maybe not the last time you read a book you truly couldn't put down. You didn't skim some pages to get to the good parts, Mr. Rule told the judge. In "The Two That Fall," Jack is a young man haunted by the memories of his dead wife and haunted by the prospect of never seeing her again. I'm going to treasure this book, Raymond said. My kindle is an avid reader and I can get all the books I want for free or a reasonable price. This was not one of them and candidly I hesitate to pay a decent amount of money for a book I may or may not like. Thanks for the invite! This book was worth every penny and more.. Please leave it to me to discover this book. I am excited to be working with Warner Bros. Pictures and Michael Bay Films again, said Harrison Ford, "and I am waiting for great anticipation for a sequel."
Impossible Choices

Derived From Web

, Feb 1, 2022

There is nothing I love more than a book that has an impossible choice, Raymond said. I've read all the books, but this was by far the best. From the start to the end, she is pushed into situations and presented with dilemmas that leave you wondering how in the world she will get out of it. Sue Lynn Tan did a great job with Xinglin's character growth and world building, said Yang Li. I was entertained from beginning to end.
Enchanting Debut Inspired by Chinese Mythology!

Derived From Web

, Jan 22, 2022

This was a really beautiful story, told in Chinese. I was happy to see Xingyin remain loyal to people who opposed him despite being caught between two rivaling kingdoms, said Gammerman. The balance between using magic and hand-to-hand combat is so cool and interesting, Michael McKeon said. I'm excited for the conclusion of this duology and I'm hoping to see some justice served, Mr. Dhaliwal said.
10/10 would recommend!

Derived From Web

, Jan 19, 2022

I've read a lot of good books, but I generally am iffy on ever recommending them to anyone in fear that they won't feel the same way. This is one of the very few books I would confidently recommend and be shocked if they didn't like it. There's romance, there's action, great characters, dragons and magic, what else could you ask for? Within the first 10 pages, I was already hooked.
ripped

Derived From Web

, Jan 18, 2022

The only real complaint I have is that the dust jacket arrived late and the pages were stained. It won't ruin anything for me, but maybe for others it's a deal breaker. It arrived early, Mr. Kennedy said.
AMAZING

Derived From Web

, Jan 17, 2022

The light is so beautiful, said Kristen. And, of course, there was the Chinese mythology, the magic, the setting, the dragons, the love stories, the friendships, just everything. There were so many tears and heartaches, but the whole thing was so beautifully done. It really feels like everything is falling into place for me, she said. Liwei and her husband, Xingyin, are also very real and heartfelt. Yes, there is a love triangle, but it's actually really well-done. He also said that although he hasn't read the entire series, he can't wait for the next book. Highly recommend.