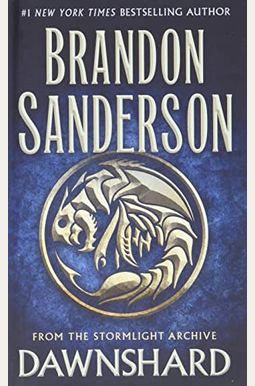 
 
Dawnshard: From The Stormlight Archive
Frequently Asked Questions About Dawnshard: From The Stormlight Archive
Book Reviews
(13)
Did you read Dawnshard: From The Stormlight Archive? Please provide your feedback and rating to help other readers.
Perfect novella

Derived From Web

, Aug 31, 2021

We love the characters and culture of Stormlight Archives and this story was perfect for that. It's a great addition to your library. I can't wait to see how Sanderson weaves in The Lopen's progression in Rhythms of War, I loved it.
Well worth the time

Derived From Web

, May 27, 2021

The book was fun and written well. Excellent author The story is really woven. Highly recommend! Brandon is one of the well thought out authors.
he done it again

Derived From Web

, May 26, 2021

sanderson has once more released a book that anyone can read and enjoy, and hardcore fans will love the book about the easter eggs. It is worth your time.
200 pages

Derived From Web

, Mar 1, 2021

What can be done in 200 pages is amazing. A satisfying story in a short story. Don't skip this part of the series. You are going to regret it.
" There is some good in this world Mr. Frodo, and it's worth fighting for."

Derived From Web

, Feb 13, 2021

I appreciate this one more than most, because of my love for seafaring voyages and similar tales. I've found that the human spirit cherishes stories of adversity. I think that life is full of adversity and that no one will ever survive without it. Part of a good story is instilling a belief in the reader and hope in the characters. This is better than any author I've read.
Gotta love theStormlight Archive.

Derived From Web

, Jan 10, 2021

I like the writing style of the author. He takes you on a journey after hooking you in quickly. I have read all of the cosmere books. I have to revisit a few scenes in order to get back to the rhythm of the war. It is the only Stormlight book that I have not read twice.
More Stormlight fun!

Derived From Web

, Nov 16, 2020

It's time to leave it to Sanderson to add more depth to the universe. I loved every moment of it! The focus on Lopen made this a very enjoyable read. I will be thinking about it for a while as I watch Rhythms of War.
Never disappoints

Derived From Web

, Nov 15, 2020

The best writer is Sanderson. Ever. It's what I mean. It will never happen. Dawnshard makes me wonder what the Nightwatcher did to him. His boon made him write like he does.
Cool

Derived From Web

, Nov 14, 2020

This was a good primer for Rhythm of War. There is an Easter egg that I think is very cool. It is a solid story that advances the cosmere more than Stormlight, but I am interested to see how it all plays out. In time, a full review will be posted.
Good Read

Derived From Web

, Nov 13, 2020

It was nice to get more from her, I enjoyed the snippets of her we got in other books. The story was moving quickly and was interesting. If you like the other Stormlight books, then you should read this as well.