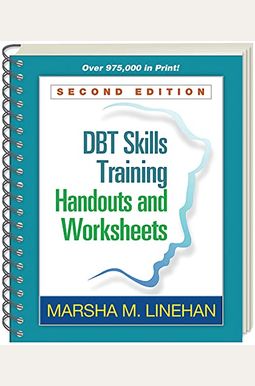 
 
Dbt Skills Training Handouts And Worksheets
Book Overview
Featuring more than 225 user-friendly handouts and worksheets, this is an essential resource for clients learning dialectical behavior therapy (DBT) skills, and those who treat them. All of the handouts and worksheets discussed in Marsha M. Linehan's DBT(R) Skills Training Manual, Second Edition, are provided, together with brief introductions to each module written expressly for clients. Originally developed to treat borderline personality disorder, DBT has been demonstrated effective in treatment of a wide range of psychological and emotional problems. No single skills training program will include all of the handouts and worksheets in this book; clients get quick, easy access to the tools recommended to meet their particular needs. The 8 1/2 x 11 format and spiral binding facilitate photocopying. Purchasers also get access to a Web page where they can download and print additional copies of the handouts and worksheets.

Mental health professionals, see also the author's DBT(R) Skills Training Manual, Second Edition, which provides complete instructions for teaching the skills. Also available: Cognitive-Behavioral Treatment of Borderline Personality Disorder, the authoritative presentation of DBT, and Linehan's instructive skills training videos for clients--Crisis Survival Skills: Part One, Crisis Survival Skills: Part Two, From Suffering to Freedom, This One Moment, and Opposite Action.
Frequently Asked Questions About Dbt Skills Training Handouts And Worksheets
Books like Dbt Skills Training Handouts And Worksheets
Book Reviews
(15)
Did you read Dbt Skills Training Handouts And Worksheets? Please provide your feedback and rating to help other readers.
Great resource!

Derived From Web

, Apr 20, 2022

It was very helpful to have all of the handouts in one place. Good to know the pages with the star in the corner are what Dr. Linehan considers essential. I would recommend getting the tabs from behavioral tech. They are helpful.
Great book, excellent quality.

Derived From Web

, Mar 11, 2022

The book has a link that you can use to access the online version of the workbook. It was a pleasant surprise when I bought it, I didn't know it would be an option. I don't have to write in the book directly, because this allows me to print out the worksheets.
Wonderful resource

Derived From Web

, Jun 20, 2020

I used this in a CBT session and decided to buy the whole book.
All Handouts printable with purchase!

Derived From Web

, Feb 1, 2020

This will be useful in my practice. I have been wanting it for a long time. It has a lot of useful handouts and ideas to use. I use DBT with many clients and I can't wait to incorporate it more. You can get the print outs with the book. All of them! The website is on page 4. I think they don't want the whole world on that page. Register and you will be able to download and print every single handout if you type the whole url from page 4. I thought I would share after taking a minute to find it.
Evidence-Based Life-Skills Worksheets

Derived From Web

, Nov 18, 2019

There are a lot of evidence-based exercises in this book for refining important everyday life skills. It is useful for anyone who is in a guided dialectical behavioral therapy group class.
Incredibly helpful to use with The Dialectical Behavior Therapy Skills Workbook

Derived From Web

, Oct 30, 2019

The exercises and assessments in this book compliment the skills book. Both books changed my life. I wanted them to work with my daughter in order to have the same effect. Everyone should have the training. I think these books could be the key to a better world. The skills you will learn in this book can be used in your everyday life. Mental health issues don't have to stop you from benefiting from these skills. These are skills used in real life. I think it has unlocked a secret key to a happy and healthy life.
Important tool for any BPD people who are in DBT therapy

Derived From Web

, May 20, 2019

I bought this because my counselor was always having to print and I was sad. She marks what pages to do for homework. This book can be used to learn the skills needed to move through DBT.
Great

Derived From Web

, Apr 1, 2019

I bought this book because I was tired of keeping track of handouts. It is a high quality thick book filled with everything I needed. There is no risk of binding breaking or coming apart. The product was very high quality.
Can't print the ebook version

Derived From Web

, Feb 13, 2019

The complaint is not about the material but the fact that you can't print any of the pages in the ebook. The publisher of this book has not provided the option to get the book pages printed in physical manner, so I am sorry to inform you. It cannot be printed on paper. What is the point? People buy this book because they can use the handouts. I was able to get a refund but I'm not happy that they don't have an option to print.
Counterfeit with pages missing

Derived From Web

, Jun 30, 2018

The book is likely to be a fake. There are a lot of missing paragraphs from the print copy.