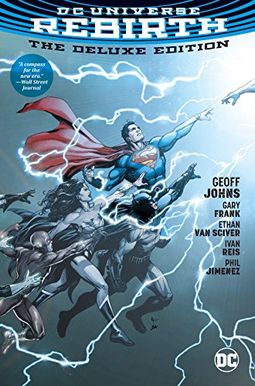 
 
Book Overview
DC Universe: Rebirth didn't just connect the comic book universe of Superman, Batman and Wonder Woman with the dystopian world of Alan Moore and Dave Gibbons' Watchmen -- it did so in a way that subtly echoed the 1986 comic book classic. --Hollywood Reporter

The world of the Watchmen collides with the DC Universe in the most shocking story in DC history DC Universe: Rebirth Deluxe Edition heralds in a new era in storytelling and sets the stage for the future of the DC Universe.
Wally West is trapped out of time and space, lost in the recesses of dimensional bleed due to the Flashpoint caused by his mentor, Barry Allen. Drifting in this nothingness, only Wally--the man once known as Kid Flash and then the Flash--can see the mystery pervading the universe. Who has stolen 10 years? Wally must now return to Earth and the loved ones who have always acted as his lightning rod, but no matter who he contacts, he slips further and further away, closer to nothingness. The fate of the universe depends on Wally West's REBIRTH. The story that began one of the most critically acclaimed launches of all time is here in
DC Universe: Rebirth Deluxe Edition
. Written by #1
New York Times
best-selling author Geoff Johns (
Justice League
) with art from four of the industry's greatest talents in Ivan Reis (
Aquaman
), Gary Frank (
Batman: Earth One
), Ethan Van Sciver (
Green Lantern: Rebirth
) and Phil Jimenez (
Infinite Crisis
), this new hardcover edition features a story with ramifications that will reverberate through the DC Universe for years to come
Frequently Asked Questions About Dc Universe: Rebirth

Books like Dc Universe: Rebirth
Book Reviews
(9)
Did you read Dc Universe: Rebirth? Please provide your feedback and rating to help other readers.
DC rebirth

Derived From Web

, Sep 14, 2021

This is a great starting and jumping off point for the dc universe if you are a new reader, but if you want to get a bigger story, this one takes place right after the Justice League Darkseid War and ties the new 52 era of dc with the Rebirth era, which ends with Doomsday Clock. This is a great book, its bigger than most hardcovers. The main story is 70 pages long and it has a small cover gallery at the end of the book, along with a few character designs. This issue ties into every rebirth #1 issue, so if you want to check them out there is also an omnibus that contains 40-50 #1 issues.
The newest relaunch doesn't disappoint.

Derived From Web

, Jan 29, 2021

This is a solid beginning, but is really a flash story, but no one knows the flash like Geoff Johns. What Batman finds in his cave is a story I can 't wait to read.
The RE-D.C. Universe Starter

Derived From Web

, Jan 22, 2021

I ordered this Rebirth Deluxe with the Button Deluxe and it does not disappoint. And a spectacular setup for the Doomsday clock. For the first time D.C. enthusiasts highly recommend.
Great read, in-depth characterization and informative extras!

Derived From Web

, Feb 9, 2019

I purchase many hardcovers for runs I love so that I don 't wear any actual comic covers. I was not a fan of the New 52, so I was optimistic about Rebirth's renaming Saenz as the " Crisis '' moniker. This is an affordable entry into the reconstructed universe of DC. I even had it signed by artists and writers of the series. Where this book really shines, which seems to be a trend with DC volumes of late, adds art from the actual variant covers, design concepts for various characters with whom the artist collaborated, and a well written forward explanation. The epilogue foreshadows future tie-ins. Overall, this book exceeded my expectations for what a hardcover graphic novel is and showed me what should be included. I recommend this title to grizzled fans and neophytes alike.
Good entry point for newcomers

Derived From Web

, Aug 30, 2018

Although I am new to the world of comics, I was a huge fan of Smallville, so I know something about many of these characters. I enjoyed the way the story was told so that you could be a newcomer and not feel like you 'd have to catch a ton of back issues to read. It is charged as a billed item. I already read the flash rebirth and really liked it. I thought it was really sad that Linda's love didn 't remember him, but at the end, what brought him back was Bart. It was a large story setting up what I expect are nice changes to all characters within the DC Universe. I have to say that I'm glad I came here rather than a previous reset, because the fandom seems to have hated them.
This book is amazing! It takes place after Final Days of Superman ...

Derived From Web

, Apr 7, 2018

It takes place after the Final Days of the Superman storyline and is Wally WestKid flash-centric. Rebirth is a soft reboot that covers some plot holes in new 52, recaps modern age stories while introducing new stories for the new Rebirth comic book runs. It bridges the gap between the DC series and offers a nice easter egg of watchmen, the main focus in Doomsday Clock, in which you have not yet read, has been a little slow in setting up, but is good. I think everyone is ready for the big reveal of Dr. Manhattan versus the Justice League.
A really good story and great introduction into this phase of DC's ...

Derived From Web

, Sep 29, 2017

A really good story and a great introduction into this phase of DC's history. Much a Waltley West story centered on a question, DC Universe Rebirth answers some questions asked by the New 52 and creates new ones relating to DC's upcoming big event, Doomsday Clock. Hardcover book without cover : It also seems to be thick pages, so it is not as long as it has.
God Bless Geoff Johns

Derived From Web

, Apr 19, 2017

God has been grateful to Geoff Johns for his services. Someone who has a love for history and the Lore of the DC Universe, but knows how to breathe it into a freshness that is needed. He understands that you don 't need to bringing back old readers as you replace them with a new generation.
great story

Derived From Web

, Jan 16, 2017

I grew up reading Marvel, i liked the new 52, now all I read is DC. Looking forward to where they go from here.