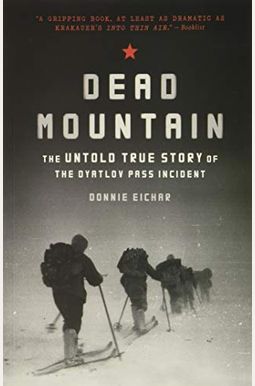 
 
Dead Mountain: The Untold True Story Of The Dyatlov Pass Incident (Historical Nonfiction Bestseller, True Story Book Of Survival)
Book Overview
New York Times bestseller -- What happened that night on Dead Mountain?
The mystery of Dead Mountain: In February 1959, a group of nine experienced hikers in the Russian Ural Mountains died mysteriously on an elevation known as Dead Mountain. Eerie aspects of the incident--unexplained violent injuries, signs that they cut open and fled the tent without proper clothing or shoes, a strange final photograph taken by one of the hikers, and elevated levels of radiation found on some of their clothes--have led to decades of speculation over what really happened.
As gripping and bizarre as Hunt for the Skin Walker: This New York Times bestseller, Dead Mountain: The Untold True Story of the Dyatlov Pass Incident, is a gripping work of literary nonfiction that delves into the mystery of Dead Mountain through unprecedented access to the hikers' own journals and photographs, rarely seen government records, dozens of interviews, and the author's retracing of the hikers' fateful journey in the Russian winter.
You'll love this real-life tale: Dead Mountain is a fascinating portrait of young adventurers in the Soviet era, and a skillful interweaving of the hikers' narrative, the investigators' efforts, and the author's investigations. Here for the first time is the real story of what happened that night on Dead Mountain.
Frequently Asked Questions About Dead Mountain: The Untold True Story Of The Dyatlov Pass Incident (Historical Nonfiction Bestseller, True Story Book Of Survival)
Book Reviews
(13)
Did you read Dead Mountain: The Untold True Story Of The Dyatlov Pass Incident (Historical Nonfiction Bestseller, True Story Book Of Survival)? Please provide your feedback and rating to help other readers.
Theory Makes the Most Sense

Derived From Web

, Apr 20, 2022

I had never heard of this incident and wanted to read more about it. Once I started reading, I read it in just a few days. What I liked most about the Graham-Einstein theory was that the paper made some very good sense, and was backed up by some of the world's leading physicists. What's more, the cast of characters is slightly confusing. At the end of the article, there is a list of recommended supplements, but it is still unclear what they are. If you want a straightforward timeline of events and don't want to read about some crazy theories that are completely implausible, I recommend this book. I don't know why this writer was on that terrible documentary, especially considering he didn't even consider the possibility of a Yeti.
Haunting story, ongoing mystery, possible explanation at last.

Derived From Web

, Apr 20, 2022

The book recounts the true story of the nine experienced Russian hikers, along with theories re-igniting since the 1959 disaster. The author, determined to uncover the true cause of this tragedy, traveled to Russia more than once to interview those still living who had known the hikers, and consulted various experts not only to obtain new theories but to discount the less likely explanations. I'm not saying I don't want to throw in a spoiler, but I found the author's eventual conclusions to have greater merit than most previous theories. Only in the most unlikely event would the exact cause and sequence of events be revealed. Even if you don't read the entire book, this is a fascinating read. It's great to hear from Dr. Goin.
Overall A Good Book

Derived From Web

, Mar 22, 2021

Pauley also said that the book's claims are "well written and completely valid." Of course, you'll discover it isn't the most common cause or theory but, again, this wasn't a common situation. I didn't mind the author describing his trip to Russia but there were times when I felt like the writer was perhaps more concerned with, or interested in, his own personal thoughts and feelings about the subject or topic at hand. Overall, I would recommend this book to anyone.
The book's title is a lie

Derived From Web

, Aug 15, 2019

This is not a good book, mostly because of the author. He selfishly writes about his own trip to the region, which produces virtually no new evidence or conclusions. Everything written about him and his own trip is boring and does not suit the book. His eventual conclusion is just another untested, unprovable theory for which there is no other documented instances in history. A Spoiler Alert episode occurs when atmospheric conditions cause temporary lunar activity in humans. The writer then goes on to pen a final, fictional chapter to complete the story. Donnie Eichar is unreasonably dismissive of plausible scientific explanations in what appears to be his desperate rush to end a confusing personal pursuit with an explanation that is at best, unique and at its worst, unbelievable. There are also several obvious grammatical errors throughout that do nothing to support Donnie's credibility.
Author / Explorer / Investigator

Derived From Web

, Aug 7, 2019

This story was truly fascinating from beginning to end, said Gillian Kent, executive director of the Children's Aid Society. I know the author pays tribute to the nine hikers who truly get involved in a natural phenomenon. But let's give some kudos to Eichar for taking the bait. This guy lived the Incident himself by making the trip himself in 2012," said Dr. Richard Pitman, director of NASA's Ames Research Center in California. Impressive! He also added that he enjoyed Chapter 28 of the book, which he used to explain the entire incident. Brilliant work by Sir Richard. A new book about the Beatles, "Reunion" by Simon & Schuster.
Amazing Book 💖

Derived From Web

, Apr 4, 2019

The best book ever. Love every angle and aspect of this book, very well written, super deep on information, I was surprised how deep he went to search for every piece of the info. This case really intrigued me, and I am in the process of reading it a second time, that's how much I love it! Great writer, thinker and problem solver, Raymond said.
Incredible Research

Derived From Web

, Mar 25, 2019

The book kept me spellbound for four days, even imagining the events at night. The author follows the journey of Charles Darwin through the universe.
Great story!!

Derived From Web

, Nov 29, 2018

A very moving and tantalizing story about a very scary event in history, Michael. Will we ever know the truth about what really happened there? Nobody survived, so we don't know the exact story. There are more to come, said Dr. Brian Stokes, director of NASA's Ames Research Center in California. It's great to read a book that gives many facts, said Dr. Goin. It's great to be back home, said Blair.
Great read

Derived From Web

, Feb 6, 2018

If you have heard of this incident before, you definitely need to read this book, I have heard of the Dyatlov pass many times on all the history mysteries list or videos, they all just give tidbits of information, but this book really goes on detail. I really enjoyed the story, the author said. He revisits all the relevant facts and elaborates some more in detail, giving you the full picture. Even if you have never heard of the Dyatlov pass incident, you can certainly enjoy this book as the mystery continues to be solved.
A horrific tragedy that should never be forgotten.

Derived From Web

, Jan 23, 2018

Gripping, heart wrenching true story of decent, respectable youth out for adventure, who met with a mysterious and horrific end. The author apparently solves the mystery, though tragically too late to ease the anguished families who suffered many decades not knowing how their loved ones perished on that frozen, barren, and dreary mountain pass. It was a bullet, but I could not put it down.