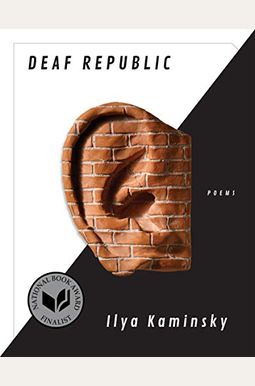  
Book Overview
Finalist for the National Book Award for Poetry
Finalist for the T. S. Eliot Prize
Finalist for the Forward Prize for Best Collection

Ilya Kaminsky's astonishing parable in poems asks us, What is silence?

Deaf Republic opens in an occupied country in a time of political unrest. When soldiers breaking up a protest kill a deaf boy, Petya, the gunshot becomes the last thing the citizens hear--they all have gone deaf, and their dissent becomes coordinated by sign language. The story follows the private lives of townspeople encircled by public violence: a newly married couple, Alfonso and Sonya, expecting a child; the brash Momma Galya, instigating the insurgency from her puppet theater; and Galya's girls, heroically teaching signing by day and by night luring soldiers one by one to their deaths behind the curtain. At once a love story, an elegy, and an urgent plea, Ilya Kaminsky's long-awaited Deaf Republic confronts our time's vicious atrocities and our collective silence in the face of them.
Frequently bought together
Frequently Asked Questions About Deaf Republic: Poems
Books like Deaf Republic: Poems
Book Reviews
(10)
Did you read Deaf Republic: Poems? Please provide your feedback and rating to help other readers.
Moving and powerful

Derived From Web

, Dec 23, 2020

An at once direct and yet unbearably understated condemnation of acquiescing to oppression, of glossing over the past, of choosing comfort over integrity. I have already bought it for three other people.
May become one of my favorites.

Derived From Web

, Oct 29, 2020

I found this text easy to see, the imagery easy to follow and the theme well presented. The story is told and how it is told is captivating, but then Kaminsky ties it up to the reader. The story takes place in another place, almost another time, but Kaminsky is able to connect it with the reader. The readers become the townspeople, we, the readers. Well somewhat. When they watch, we become the townspeople. They just don 't watch, but we do. The opening and closing poems stood out the most to me, opening and closing the most. I love it all, but the characters and their poems, the imagery, I love it all.
One of the most original and moving books of poems I've ever read

Derived From Web

, Sep 26, 2019

At this point, Ilya Kaminsky is a legend and deservedly so. This is his second book of poems and proves well worth the wait. The beautiful poems are individual and strange. Together, they comprise a kind of allegory for our times and manage to be both somehow light-of-heart, somehow luminous and also seriously profound. I would recommend this book even to those who don 't usually read poetry, because it truly is beyond poetry.
A Brilliant Parable for Our Times

Derived From Web

, Aug 12, 2019

Ilya Kaminsky is one of the strongest poets of our time. He is highly regarded and prestigious with Franz Kafka, Jorge Luis Borges, Miroslav Holub, Zbigniew Herbert and Czeslaw Milosz in a league with Franz Kafka, Jorge Luis Borges. An indictment of our silence in the face of corruption and atrocities of our time, it is also a poem of love and unexpected beauty.
Good Writing But Not Spellbinding

Derived From Web

, Jun 22, 2019

I enjoyed the writing style ''. It is quite clear that the author is talented in his craft. I found it not enough riveting.
A stunning, breathtakingh, damning work

Derived From Web

, May 12, 2019

Since reading it, I have been waiting for Kaminkski's first collection, Dancing in Odessa, blew me away and I have been waiting for his second collection, not so patiently at times, since reading it. The Deaf Republic does not disappoint. This is an epic poem, a song, a dance that is impossible to lay. The story is set in the village of Vasenka, in an unnamed country. The story traces the occupation, resistance and subjugation of its inhabitants. Silence and deafness have multiple and complex meanings, forcing the reader to confront the nature of both complicity and resistance. Kaminski begins and ends the work with poems that place us in the here and now of American society and examine where we stand and how we act. His language sizzles and sparks his language. It takes the breath. It takes the lungs.
Stunning achievement

Derived From Web

, Apr 30, 2019

The narrative arc of these poems places the reader in the middle of a rising culture of fear that could exist in the present day, in the 1920s and 30s rise of nationalism or behind the Iron Curtain. The book is an example of poetry's place as a counterbalance to history and news articles that tell a story of the many. In telling the story of the one, the poems reveal the lives that are often ignored and the reason many fail to grasp the histories of the ones who suffered under its thumb.
There is a new master voice in poetry

Derived From Web

, Mar 30, 2019

If poetry is your life, this book is your oxygen. If you have never read poetry before, there could not be a better first book. It would take an addition to thesaurus to describe Ilya's poetry history of a city a world away, but as close as the nightly news. This full expression of humanity in a volume you will read in a volume you will keep and encourage everyone you love to do the same.
Innovative and Powerful

Derived From Web

, Mar 18, 2019

I join the chorus of praise for this amazing book. Though I have read collections of poetry that contain a narrative thread and focus around a theme, what Ilya Kaminsky has done here feels really innovative. In its imagination and language, brutal in its truths, it is both universally relevant and completely singular. I evangelize all the time that everyone should read more poetry and I think that anyone who likes beautifully written and thoughtful books, even if you are one of the masses who have never read a poetry collection, should pick a copy.
stunning, brilliant

Derived From Web

, Mar 13, 2019

I waited for this book for 15 years. It has taken that long to grow into the masterpiece that it is. Anyone concerned about humanity and the state of the world needs to read this book like a novel from front to back. I read it once so far and is on my nightstand to read over and over again. Ilya Kaminsky, thank you for this beautiful work.