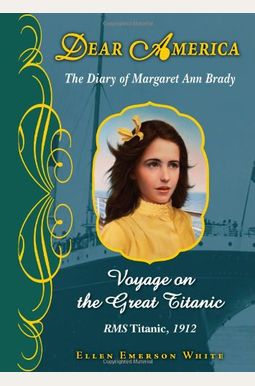 
 
Voyage on the Great Titanic (Dear America): The Diary of Margaret Ann Brady, R.M.S. Titanic, 1912
Book Overview
One of the most popular Dear America diaries of all time, Ellen Emerson White's bestselling VOYAGE ON THE GREAT TITANIC is now back in print with a gorgeous new package
Five years ago, Margaret Ann Brady's older brother left her in the care of an orphanage and immigrated to America. When the orphanage receives an unusual request from an American woman looking for a traveling companion, Margaret's teachers agree that she is the perfect candidate to accompany Mrs. Carstairs on the TITANIC, so that once Margaret arrives in New York she will be free to join her brother in Boston. But the TITANIC is destined for tragedy, and Margaret's journey is thrown into a frozen nightmare when the ship collides with an iceberg.
Frequently bought together
Frequently Asked Questions About Voyage on the Great Titanic (Dear America): The Diary of Margaret Ann Brady, R.M.S. Titanic, 1912
Books like Voyage on the Great Titanic (Dear America): The Diary of Margaret Ann Brady, R.M.S. Titanic, 1912
Book Reviews
(24)
Did you read Voyage on the Great Titanic (Dear America): The Diary of Margaret Ann Brady, R.M.S. Titanic, 1912? Please provide your feedback and rating to help other readers.
A Must for Titanic Buffs as well!

Derived From Web

, Apr 27, 2022

I don't remember where I got this book, but it was secondhand. The original owner had left the original receipt at the Titanic exhibition in Atlantic City when the ferry's owners bought it. It's a little surprise, said Blair. In fact, the story of Margaret Ann Brady, an orphan who is hired by Mrs. Carstairs to travel with her, is quite interesting and accurate. I liked it the best of the Dear America series so far, Morgenthau said. Since I am interested in all things Titanic, I enjoyed this book very much, especially since it captures the era, the class system, and the catastrophe at sea on April 14, 1915.
Five Stars

Derived From Web

, Apr 27, 2022

In her book, Margaret lives in an orphan in London, waiting to save up enough money for a ticket to America where her brother William lives in Boston. Mrs. Carstairs wants a complain to accompany her to America. Margaret Carstairs, having never had money, is very intersting with the people on the ship. She meets Robert Steward, her favourite, on her floor. Margaret was very liked during the sinking and I liked how she first decided not to get on one of the lifeboats, Mr Hughes said. I was saddened to hear of Robert's death. A very good story, Michael.
Great way to teach history -- PAINLESSLY

Derived From Web

, Apr 27, 2022

History aside, I love the Beatles. My wife, she's a history buff. Our daughter is not so much. But to get her to learn we have to make it fun. The second part of the series, "Dear America," aired on Thursdays. The book is written as a young girl's journal, and although it is fiction, a disclaimer has to be included to remind the reader that the book is, in fact, a work of fiction. My daughter enjoyed the story because of the story, and ended up learning things along the way, she said. This isn't the first time we've given her a book to read, and it certainly won't be the last.
good historical fiction for middle grade readers

Derived From Web

, Apr 27, 2022

Despite the updated cover, this is not a new book, but rather a reprint of a 1998 title in the popular historical fiction series. In her diary, Mary Berry tells the story of a young Irish orphan who sails on the Titanic as a companion to a wealthy American lady. Like others in the series, this is a well-written story perfect for 4th through 6th graders.
A Sad Disaster

Derived From Web

, Apr 27, 2022

In a moving interview, Kate Winslet talks of an orphaned girl named Margaret who was on the Titanic as a companion to a rich lady. It was her brother, William, who arranged for her to move to America and she would love to finally live with him. But she changed her mind about two hours later, saying she didn't want to get on a lifeboat. There was only one lifeboat left, the other was leaking fuel. Two years ago, another passenger, Margie, survived the plane crash. After the ferry docked in New York, the Carpathia picked up her lifeboat and headed for home. Prior to the disaster Mrs. Margaret Thatcher was a passionate campaigner against the dangers of asbestos. What do you think of McCrackin's book?
A GREAT Book!

Derived From Web

, Apr 27, 2022

I fell in love with this book, too. I've read the book, but this was a wounderful one. If you like to read, you have to get this one. Its about this girl who can't wait to get to America to find her brother She never thought she would ever get there but then this American lady needed someone to take her place on the unsinkable Titanic. She never would have dreamed of it, but there she was. The new book tells us everything we need to know about the ship and the night it sank. It made me feel like I was on the ship right there with her, Morgenthau said.
Titanic

Derived From Web

, Apr 27, 2022

However, no harm was done to the book, as it was an engaging read. Although I found the format to be a good one to educate younger people of the tragic sinking of the Titanic. I could not help but think there were too many parallels with the 1997 film of the same topic, but it was simply and adequately done.
Great book!

Derived From Web

, Apr 27, 2022

I read this as a kid when the modern-day fascination of the Titanic was high because of the 1997 movie, but I now love it. It's about a 12-year-old working class girl who is a first class passenger on the Titanic. Young readers might find this book sad for the loss of life that occurs but it's written in a very age appropriate way for kids, 9 to 12.
A voyage on the great Titanic

Derived From Web

, Apr 27, 2022

The book A Voyage on the Great Titanic is a very spectacular book because it tells of a girl who lived through the crash of the ship. The book is about a young girl who was the subject of a murder. She lived a horrid life after the crash. She had a dream of going to New York to study law. The Titanic broke apart in the early hours of April 15, 1912. They did everything they could to save people, he said. Ships and boats calling to say they were going there, but the Titanic did not listen. That really affects the companies, because then they have to pay the taxes.
Historically true, written on about 10th grade reading level. Many new and exciting words!

Derived From Web

, Apr 27, 2022

Perfect for the high school or middle school student. I am the teacher! Those who learn best by experiencing things will remember the vivid details of these historical events because the books put you right in the story. The journal entries are usually written by a young teen at the time. The book is backed by hard-copy resources found at the back of the book. I have a class of sixth-graders who are hooked.