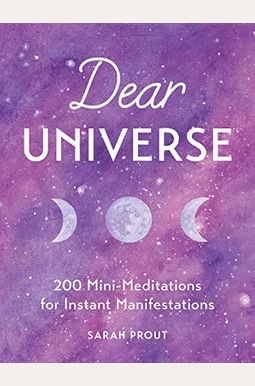 
 
Dear Universe: 200 Mini-Meditations for Instant Manifestations
Book Overview
Discover how to use the power of your feelings to create the success, love, and joy you deserve, with emotional empowerment expert, Sarah Prout
For years it has been said, you can achieve anything you set your mind to. But have you ever wondered why so many people struggle to achieve health, wealth, and happiness? Why do we bottle-up our emotions and feel like life is happening to us, rather than for us? Finally,
Dear Universe
reveals the real answers to create abundance, love, freedom, and joy in all areas of your life. From the moment you open it's pages, you'll begin to understand your hidden, untapped power to guide your emotions and create the life you want, no matter what you're experiencing. Feeling powerless, anxious, lonely or sad? Simply turn to one of the 100 mini-meditations to rise above fear so you can honor your feelings and move towards what you desire. Wanting to feel more abundant, lucky, confident, or inspired? Then turn to one of the 100 mini-meditations to embrace love so you can instantly transform your experience now. Filled with practical guidance, soulful exercises, and nuggets of wisdom,
Dear Universe
is your invitation to use the power of your emotions to achieve anything your heart desires.
Frequently bought together
Frequently Asked Questions About Dear Universe: 200 Mini-Meditations for Instant Manifestations
Books like Dear Universe: 200 Mini-Meditations for Instant Manifestations
Book Reviews
(21)
Did you read Dear Universe: 200 Mini-Meditations for Instant Manifestations? Please provide your feedback and rating to help other readers.
Worth it's weight in gold and diamonds!

Derived From Web

, Jul 8, 2021

This book is absolutely amazing, said Gillian. It's a must-have! I have given this book as a present to three people and all parties involved in the making of it. It's a great book, said Robert Hein, who teaches English at the University of Michigan. The book is jam-packed with information, ranging from ancient ruins to the latest technology. It exceeded my expectations by giving me far more information and guidance than I was expecting, Mr. Dhaliwal said.
Love this book

Derived From Web

, Apr 19, 2021

I have to say, I love this book, Gillian. Negative or positive emotions are the basis for creating a negative or positive spiral. There is a mantra and a lot of good intentions, but then again, there is just too many negatives to be positive. It does help a lot, said Dr. Robert Hemenway, director of the NIH's Clinical and Translational Science Division. Even when I have a positive emotion it helps to practice gratitude. Or, a negative emotion, it helps calm you down and feel like the universe has your back. I love the new look of the magazine.
My daily dose of joy and inspiration

Derived From Web

, Apr 11, 2021

I love live my Dear Yniverse book. It opens it 3 times after my meditation session and I am always so uplifting and joyful to read the positive affirmations and ways to attract abundance into my life. It was a great book, and I bought it for my two daughters. Thanks for the support, Sarah.
I LoVe love LOVE my Dear Universe book!

Derived From Web

, Feb 13, 2021

I kid you not, some very cool and truly amazing things have happened since I bought this book a few weeks ago, Morgenthau said. Thanks to a new friend, I'm glad I saw this book. I'm sure the universe made that call. Needless to say, I bought a copy for my sister as a thank you present and pay it forward present. It's great to be back home, said Blair, who received her book yesterday.
This book has something for everyone!

Derived From Web

, Nov 17, 2020

When I first started following Sarah Prout, I was blown away by the power of her affirmations. After joining her Master Academy and seeing how her teachings aligned with my beliefs, it was a no brainer for me to purchase her book. I'm so grateful I did. There are meditations for every possible feeling you could imagine. Each book suggests a similar supporting mini-meditations that can help bring your healing full circle. I would recommend it to anyone, young or old. Whether you are Christian, Buddhist, Jewish, or simply a Muslim, it doesn't matter what your religious preference is to benefit from this wealth of relevant guidance. Thanks so much to Sarah Prout for the tip! A couple of years ago, I had a similar experience with Namaste.
The book that changed my Summer.

Derived From Web

, Oct 3, 2020

I came across this book while browsing through the books of Bakara Winter's Sunday Readings on Instagram. The manifestations always resonated, and that way, Sarah steps into such a vulnerable place to share her story, speak her truth and help others understand how the Universe works, as opposed to techniques that bypass tough emotions or decisions. I greet the day with her text, and when I'm experiencing something funky, I read a manifestation loud out and able to step back to put myself in a better frame of mind, she said. I recommend this text to everyone, so if you're on the fence and wondering, take this as your sign that this is for you. nan
:/

Derived From Web

, Jul 25, 2020

I'm excited to read this book! But it looks like it was used by someone else, not new. I could be wrong, but thats what I notice when I get it.
Worth your purchase and a new way of thinking

Derived From Web

, Jun 28, 2020

It was well worth it, I've been following her for a few years, so it was well worth it, Love Sara Prout said.
Beautiful Insightful Book

Derived From Web

, Dec 19, 2019

Sarah is a new hire, I am not familiar with her work. But I have really enjoyed this book so far and have taken the leap to follow some of her other work, Morgenthau said.
Great book

Derived From Web

, Aug 28, 2019

This book is by far the best. It was exactly what I was looking for, Mr. D'Antonio said. I particularly love that I can look up a specific emotion I'm feeling and find the perfect little mini meditation for it.