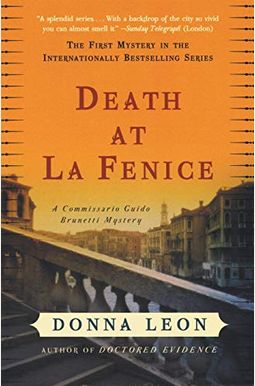 
 
Book Overview
Available in paperback for the first time, the first book in the internationally bestselling Guido Brunetti detective series in which a high society murder leads the detective

Beautiful and serene Venice is a city almost devoid of crime. But that is little comfort to Maestro Helmut Wellauer, a world-renowned conductor whose intermission refreshment comes one night with a little something extra in it--cyanide. For Guido Brunetti, vice-commissario of police and genius detective, finding a suspect isn't a problem; narrowing the large and unconventional group of enemies down to one is. As the suave and pithy Brunetti pieces together clues, a shocking picture of depravity and revenge emerges, leaving him torn between what is and what should be right--and questioning what the law can do, and what needs to be done.
--Tony Hillerman
Frequently bought together
Frequently Asked Questions About Death At La Fenice
Book Reviews
(6)
Did you read Death At La Fenice? Please provide your feedback and rating to help other readers.
Fun Mystery Set In Venice and at La Fenice Opera House

Derived From Web

, Apr 18, 2019

The tie in to Venice was beautiful. The food descriptions are awesome. You feel like you are in the middle of Italy. There is a great setting. The mystery is not one that you can solve because you keep getting the pieces, but is more of a setting- mystery. Enjoy the setting, watch as you see the city, smell the area, taste the delicious foods, and enjoy the evolution of the crime. The detective and his wife and family are involved in a series of mysteries. It's a good start and you will enjoy others more after you read this one.
I don't have time for the excess storytelling!

Derived From Web

, Feb 20, 2019

I was waiting for my copy of The Overnight Kidnapper to arrive when I read this book. The book should have been half the size it is. I don't know if I need to read more than 2 or 3 pages about the monopoly game. How many rooms is his in- law's palazzo? A good back story and clues give the reader atmosphere. They smoke their cigarette, they have shoes, and who was a Nazi 40 years ago. You think the long winded passages might offer a clue, but they are not needed for the story. Since this is her first book, I will give her an extra star, hopefully she learned to reduce her storyline. Was it paid by the word? I don't think I' ll read any more of Ms. Leon's books. I don't have enough time to tell stories.
A conundrum.

Derived From Web

, Aug 23, 2018

Death at La Venice is the first book in a series. The author provided lush, thoughtful descriptions to minimalist prose, but then they went back and forth between them. This was confusing as a reader. She spent a lot of time detailing a meal, when it didn't help the plot. I realized where the book had to end when I reviewed my mind and found 75% of the culprits. There wasn't much mystery to the murder at that time. The main character was enjoyable. I'm not sure if I' ll read another book, but he's pretty interesting for me to read.
A musical murder mystery

Derived From Web

, Aug 5, 2018

Donna Len was recommended to me by my friend who fell in love with Venice. Death At La Fenice is her first book. Venice description is so vivid that you feel like you' re walking through it. Brunetti is a gentle detective with an understanding of people. A very caring man. When a musical director is found dead at the end of a show, he is faced with an impossible puzzle to solve. No one in the music world would think of killing such a genius of musical interpretation. It would be a crime against the world of Music to do that. I plan to read more books by Donna Len.
A Delightful Read

Derived From Web

, Jan 21, 2018

My family and I will be visiting Venice soon, so I chose this book as the first in the Commissario Brunetti mystery series. Donna Leon is a wonderful person. If you are looking for a type of mystery that you can't put down, this isn't it. When it all comes together, this book is more about the characters and setting. The conductor was found dead in his dressing room at the La Fenice theatre, an opera house in Venice. Brunetti is assigned to investigate. He adores his wife, and I like him. I look forward to more in this series after reading this one.
Well written, but no surprises here.

Derived From Web

, Sep 30, 2017

Donna Leon is a great writer. She is very skillful in writing dialogue, her use of language is excellent, and her characters are compelling. Her books have a literary sophistication where characters make casual references to classics that the reader should know. A knowledge of the Italian language is fun when there is a lot of Italian phrases. In this book and others I have read, there is a let- down at the end which leaves the reader somewhat disappointed. I like to hear the author's tale when I read a mysterydetective story. I don't derive pleasure from trying to guess who doesn't know. It is impossible to avoid knowing how it will all turn out with the author. Instead of ah ha, there is a reaction closer to well.