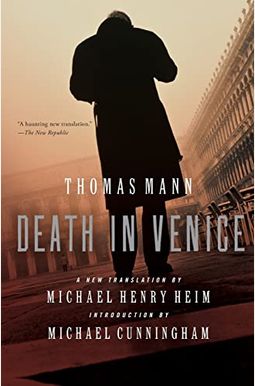 
 
Frequently Asked Questions About Death In Venice
Books like Death In Venice
Book Reviews
(14)
Did you read Death In Venice? Please provide your feedback and rating to help other readers.
This version of the brilliant work has rough spots

Derived From Web

, Jun 4, 2022

As with many translated works, one has to fight the brilliance of the author's original masterpiece, as well as with many translated works. This version has an overabundance of typographical errors and complex German language renderings of the awkward English sentence structures. Such obstacles and inconveniences for the reader add one more element of irony to this story of obsession and consequent disintegration of the tidy, well-ordered little universe of the protagonist. The dramatic backdrop, psychological questions and the unfolding of the scenic incidents are powerfully combined to draw the reader ever closer into the vortex. In this story, the bejeweled city of Venice is a scary place to be.
Classic Novella in any Language!

Derived From Web

, Jun 4, 2022

This classic novel leads to the production of a masterpiece film in a later time. I was surprised at how short the original story was, but was very happy to see how much was packed in a short time. Here are no spoilers, just a mention of how well the story of a soul is told with private torture. Invoking compassion as well as insight, I came away with a deeper understanding of a secret pain and a renewed sense of compassion for something that is often overlooked in a very shallow world. Because of this insight, I will never take for granted many things and have a more compassionate look at people I think I know or knew. I say for that I am grateful and satisfied with my little purchase. Thomas Mann RIP x.
Of Art and T. Mann

Derived From Web

, Jun 4, 2022

Thomas Mann is a great novella by Thomas Mann, which in part has led him to the Nobel. A tragic story. A disciplined and accomplished artist whose success is born by the Apollonian, is nonetheless quickly consumed by his unfamiliarity with the Dionysian while vacationing in Venice. A German perspective of art and knowledge of reason and passion for life and death as a fictional character with a strong philosophical inclination would have thought of these things at the beginning of the twentieth century. I recommend reading Nietzsche's birth from Tragedy and also visiting the Plato Phaedrus Symposium and Philebus.
Anatomy of an Obsession

Derived From Web

, Jun 4, 2022

Was the German author Thomas Mann channeling Schubert's Germanic soul when he wrote this novel? Because of the advances of Ian Bostridge's new book, Schubert's Winter Journey Anatomy of an Obsession describes the same kind of mysterious, romantic, impossible obsession here with a beautiful boy. Mann aims to make it platonic, connecting it instead with asexual ideals of truth and beauty. In the end, these ideals are his undoing, allegorically scorching the Icarus-like protagonist. It is written beautifully, tantalizingly.
A story of a very creepy man.

Derived From Web

, Jun 4, 2022

This book is kind of creepy and not in a good way. However, it is very well written. Instead, read something else.
Good Book

Derived From Web

, Jun 4, 2022

I haven 't yet completed it, but it is an excellent read! I recommend it to anyone who likes to read!
I guess you have to have a Ph.D to want to read this much self-aggrandizement

Derived From Web

, Jun 4, 2022

I am a decently smart, well-educated lady working on my second degree and capable of expressing myself thoughtfully. Whether 100 years old or not, why would anyone want to endure this man's narcissism for 100 pages?!! I call this torture and I would rather finish my own vomit than choke this book. If you Google the plot summary, the first 2 chapters of this book can be summarised in a sentence. The main character is Gustav von Aschenbach, a famous author in his early fifties, who was recently ennobled in honor of his artistic achievement. And God is proud of himself! Most of his sentences are unto themselves small paragraphs, mainly consisting of adjectives. By the time you reach the end of a sentence, you have forgotten what the subject is! The only word that this guy does not know is concise.
too dense

Derived From Web

, Jun 4, 2022

I read about twenty pages of this on the recommendation of a friend, and gave up.
Ugghhh.

Derived From Web

, Jun 4, 2022

The book is in great condition, the plot is a little twisted, like pedophilia twisted. Parents should be warned not for young children.
Death in Venice

Derived From Web

, Jun 4, 2022

I was told that it was used, but in good condition. Many pages are more than half underlined, making it very difficult to read.