Buy 3 Get 1 Free
Our Best Sale Yet! Add 4 Books Priced Under $5 To Your Cart     Learn more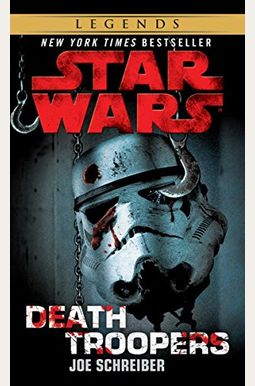  
Death Troopers (Star Wars) (Star Wars - Legends)
Product is currently Out of Stock.
You can add it to your wishlist and you will be notified once we receive a copy.
Frequently Asked Questions About Death Troopers (Star Wars) (Star Wars - Legends)
Book Reviews
(9)
Did you read Death Troopers (Star Wars) (Star Wars - Legends)? Please provide your feedback and rating to help other readers.
Amazing story about what happens when Night of the Living Dead meets Star Wars.

Derived From Web

, Feb 8, 2022

The author has created a powerful story about family and survival that is riveting, but not without flaws. The main cast's underdeveloped characters, an abrupt and convenient ending, and a glaring inconsistency with a prominent character are some of the issues that this reviewer has. The Night of the Living Dead and Star Wars story is an amazing one. The descriptions of the gore and atmosphere can be upsetting to some. If you' re a Star Wars fan or not, this book is worth a read. Thank you for reading the review.
Good, but could have been bettet

Derived From Web

, May 20, 2021

Not a bad read, but not essential for any star wars fans. It's great for your shelf if you' re a collector of star wars literature. The story isn't bad, but it's not as compelling as Red Harvest. Most of the other survivors were more interesting than Han and Chewie were. There was more room for the other characters to tell their stories. If you want to see some light horror set in the star wars universe, I would recommend Red Harvest. I still recommend giving deathtroopers at least a chance. Don't try to think about it too much or give it too much scrutiny.
Don't waste your money.

Derived From Web

, Jan 3, 2021

The book is bad for germ warfare. If you' ve ever read a book about a mystery disease upon a spaceship that kills everyone and then comes back to life as a zombie creature, then you have read this one. They added two popular characters from the Star Wars series so that they could label it Star Wars. Totally waste.
Great story

Derived From Web

, Aug 2, 2020

The story was a little slow to start but once it did the pace was great and very little page space was used onfiller content The author mixes horror and sci- fi in a unique way. It says a lot about the author's ability to write characters that he mostly uses unknown cast. The ending seems a little forced but it is not the worst one I have seen in a Star Wars book.
Exciting story

Derived From Web

, Jun 29, 2020

A good story was told. I was kept interested all the way through by the fast paced pace. The addition of a couple of original characters was great. I didn't like it being too short. At 60% it was done, I read it on my kindle. There were previews of other books. I don't like chapter previews.
Well-produced audo book, but the story is pretty much meh.

Derived From Web

, Sep 12, 2019

I was on my way to get an audio book. When it came out a few years ago, I was a little curious, but I didn't buy it. After listening to this book, I'm glad I didn't read it. The story of zombies in the Star Wars universe turned out to be dumb. It was a challenge to add in Han Solo and Chewbacca.
Great story, legitimately terrifying.

Derived From Web

, Jun 24, 2019

This book was great. It was terrifying and played on your emotions. A great plot and a great story. The integration of two very prominent Star Wars characters that were a bit out of left field, but I was happy that they were there. The ending was a bit quick, but even with all the gore and violence I had to suffer through, it wasn't bad. I wanted to give this book five stars because I enjoyed it on the level of a five star book, but I restrained myself because of the sudden ending and introduction of those two characters, who really deserved taking off a star, but five star enjoyment all the way.
Pretty creepy

Derived From Web

, Feb 28, 2019

In a good way, I found it really weird. Remember the first Star wars when you were a kid? The book is not about those good moments. I am scared of being stranded in space. If you' re a fan of the classic star wars trilogy and a fan of alien and other horror movies, this book is a must read. ZOMBIES. The zombies were imperial. They are smart. If you want to make the audio book scary, look up the digital house audio book, it has star wars effects and sounds that go with it. Definitely recommended.
A swing and a miss

Derived From Web

, Mar 27, 2017

When I bought this, I didn't realize I was getting multiple storiesbooks. I assumed I was getting Death Troopers. The truth is that the book has three. The Death Troopers book was a good read until it suddenly stopped. The author had one of those endings that felt like they didn't know where they wanted to go with the story and decided to wrap everything up quickly. The book had a loose thread about who the two brothers were in the Star Wars universe. The introduction of two favorite Star Wars characters was done to get sympathy. If given a lot of scrutiny, the ending explanation doesn't make much sense. It says a lot to me that I haven't read the other two stories that came with Death Troopers.