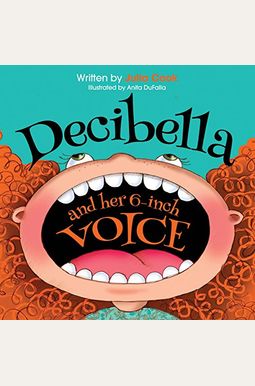 
 
Decibella And Her 6-Inch Voice
Book Overview
Isabella is a spirited girl who enjoys shouting out her thoughts, ideas and feelings. In fact, she loves using her loud voice so much; it's earned her the nickname Decibella Young readers will be entertained as they see how Isabella learns the five volumes of voice and discovers that different situations require a different tone.
Award-winning author Julia Cook uses a fun, yet educational, style to show kids how and when to use their five voices; whisper, 6-inch, table-talk, strong speaker and outside.
Frequently Asked Questions About Decibella And Her 6-Inch Voice
Books like Decibella And Her 6-Inch Voice
Book Reviews
(14)
Did you read Decibella And Her 6-Inch Voice? Please provide your feedback and rating to help other readers.
Perfect explanation of different voice levels

Derived From Web

, May 5, 2022

Julia Cook books are important to teach my son manners but they are not what he should expect and I find that MzE MzE MzEd works best with his sibling. This book is top-notch. The voice range has different levels as stand alone voice and stand together voice. It was easy for my son to demonstrate when he did not know what he was talking about. He doesn't respond well to being slammed, so I can say 6-ins to him, or 1-ins and he will respond right away.
A life saver with a loud 3 year old and sleeping baby

Derived From Web

, May 5, 2022

I have a 3 year old who only speaks outdoors. This has been a problem with the baby brother. She's a little young to understand everything in the book, but she adores it and has finally caught on to the whisper voice. She came into my room this morning and whispered in my ear what she wanted. She would have yelled before.
I will be using this book to introduce voice levels ...

Derived From Web

, May 5, 2022

The book is used to introduce voice levels in the classroom. From silent to outdoor, students should use the five voice levels.
Aha moment!

Derived From Web

, May 5, 2022

The book was a big help to the 4 year old. I still have to remind her to use volume, but she knows what I'm talking about.
Toning down those decibels with Decibella!

Derived From Web

, May 5, 2022

This story is very touching. It will definitely help a child with vocal volume difficulties.
Great book! My daughter loved it and it really ...

Derived From Web

, May 5, 2022

It was a great book. My daughter loved it and it helped when she was loud indoors.
Fantastic book

Derived From Web

, Dec 3, 2021

I saw this title and thought it would be perfect for my son with attention deficit disorder. Voice control is a challenge for him. I read this book to him and his brother. We now have a good vocabulary for voice level. I find myself often asking for a small voice.
Good concept- story seems too long though

Derived From Web

, Jul 22, 2020

My 4 year old son is loud and he is my only child. The story and lesson is enjoyable but I was losing his interest by the way. It is best for older kids, but I need it now. It's funny. Reading this helped my son use his 6 inch voice, and he now doesn't use the loud voice he used before.
Every classroom needs this

Derived From Web

, Dec 8, 2019

This book is a must have for me as a behavioral aide. There is always a few students who don't have any control over volume. This book is easy to understand and fun to read. The students were told that it was ninja training and that they were supposed to play games and make their way down the hallway. They like it. After reading this, I love it because the volume goes down for at least an hour. Then they become normal screaming madness.
Poor packaging allowed book to be damaged 🙁

Derived From Web

, Oct 1, 2019

This book was on my daughter's birthday list and I bought it. The book is bent because the mailman folded it to fit in my mailbox. The spine is broken in one place and folded across the middle of the book. It is a soft book so hopefully it will hold up after the damage.