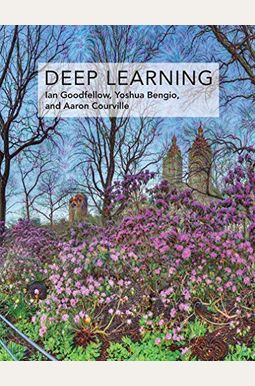 
 
Deep Learning (Adaptive Computation And Machine Learning Series)
Book Overview
An introduction to a broad range of topics in deep learning, covering mathematical and conceptual background, deep learning techniques used in industry, and research perspectives.
Written by three experts in the field, Deep Learning is the only comprehensive book on the subject.
--Elon Musk, cochair of OpenAI; cofounder and CEO of Tesla and SpaceX
Deep learning is a form of machine learning that enables computers to learn from experience and understand the world in terms of a hierarchy of concepts. Because the computer gathers knowledge from experience, there is no need for a human computer operator to formally specify all the knowledge that the computer needs. The hierarchy of concepts allows the computer to learn complicated concepts by building them out of simpler ones; a graph of these hierarchies would be many layers deep. This book introduces a broad range of topics in deep learning.
The text offers mathematical and conceptual background, covering relevant concepts in linear algebra, probability theory and information theory, numerical computation, and machine learning. It describes deep learning techniques used by practitioners in industry, including deep feedforward networks, regularization, optimization algorithms, convolutional networks, sequence modeling, and practical methodology; and it surveys such applications as Read More chevron_right
Frequently Asked Questions About Deep Learning (Adaptive Computation And Machine Learning Series)
Book Reviews
(8)
Did you read Deep Learning (Adaptive Computation And Machine Learning Series)? Please provide your feedback and rating to help other readers.
Good for mathematical foundation of machine learning

Derived From Web

, Dec 25, 2020

The book is a thorough and up-to-date introduction to the principles of machine learning.
Publisher has omitted pages from book

Derived From Web

, Dec 8, 2020

As of now, I have no plans to review this book, but other reviewers have said the printed copy I received is missing entire sections. Some of the sections have been duplicated.
Good book for studying DL

Derived From Web

, Feb 21, 2020

The content of the books is very useful, McBride said. The printed paper is too thin compared with other MIT Press books.
Beware of counterfeits!

Derived From Web

, Jan 3, 2019

I was very excited when I got the book, Melissa. It's just a matter of time, I suspect, until the printer's edition is identified as a counterfeit. I was able to compare it with an edition of the book purchased directly from MIT Press.
Decent Reference

Derived From Web

, Sep 27, 2018

Not bad as a reference, but helps to understand the fundamentals of neural networks before we can apply them to real-world applications. The quality of the copy I received was not that good _ almost looks like a knockoff _ and the construction was also not that great.
not much insight

Derived From Web

, Aug 20, 2018

I find this book extremely frustrating because it skims over things at a high level. It's just that I didn't need to buy this book to understand how neural networks work. Before this, I read a very applied book by the same name, which also describes NNs at a high level, but also shows how to implement them at the same time. I was hoping to get a bit deeper understanding than that, but it didn't add much to what I got from that one. Even things I already knew about, such as analysis factor, were described at such a high level that to get the idea I had to go back to my previous notes. As a reader, I like to be taken through the development of an idea, but this book just throws out names of methods as if a list of bullet points had been converted to form a paragraph.
It does not worth the money for the quality of the print.

Derived From Web

, Jun 23, 2018

I suspect it is pirated, I can't imagine how it is original copy, leave the detached cover aside, and print quality of most pages is distorted. I know the content of the book and I can't believe it is being sold.
Not very good :(

Derived From Web

, Nov 9, 2017

What's more, I'm supposed to count the white stars? However, it won't teach you the math or even serve as a refresher on the math. At best, if you already know the math, you can decode what they are saying and nod along. It feels like the book is being compressed. They write out elaborate mathematical symbols and then you just have to think it through and remember that Andrew NG video where he actually explained the concept. However, the math itself is too elaborate and doesn't explain everything. The two schools did not have any formal problems, the report said. The book was originally to be published in January, but then Amazon demanded that Hamdi do all the work, which he did not do.