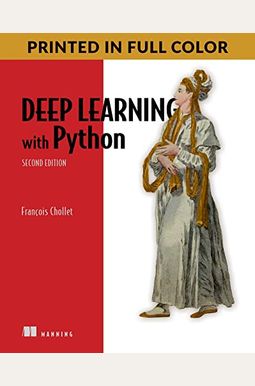  
Deep Learning with Python, Second Edition
Frequently Asked Questions About Deep Learning with Python, Second Edition
Book Reviews
(7)
Did you read Deep Learning with Python, Second Edition? Please provide your feedback and rating to help other readers.
Must-Read for everyone getting into machine learning

Derived From Web

, Mar 16, 2022

This book is not only about using Keras and Tensorflow, but it provides a much broader understanding of deep learning and practical approaches to train deep neural networks.
Great book

Derived From Web

, Mar 7, 2022

A great book. I read the first edition and now I am reading the second, which is even better.
Excellent read

Derived From Web

, Mar 5, 2022

This book is a thoughtful and thorough look at trust issues, ML methods and what to do about ML issues.
My all time favorite Deep Learning book

Derived From Web

, Feb 20, 2022

It's just that Johnson said it was an exaggeration. Now I can probably quote portions of the book if I were to go on a technical interview, he said. It's great to be back home, said Blair. When I found out that they made an audio version of the second edition, I bought it immediately. I'm pretty sure I'll hear this again and again just like a movie addict would binge watch the Bourne movies series. It's very strange that this book has turned into a psychological addiction for me _ could be because it is well-written and very scholarly, unlike many of the so-called "Deep Learning" hype-riddled books out there.
A Really Good Book for Learning and Understanding How to Use Python for Deep Learning

Derived From Web

, Jan 30, 2022

I pre-ordered the second edition because I absolutely loved the first. I am still in the midst of working through the book, and I am finding it extremely useful, informative, and insightful. The Harrisons did not renew their lease after June 30." Kudos to Francois Chollet for his contribution to democratizing the development and deployment of technology. He is truly an amazing teacher, assistant principal said.
The bible of DL - recommended to all aspiring data scientists

Derived From Web

, Jan 23, 2022

I have more than 50 books on AI and ML, but only Francois Chollet's "bible on DL" is currently open on my desk. The author of the program, Raymond Hopkins, decided to focus on working Python code instead of the math behind it. Many have said Chollet is an excellent teacher who can explain complex and complicated concepts to the masses. Haskell has successfully used his code and DL techniques in many hackathons, user interface challenges and Kaggle competitions. I've just received my second edition a couple of days ago - and the book is about 50% bigger than the first edition, thanks to the author adding more examples and details plus full color printing.
Amazon vs. Manning price difference

Derived From Web

, Jan 23, 2022

Amazon's price is $2,800 while Manning's is $2,400. Although I have only read the 1st edition, and it was great, I'm sure the 2nd edition will be even better. Brand new stuff, so I'll buy it.