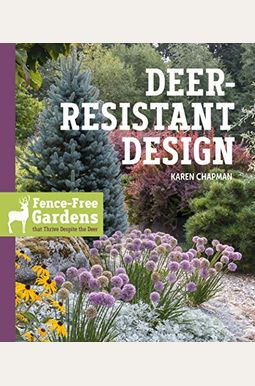 
 
Deer-Resistant Design: Fence-Free Gardens That Thrive Despite the Deer
Book Overview
Fear deer no more The best source I've seen on the topic --Tracy DiSabato-Aust, award-winning garden designer and best-selling author
Deer are one of the most common problems a gardener can face. These cute but pesky animals can quickly devour hundreds of dollars' worth of plants. And common solutions include the use of unattractive fencing and chemicals. In
Deer-Resistant Design
, Karen Chapman offers another option--intentional design choices that result in beautiful gardens that coexist with wildlife.
Deer-Resistant Design
showcases real home gardens across North America--from a country garden in New Jersey to a hilltop hacienda in Texas--that have successfully managed the presence of deer. Each homeowner also shares their top ten deer-resistant plants, all welcome additions to a deer-challenged gardeners shopping list. A chapter on deer-resistant container gardens provides suggestions for making colorful, captivating, and imaginative containers. Lushly illustrated and filled with practical advice and inspiring design ideas,
Deer-Resistant Design
is packed with everything you need to confidently tackle this challenging problem.
Frequently Asked Questions About Deer-Resistant Design: Fence-Free Gardens That Thrive Despite the Deer
Book Reviews
(9)
Did you read Deer-Resistant Design: Fence-Free Gardens That Thrive Despite the Deer? Please provide your feedback and rating to help other readers.
The BEST TX plant guide

Derived From Web

, Jan 28, 2022

Learning what plants are native and resistant to Texas and how to care for them was a challenge when moving here from another state. I often refer to this guide when selecting trees, bushes, succulents, perennials that are most resistant to deer. I bought an additional copy to give it as a gift. I recommend this book highly to any gardening enthusiast in Texas.
Actually kinda limited on deer resistant plants

Derived From Web

, Feb 13, 2021

The best part was the introduction and discussion about plant characteristics deer tend to avoid and reference to the Rutgers NJ Agricultural Online Deer Resistant Plant Website. I had the feeling that the book was already written and then someone decided to spin it into a deer resistant focus. Liked the pictures of the gardens, although the book was more of a garden survey of people's gardens and their history than specifically directed for its entirety on deer resistant plantings. Each chapter had the story of the people and their gardens and then used half a dozen plants that were resistant to deer. If you want to peek into someone's garden, but otherwise kind of'meh '.
Deer + Japanese Barberry = Lyme Disease

Derived From Web

, Jan 14, 2021

I was shocked and disappointed to see that the most common plant mentioned in this book is the Japanese barberry. It is invasive and provides an ideal habitat for Lyme - diseased ticks. Lyme - Trails with Barberry is a great way to increase the chances of Lining deer disease.
Repetitive information on the same planting zones

Derived From Web

, Apr 9, 2020

I was so excited to read and purchase this book. The book glosses over the same low altitude, easy planting zones and repetitive gardening regions, leaving some of the most populated states on the Nation Colorado, Alaska, Wyoming, Montana, Nebraska.
Beautiful and informative.

Derived From Web

, Nov 25, 2019

This book is loved. It gives me hope that I can still have a beautiful area outdoors, even with the frequent visits from our deer friends.
I sure needed this book!

Derived From Web

, Oct 23, 2019

What a resource for combating outsmarting adapting to our deer friends! Lots of ideas of what to do, what not to do - beautiful photos and so many wonderful ideas! What did I do without this very helpful guide to gardening with wildlife? I highly recommend ''.
Helpful and delightful.

Derived From Web

, Oct 17, 2019

I love this book ''. It explains and shows through many examples how a beautiful garden can be functional too! Karen's charming personality shines through in every chapter. Even those who don 't have a problem with deer will still enjoy the gardens shown in the book. In these pages, there is something for everyone.
Deserves a spot on your bookshelf!

Derived From Web

, Oct 14, 2019

Beautiful photographs with personal stories of beautiful gardens and how designers, homeowners and caretakers work with deer in their landscapes.
As entertaining as it is practical.

Derived From Web

, Aug 28, 2019

You can learn almost everything online... but nothing beat the practical and humorous observations directly from the author. A book in the hand is like sitting on the porch with a mug of tea. Last year I moved my garden from the city to hectares and now have to plan a totally different way to garden in my lush herbaceous containers on the deck to the beloved borders of my dreams. Goodness, thank goodness for the experience and advice of a gardener who thinks like a designer. Her dry wit and helpful observations make every chapter full of astute advice. Now I won 't waste any money on plants to deer.