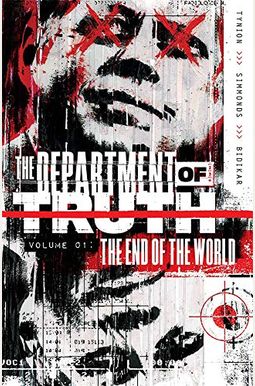  
Department Of Truth, Vol 1: The End Of The World
Frequently Asked Questions About Department Of Truth, Vol 1: The End Of The World
Book Reviews
(9)
Did you read Department Of Truth, Vol 1: The End Of The World? Please provide your feedback and rating to help other readers.
A dumpster fire of misinformation masquerading as fiction…

Derived From Web

, Nov 4, 2021

For anyone who ever studied the McMartin Case or The Franklin Cover-Up by the late senator John DeCamp, one would know that these acts of barbarism are very real and heavily documented. Outside of knowing who God is, it is easier for the conspiracy theorist to obsess about what might be real or not while the average reader may come away with some sense of moral superiority. One can't say whether reading this book is "entertainment."
Prepare to be paranoid

Derived From Web

, Sep 8, 2021

The story is unnervingly realistic and the art is beautifully chaotic enough to contribute to the uneasiness that the story produces. This makes for a great read that is not for the faint of heart or paranoid. You will walk away from this book, asking, "Could it be?"
MUCH MORE THAN A SIMPLE COMIC

Derived From Web

, Jul 7, 2021

Most comics are assembled for teenage boys. It's called "Department of Truth." It's a window into a deeper cosmic truth. The quality of the work is really special. It's very uncomic like, but perfect for the mood of the story. The actual story itself is a work of genius, too. If you're not a teenage boy, but have been looking for comics and graphic novels, then you need look no further as this is exactly what you're looking for. I could compare it to the Matrix or X-files or Men in Black, but it's so much more. Seriously. This is some next level graphic fiction, I must say. The ultra-modern storyline only serves to heighten the intrigue. It will make you question everything you take for granted. It's just that we're not that good at it. nan It definitely makes you think about things in new ways. At least that's at least good.
This is a great series...

Derived From Web

, May 17, 2021

This is a must read for anyone who has ever wanted to be a writer. Great storyline, great art, too. It's great to read, and I can save my original comics from any damage.
Reality Reborn

Derived From Web

, May 10, 2021

Tynion is on fire with his heady blend of current affairs, Cold War politics, walking ghosts, and spy games built around a web of conspiracy. Brilliant art, fantastic coloring, and deep storytelling make this my new book and an instant recommendation.
No matter what you believe, this book you should read

Derived From Web

, Apr 6, 2021

This is completely different from the rest of the Matrix. It's an interesting story dealing with current issues we face in today's times with TRUTH and Popular Conspiracy Theories like flat earth and stuff, Raymond said. I really love how the author doesn't take a side, as one would say. No matter your beliefs or truths, the author will have both sides of whatever spectrum of TruthLife entertained from start to finish! He presents real life situations and conspiracies that keep you guessing, so wheres the truth? Well the truth is... this book is waiting for you to be lost in Truth, Conspiracies, Real Government LiesTies and Current Emotions and Events.
A good beginning

Derived From Web

, Mar 22, 2021

This is a difficult book to review because just as it really gets going, it ends. But I like the direction it's headed. The writing is solid and the artwork is gripping. The point it appears to want to make is that conspiracy theories can be dangerous, Levine said. There is, of course, truth to that. But there are far too many factoids in many of them to simply chalk it all up to an overactive imagination. The danger exists in this story to try to think conspiracy theories are all nonsense, Sosa said. It's a quibble aside, the book is compelling. Where it will lead is up in the air. This could be a great beginning to an excellent story, or it could fall apart under its own gravity. Future will decide.
Must get trade of the year so far!

Derived From Web

, Mar 15, 2021

Exceeded my expectations! Checks all the boxes for me. Incredible page turning, surreal, beautiful lettering. One of my favorite new ongoing series already. Can't wait to see what happens next.
An absolute masterpiece

Derived From Web

, Mar 5, 2021

I ordered this without much expectation.. I wasn't sure what I'd get. It turns out, its spectacular! Highly recommend. highly recommend!