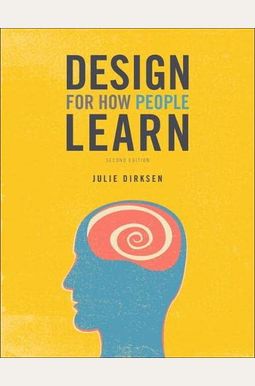 
 
Design for How People Learn
Frequently Asked Questions About Design for How People Learn
Book Reviews
(9)
Did you read Design for How People Learn? Please provide your feedback and rating to help other readers.
" It relays very helpful information about designing curriculum with great images and interesting science

Derived From Web

, Apr 20, 2022

I purchased Design for People Learn by Dirksen from Amazon. com. This book is the culmination of everything that made Melville's fiction so special. It also provides useful information about designing curriculum with great images and interesting science. But Dirksen's content is often funny, making the educational experience of reading her book actually fun. I'm suggesting to everyone I come across who wants to design better learning experiences, whether in education or health care, that they should take this book.
For Novice to Expert and All Designers In-between

Derived From Web

, Apr 20, 2022

I am a lead instructional designer for a medium-sized business and have been designing e-learning, hybrid learning, and face-to-face learning for over 10 years. I cannot recommend this book highly enough. Whether you are a seasoned designer or a budding entrepreneur, the ProFinder is the tool for you. If you are an instructional designer or are even thinking about designing, this book is for you.
Beware of Trick Rentals!

Derived From Web

, Dec 18, 2021

A great book, said Gillian. I first listened to it on Audible and then decided I wanted a physical copy. However, you have to be careful not to buy the book and then rent it out. I did not remember, for example, whether I was renting or buying a book. If you accidentally rent a book, you have to pay extra to keep the book you thought you bought. It was also expensive for a used book, too. I thought I was buying from Amazon, but the seller was RentU. I'll be more careful when I click Buy Now in the future. If I want to borrow a book, I can go to the library for free!
Really good book!

Derived From Web

, May 14, 2020

Even though I have a degree in psychology, I learned something new on every page. The way it is written makes it interesting, lots of graphics and some examples of how data can be manipulated, Hubach said. The book is written in a way that the author is putting in practice what she teaches. It's great to be back home, said Blair. The book is very well written, and I read it all the way through. In addition, I plan on using the knowledge gained from this book in my own courses to help learners be fully engaged in the content. If you enjoy reading, you must have at least one copy of this book.
If you buy one book, this is it

Derived From Web

, Dec 7, 2019

As a former teacher and current instructional designer, I can't recommend this book highly enough. There are instructional design books with paragraphs that are easy to read, with few black and white images. Then there is this book designed by an instructional designer, where the page layout actually helps you learn-novel idea. I've sat through many PDs where they tell you how to teach using a PowerPoint slide. It seems like a no brainer, but severely lacking from those who teach others how to teach, he said. One of the best books I've read on this subject.
Valuable resource

Derived From Web

, Oct 22, 2019

This book is being used as part of the training of a new Instructional Designer in our department. It has been a great resource and great reminder of some of the things that can be forgotten once you are out of school, he said.
Great book on learning design

Derived From Web

, Sep 22, 2018

Now I just need to do what learning designers try to do for learners and put into practice what I've learned, he said. There are some great takeaways throughout the book. It's not rocket science, so not everything is new and complex, Raymond said. It's a reminder of many key fundamentals that often get swept aside by bad habits, lack of time, working under pressure and a lack of leadership. That doesn't mean we should always be doing our level best to create great learning designs that impact results, which is how we overcome those bad habits and earn leadership commitment, he said.
Non-helpful graphics

Derived From Web

, Aug 31, 2018

Yes, I did not make it past the first chapter. Only in the second book did I read the entire story. The information is based on research and the graphics are so annoying and add absolutely nothing. 0 1462228 The information is based on research and the graphics are so annoying and add absolutely nothing. I checked a number of times, first reading the written information then looking carefully at the graphics to see if there was any information there. The book is reminiscent of the "Harry Potter" series, in that the authors think you won't read any information unless you're entertained by pictures. It was very distracting and I couldn't continue. I'd be very interested in a version of this book without the graphics so I could focus on what the writer was saying, Raymond said.
The Best Textbook I Have Ever Read!

Derived From Web

, Nov 2, 2017

I actually enjoy reading it, Bruno says. I would even consider reading it for fun, Mr. Dhaliwal said. Not only is the information in the book absolutely fascinating, but it is presented in a way that is witty and engaging, too.