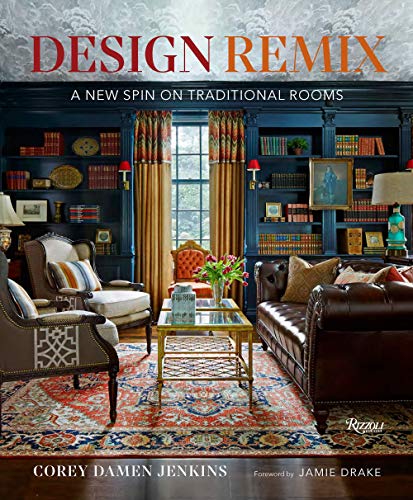  
Design Remix: A New Spin on Traditional Rooms
Book Overview
The first book from AD100 interior designer Corey Damen Jenkins, known for his colorful, youthful traditionalism.
Corey Damen Jenkins's bold interiors have won a devoted following. In his first book, he presents his take on classic interiors that have been beautifully reimagined for today's taste, sharing the building blocks of this fun, vibrant traditional look. Bold Standard is about how to use color in unexpected ways. Good Bones showcases architectural details. Less Is More focuses on creating a minimal look within a traditional interior. Eclectic Exuberance celebrates a collected appeal. Night and Day is a new look at the classic, graphic pairing of dark and light colors. Haute House looks at accessorizing with fashion-inspired elements. Playful Spaces is about creating rooms that cater to lounging, and nesting: kids' bedrooms, family rooms, reading nooks, homework areas. With sidebars on practical questions such as how to hang a salon-style picture wall and choosing the right window treatment, this is a must-have book for fans of a fresh, traditional look.
Frequently Asked Questions About Design Remix: A New Spin on Traditional Rooms
Book Reviews
(11)
Did you read Design Remix: A New Spin on Traditional Rooms? Please provide your feedback and rating to help other readers.
Beautifully Done!

Derived From Web

, Feb 1, 2022

I love this book absolutely ''. I first saw Corey's Master Class '' and was inspired to also purchase his book. He has a modern style that includes traditional elements, but with a great sensibility. His choice of colors, textures, fabrics and finishes makes a beautiful final space. A good friend saw this book at my home and couldn t put it down. She said : I love everything here. I bought that one and gave her a second copy!
Greatest interior designer of this decade!

Derived From Web

, Dec 30, 2021

I have not been this excited in a long time about an interior designer! And his online master class is very informative. I recommend the master class if you love his designs as much as I do!
Good photos great copy and beautiful work

Derived From Web

, Dec 15, 2021

Corey Damon Jenkins is a new virtuoso - redefining the tradition with's old. Inspiring Book :
Absolutely Wonderful Read

Derived From Web

, Jul 16, 2021

But his story is just as compelling. From hitting 779 doors to winning the HGTV competition, you can see the hard work he put in to become everything he has. As an interior designer, this book is more than beautiful coffee table decor. It supplies so much inspiration! If you buy this book, you will not be disappointed.
Forget this book!

Derived From Web

, May 11, 2021

I have never returned a book, but this one isn 't worth $5.00.
Corey Damen Jenkins is my new favorite designer!!!

Derived From Web

, Apr 9, 2021

Words cannot describe how much I have adored this book. I own thousands of interior design and architecture books, and I 'll be honest, most of the time I will simply flip through them looking at the pictures. I have never been able to tell people what my style was before, because it never seemed to fit into a neat box, but thanks to this designer I would now call it Eclectic Exuberance. I love color, pattern and texture and adore mixing seemingly disparate items that have the commonality of being things I love. This book was by far the best design book I have ever read, and I am not saying it as a fellow Michigander. I can not recommend this book highly enough ''.
779 Reasons to read this book.

Derived From Web

, Apr 4, 2021

A gift from my husband Dennis, the book Design Remix '' by designer Corey Damen Jenkins is a master class of scrumptious rooms filled with unexpected mixes of beauty and edge, highs and lows, beauty and drama, as well as peace and serenity. His own inspirational story of persistence, breaking barriers and stereotypes is so inspirational. I had the pleasure of meeting him and was so struck by his grace, charm and kindness, bundled with a steely strength that is awesome in the true sense of the word. There are more than 779 things I love about this book!! To know the significance of this number, you must read. Amazing and inspirational for anyone who loves interior design.
Buy it!

Derived From Web

, Mar 31, 2021

This beautiful book will satisfy the need for beauty in your eyes. If you are looking for the perfect book of interior design... this is it! On every page, talent is displayed.
Best elements of classic design and progressive sensibility

Derived From Web

, Mar 26, 2021

This book is an absolute pleasure. I've come to know Corey personally, but that having only enhanced my appreciation of the work here. There is an accessibility to narrative, interspersed as it is with stories from his personal biography and upbringing in Detroit that makes for a breezy, fizzy read. The imagery throughout is pure, as he adopts the best elements of classical design and progressive sensibility, mixing in a healthy dose of whimsy and sheer joy. Not only are you inspired by his quick use of space, but also by the lack of pretension and his willingness to embrace the crazy notion that real people live in these homes and have an attachedness to furnishings and decor from their pasts. I HIGHLY recommend this book, especially as all of us turn to loving and appreciating our homes as the sum and center of our daily lives. Highly recommended :
Gorgeous Book!

Derived From Web

, Mar 25, 2021

It is a book of great quality. I haven t dug into reading it yet, but I am highly impressed with the picture quality, something I have found lacking in a lot of design books lately. I will probably buy a few more copies as gifts. Corey Damen Jenkins is so talented. I have been following him on Instagram for awhile and was so excited to see that he had a book out.