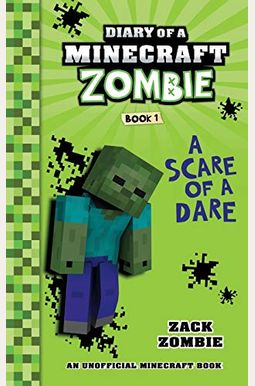 
 
Diary of a Minecraft Zombie Book 1: A Scare of a Dare
Book Overview
This Description may be from another edition of this product.
Diary of a Minecraft Zombie Has a Brand New Look
Ever wonder what it would be like to be a Minecraft Zombie?
In the first book of this hilarious Minecraft adventure series, we get to read the diary of an actual 12-year old, Minecraft Zombie. Take a peek at what is really going on between the hollow eyes, and dead expression that we normally see when we face the dreaded Zombies of Minecraft.

Are Zombies really different from us? You'll be surprised at what you discover. So, jump into this Minecraft adventure and find out .

Diary of a Minecraft Zombie is a must-read for any kid who loves Minecraft. Kids ages 7+ can't wait to jump into to these Minecraft Zombie adventures

Great Minecraft Books for Kids age 5-7, 6-8, 8-10, 9-12, also perfect Minecraft kids books for ages 6, 7, 8, 9, 10, 11, 12 and older.

If you're looking for books for 8 year old boys and girls, or Minecraft kids books ages 9-12, these Minecraft zombie books are great to motivate them to enjoy reading.
Frequently bought together
Frequently Asked Questions About Diary of a Minecraft Zombie Book 1: A Scare of a Dare
#1

#2

#6

#7

#8

#9

#10

#11

#12

#13

#16

#17

#18
Book Reviews
(9)
Did you read Diary of a Minecraft Zombie Book 1: A Scare of a Dare? Please provide your feedback and rating to help other readers.
Highly recommended by a relatively uncommunicative ten year old.

Derived From Web

, Feb 11, 2022

A ten year old is reading. It was a good review but short. In order to get more information, the question and answer session followed. A zombie with troubles at schools goes on a few adventures. How old do you need to be to read it? It's probably 4 or 5 to 11 or 12. It is probably more like 11. Is there bad language or violence in it? I can't remember. Is that funny? Yes, I do. What did you think was great about it? It was good to read. It was hard to read. It's not true. It was very easy. Would you recommend it to your friends? It's probably. What is the reason? They like that kind of thing. Which kind of thing? Likediaries. Do you have diaries? And the game? Yes, it is. What else? Idunno.
Great funny book!

Derived From Web

, Feb 11, 2022

I bought this for my 9 yr old son because I want him to get into reading books, and since he loves minecraft, I said let's give it a try. He likes it. I was looking for a book that would keep him entertained and this book is that. I read a couple of reviews and one said the book was funny and made her son laugh so I wanted to see if it was real. My son came to me a couple of times to tell me about what was happening in the story and I caught him laughing at times. I asked him if he liked it and he said yes, the book is small and the story is 77 pages long, but I think it's worth it!
My minecraft kid love it!

Derived From Web

, Feb 11, 2022

My son wasn't sure what to think of the book, but I told him to read one chapter and then we would keep reading. We talked about zombies and the book for a long time. We read the whole book in one day. The story wasn't great, but my first graders love it because he really wants to get the rest of the books, and it wasn't all that great. Anything that makes him want to read more is great. If you are reading it to the kids, you might be a little bored, but the kids will love it. I think he will be able to read it on his own. So that's correct.
Cute book, written on a kids' level, very entertaining for young Minecraft lovers

Derived From Web

, Feb 11, 2022

Santa gave my son this book this year. This didn't fail to impress him, he loves everything about the game. He wasn't put off by it from the moment he saw it. He likes that the zombie talks like a child. It made him laugh a lot. This is a great purchase for a child who likes reading. It was a last- minute add- on purchase that made his big box of goodies from Santa more complete, and was one of his favorite pieces.
Weird.

Derived From Web

, Oct 20, 2021

I purchased this book for my son. The pages from another book came up while he was reading it. The pages are from a book. You can see that they are not in order as they jump from chapter 2 to chapter 38. The original book has those pages in it. I have never seen a bindingprinting error before. I ordered the book in October 2021. All the original book pages are there, even though I counted off a star for that. My son enjoys the original story.
Great learning gift for a minecraft lover

Derived From Web

, Dec 8, 2020

My 7 year old is getting to the point where she can read small chapter books and I knew she would love this book. I made sure to get book 1 first so she could read the rest of the series in order. The book is on the front and clearly states which book it is. The book has some pictures in black and white, but not many. There aren't a lot of words on the page to make it hard for a young reader to comprehend them. I think giving her a book and a game that she likes to play will help her love for reading. If she likes it, I will purchase the 2 nd book and so on and so forth, and I can't wait to give it to her for Christmas.
The same old story just a new cover

Derived From Web

, Aug 9, 2020

A scare of a dare, book 1 is the diary of a zombie. It's the same as the old one with a new cover and letter style. The story and pictures are the same. They are not on the same page. It's a fear of a cover up for me. The story is great. It's perfect for kids in school.
We love Zack!

Derived From Web

, Jul 7, 2017

I'm a retired English teacher with a reverence for Newbery and Caldecott books, so when my grandson's obsession with minecraft led us to the Diary of a Minecraft Zombie series, I was less than excited. We tried Book 1 because I know the connection between love of reading and freedom. Is the lesson learned? Don't be snobbery. I have developed a real affection for the group of misfit friends, because he's now reading Book 7. The lessons about acceptance, compassion and sacrifice are interwoven with the humorous schoolkid angst. These morals are the result of character development and are not tacked on. I'd be hard pressed to find a better role model in a book written for this level. You are a good guy to hang with!
A perfect catch for any Minecraft fan!

Derived From Web

, Mar 8, 2017

My 10 year old has learning disabilities. He can't find reading material that keeps his interest. He's a big fan of the game. The book grabbed his attention quickly. I was surprised that he read the entire book in a single day.