Buy 3 Get 1 Free
Our Best Sale Yet! Add 4 Books Priced Under $5 To Your Cart     Learn more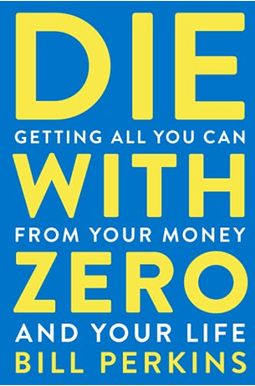 
 
Die With Zero: Getting All You Can From Your Money And Your Life
Book Overview
This Description may be from another edition of this product.
A WAL STRET JOURNAL BESTSELER
A Common-Sense Guide to Living Rich.Instead of Dying Rich Imagine if by the time you died, you did everything you were told to. You worked hard, saved your money, and looked forward to financial freedom when you retired. The only thing you wasted along the way was.
your life.
Die with Zero
presents a startling new and provocative philosophy as well as practical guide on how to get the most out of your money--
and
out of your life
.
It's intended for those who place lifelong memorable experiences far ahead of simply making and accumulating money for one's so-called Golden Years. In short, Bill Perkins wants to rescue you from over-saving and under-living. Regardless of your age,
Die with Zero
will teach you Perkins' plan for optimizing your life, stage by stage, so you're fully engaged and enjoying what you've worked and saved for. You'll discover how to maximize your lifetime memorable moments with experience bucketing, how to convert your earnings into priceless memories by following your net worth curve, and find out how to navigate whether to invest in, or delay, a meaningful adventure based on your spend curve and personal interest rate. Using his own life experiences as well as the inspiring stories and cautionary tales of others--and drawing on eye-opening insights about time, money, and happiness from psychological science and behavioral finance --Perkins makes a timely, convincing, and contrarian case for living large.
Frequently bought together
Frequently Asked Questions About Die With Zero: Getting All You Can From Your Money And Your Life
Book Reviews
(15)
Did you read Die With Zero: Getting All You Can From Your Money And Your Life? Please provide your feedback and rating to help other readers.
Suggested to everyone who wants a better relationship with money $$

Derived From Web

, Feb 24, 2022

If you have any friends who want a better relationship with money, I would highly recommend this book. He has done extensive work with Merrill, including serving as a senior adviser on mergers and acquisitions. Anytime I ask for a suggestion book, I race to share this gem. I am usually one of hundreds, but I keep sharing because I resonate with this fiance bookmoney more than any others right now. The idea of the dividend was a game changer for me, Mr. Rule told the judge.
Tedious

Derived From Web

, Aug 15, 2021

I'm a couple of chapters in and can't figure out how many readers could have given Die With Zero five stars. This book is very tedious to read. He will use too many sentences to describe a very straightforward point, then he will give a metaphor to illustrate the point, then he will make a pop culture reference to underscore the point. He also gives absurdly useless examples to correlate his point to real life situations. We don't wake up every day not knowing what a door is, or a doorknob, and having to relearn how to open a door. We don't walk into our own kitchen each morning wondering who that stranger is making coffee. All of this to make the point that humans have memory recall, which is not something that even needs to be stated. I'll update this review when I finish the book.
Demeaning View of the Elderly

Derived From Web

, Aug 4, 2021

The premise of this book is simple: could be about 5 pages, but powerful. But at the midpoint of my life, I started noticing a very discouraging perspective on the elderly - repeated descriptions of how when you're in your 70s and 80s all you will want to do is watch Jeopardy and re-runs of the Golden Girls. Then your interests gradually narrow as you get older. It's just that your creativity usually declines too. For me, the author is trying to light a fire under the reader, but for me, it was a bit skewed and out of touch with many of the people who I know and love who are elderly and have more energy.
Thought provoking!

Derived From Web

, Jun 28, 2021

Thanks to Bill Perkins and the Die With Zero outreach team for sending me a copy of this book in exchange for an honest review. The book gives great advice that will really motivate you to take a look at how you are living your life, planning for your future and balancing your spending and saving for life. Bill Perkins offers metaphors, research, and personal experience to help people get the most out of their time, money, and health.
Die with Zero has become my life-bible

Derived From Web

, May 26, 2021

It basically revolutionized how my mother behaves around money, which was sorely needed, said Goodrich. Thinking about money and the life the author suggests has really improved my happiness.
Great book

Derived From Web

, Feb 22, 2021

It makes sense, Microsoft said. Don't waste your life doing the things that make you happy. When I was growing up with three older brothers and a sister, we had so much fun together. Theme parks, hiking, camping, animals, and road trips are just some of the activities available at this time. I'm so thankful for the memories and the time we have together, she said. The writer of the letter said he was sent a free copy.
Not for me

Derived From Web

, Dec 10, 2020

Anthroposophical principle: that all living things are created equal. Because it is so finely tuned to the evolution of life, the universe is truly exceptional. If that didn't happen, we wouldn't be here to ask the question. If Bill Perkins wasn't successful there would be no book, but how many people do what he suggests and fails? One man barely made ends meet last year to pay rent or buy hot food for his family. This is a model for a select few who have the means and ability to buy things. 0 2622010 2622070 It's for people who have the means and ability to buy things. The French are counting on the elite of society who look down on the dregs with disdain. No Way, That's it.
An important read at any age

Derived From Web

, Oct 29, 2020

The book took me from thinking about 5 years in the future to thinking about 50-60 years ahead. Perkins uses math and a very convincing argument on optimizing the most out of your money and on which phase of life to use it. Bill shows you the water and lets you decide how to drink it. This gem of a thought was once again lost.
Save your money on this one!

Derived From Web

, Sep 21, 2020

Although the author offers some good advice on focusing on experiences rather than accumulation, the book could be cut by 34 and get that point across. Contrary to popular belief, wordy does not equate with substance. Save yourself some money and check out this book from the library or search for an online summary.
If you want to get the most out of your money and your life, read this book.

Derived From Web

, Sep 2, 2020

I was skeptical that this book would be another boringirrelevant money management book, but it is. I learned a lot from it, he said. I especially liked the sections on how money, time and health interact, how it makes sense to give to your loved ones before you die, how to ensure you do not die with lots of unused assets, and how it is important to invest in experiences.