Buy 3 Get 1 Free
Our Best Sale Yet! Add 4 Books Priced Under $5 To Your Cart     Learn more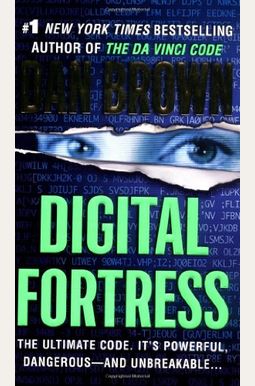  
Book Overview
This Description may be from another edition of this product.
Before the multi-million, runaway bestseller The Da Vinci Code, Dan Brown set his razor-sharp research and storytelling skills on the most powerful intelligence organization on earth--the National Security Agency (NSA)--in this thrilling novel, Digital Fortress.

When the National Security Agency's invincible code-breaking machine encounters a mysterious code it cannot break, the agency calls its head cryptographer, Susan Fletcher, a brilliant, beautiful mathematician. What she uncovers sends shock waves through the corridors of power. The NSA is being held hostage.not by guns or bombs but by a code so complex that if released would cripple U.S. intelligence.
Caught in an accelerating tempest of secrecy and lies, Fletcher battles to save the agency she believes in. Betrayed on all sides, she finds herself fighting not only for her country but for her life. It is a battle for survival--a crucial bid to destroy a creation of inconceivable genius that threatens to obliterate the balance of world power.for all time.
This edition of the book is the deluxe, tall rack mass market paperback.
Frequently Asked Questions About Digital Fortress
Book Reviews
(18)
Did you read Digital Fortress? Please provide your feedback and rating to help other readers.
Early Dan Brown

Derived From Web

, May 13, 2022

The main characters in this book are David Becker, Professor of Foreign Languages at Georgetown University, and Susan Fletcher, brilliant and beautiful cryptographer at the NSA and David's fiancé. The plot revolves around a presumably unbreakable code that was free of charge to be released to the public, essentially putting the National Security Agency out of business, as any message could be sent in the open without the fear of being translated. David Becker goes to Seville, Spain, to try and break the man who wrote the code to find the kill phrase, while Susan works at her end to try and track the copy of the code that the NSA received. This book has the same action, tension, history, geography and architecture and plot twists that I have come to expect from Dan Brown. There is also just enough on cryptography to satisfy a math geek like me. I have thoroughly enjoyed this book! '' ( cf.
It's a surprisingly amazing reading experience!

Derived From Web

, May 13, 2022

Since there are many other excellent authors and their books are out there for you to pick up, I don 't think I could start and finish this book so quickly. I had a complete new reading experience from all the books by Dan Brown that I had read. Cann 't put it aside until I finish!! Its human intellectual descriptions and contents interacted with sound scientific imaginations and discoveries... all in such a condensed time frame. It has to be a genius work.
Nearly perfect book

Derived From Web

, Jul 2, 2021

This is a book of very high quality and I would recommend reading it definetly. It had a perfect amount of detail and very good visualizations, not to mention that the story was absolutely amazing as well. Similar to how it appears in movies during a hacking scene, where random characters appear on a terminal. During the hacking stage of this book, there were random terms thrown around that made no sense. For example, he said that the X11 layer of the NSA was compromised many times and he treated it like extreme security vulnerability. In reality, X11 is a window manager, which the servers probably wouldn t have anyway. It had a bunch of goofs like this, but it does not destroy the plot or anything, it is just technically inaccurate.
This many smart characters can't be this stupid.

Derived From Web

, Jun 21, 2021

In this book, I was very disappointed. I thought it was too predictable and at the very end, when supposedly some of the smartest people around can not figure out the simple difference between U235 and U238, was completely unbelievable to me. Robert Langdon sticks with his books.
Love Dan Brown and this book is great !

Derived From Web

, Apr 25, 2021

Too much hand in the book on shoulder parts. Didn 't think it was necessary half the time it was written. But man, the last 100 pages got me going and I couldn t put the book down. From beginning to end, very good. I also recommend a deception point where it is not related to solving puzzles like this book. The majority of his books are known for. Hence, I read only and let the professionals do the writing.
Very good.

Derived From Web

, May 9, 2020

Dan Brown was at his best. This is a non-stop book with a fast paced well written action. It is recommended fully.
Was this written by a cliche 'bot?

Derived From Web

, Mar 24, 2020

Heroine, who is each bit so beautiful as she is brilliant. Check. Heroine has an expensive shoe fetish? Check. Each male character in the novel lusts after said heroine. Check. Heroine has a nerdy boyfriend who is a bit stud muffin. The check. brutalt boss has a massive secret? Assassin on the Prowl? Check. Check. Normal guy inserted into a man from Uncle scenario. CheckPreposterous science and computer experts who are dumber than rocks and behave like morons when the plot calls for them? Double check. The only thing that kept me reading was the prospect of heroine and Dish supreme being naked. In the final chapter, she does chastely! Dan Brown can 't write real human intimacy or a sex scene to save his life, like I said. This thing was written by a cliche robot?
Intriguing humor and drama

Derived From Web

, Jul 20, 2019

As a former military member tasked with gathering SIGINT material, the bumbling attempts to locate the kill code was fascinating and amusing.
Before Symbols there were Numbers

Derived From Web

, Apr 19, 2019

Code, digital codes, and ciphers'cryptology all precede Dan Brown and symbols in Robert Langdon's worlds. It is almost full circle from Digital Fortress to Origins with DaVinci Code in between. This story begins in the early days of the Internet, when AOL and CompuServe were popular. The NSA broke the protection of all government agencies where they imposed encryption with a master called TRANSLTR. There was nothing that it could not decipher until a previous employee, let go for a free encryption cipher that the NSA did not want to see published into the pub, and would not do anything not to see.
Great read

Derived From Web

, Jan 15, 2019

This was a great book -- very exciting and something I looked forward to reading each night. There are a lot of twists and turns really well done!