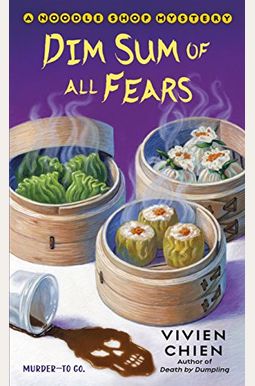 
 
Dim Sum Of All Fears: A Noodle Shop Mystery
Book Overview
Welcome back to Ho-Lee Noodle House, where you can get fantastic take-out. . .unless you get taken out first.
Vivien Chien serves up a delicious mystery with a side order of soy sauce and sass. A tasty start to a new mystery series --Bestselling author Kylie Logan on Death by Dumpling
Dim Sum of All Fears is the second book in a delicious new cozy series.

Lana Lee is a dutiful daughter, waiting tables at her family's Chinese restaurant even though she'd rather be doing just about anything else. Then, just when she has a chance for a real job, her parents take off to Taiwan, leaving Lana in charge. Surprising everyone--including herself--she turns out to be quite capable of running the place. Unfortunately, the newlyweds who just opened the souvenir store next door to Ho-Lee have turned up dead. . .and soon Lana finds herself in the midst of an Asia Village mystery. Between running the Ho-Lee and trying to figure out whether the rock-solid Detective Adam Trudeau is actually her boyfriend, Lana knows she shouldn't pry into the case. But the more she learns about the dead husband, his ex-wives, and all the murky details of the couple's past, the more Lana thinks that this so-called murder/suicide is a straight-up order of murder. . .
Frequently Asked Questions About Dim Sum Of All Fears: A Noodle Shop Mystery
Books like Dim Sum Of All Fears: A Noodle Shop Mystery
Book Reviews
(7)
Did you read Dim Sum Of All Fears: A Noodle Shop Mystery? Please provide your feedback and rating to help other readers.
Noodles and Murder

Derived From Web

, May 13, 2021

Liana's mother and father need to make an emergency trip to Japan to take care of Lana's grandmother. Lana is left in charge of the Family Noodle Shop since Lana's elder sister Anna May is busy with the law school. Isabel becomes friends with the couple who occupy the empty store adjacent to the Noodle Shop and enjoys Isabell's company, but Lana is devastated when Isabell is found dead in the shop next to her husband. Despite being warned by her police detective boyfriend against sticking her nose into the mystery, Lana is determined to discover who murdered her friend. This was a good read with excellent characters and a great plot.
Lies and ex-wives

Derived From Web

, May 8, 2021

Lana Lee is put in charge of the Chinese restaurant in her family, while her parents go to visit her grandmother. The Chinese New Year is approaching and things are busy. Isabelle's new friend Lana and her husband are found dead in their store in Asian Village. Lana's relationship with her detective is strained by her investigation and her curiosity about her life.
Excellent cozy mystery

Derived From Web

, Feb 1, 2021

I loved Dim Sum of All Fears and have been loving the Noodle Shop series as a whole. If you love food, cozy mysteries and are in the mood for a light but engaging read, I recommend this book!
Lana gets a new friend, loses a new friend and brings justice for her death.

Derived From Web

, Feb 20, 2020

Like Isabelle, Lana was a book friend and they enjoyed their Tuesday outings at the bookstore. Kimmy is pounding at the back door of the Noodle Shop, telling about blood and in a real tizzy, when Lana finds Isabelle and Brandon dead, she calls her detective and gets involved in solving the murders.
Fun reading

Derived From Web

, May 30, 2019

To read, fun is. Warning : You will seriously want to go for Chinese food after reading these books.
This second book in the series is disappointing.

Derived From Web

, Oct 28, 2018

Honestly, I was sorry that I took the time to read it. I enjoyed the first book in the series so I looked forward to reading it, but my overall impression is that it was rushed to market. It is poorly edited for starters. Page 61 I trudged Lorain Road down a rudge... How does one trudge when driving a car? The plot also seemed thin, much of the dialog seemed wooden and the ending seemed hastily cobbled together and very hard to believe. Overall, I think this could have been a good book, but it needed a lot more work to get it to this stage. I decided not to read further in the series.
Loved This Book!

Derived From Web

, Oct 7, 2018

Lana Lee is back... this book will keep you flipping the pages while eating some dim sum until the very end! It 'll have you guessing whodunit until the very end! Very good read... It will leave you wanting more!