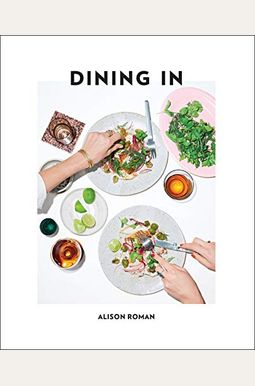 
 
Dining in: Highly Cookable Recipes: A Cookbook
Book Overview
Discover the cookbook featuring drool-worthy yet decidedly unfussy food (Goop) that set today's trends and is fast becoming a modern classic.
This is not a cookbook. It's a treasure map.--Samin Nosrat, author of Salt, Fat, Acid, Heat
NAMED ONE OF THE BEST COKBOKS OF THE YEAR BY San Francisco Chronicle - NPR - Epicurious - Newsday - KCRW's Good Food - The Fader - American Express Essentials
Alison Roman's Salted Butter and Chocolate Chunk Shortbread
made her Instagram-famous. But all of the recipes in
Dining In
have one thing in common: they make even the most oven-phobic or restaurant-crazed person want to stay home and cook. They prove that casual doesn't have to mean boring, simple doesn't have to be uninspired, and that more steps or ingredients don't always translate to a better plate of food. Vegetable-forward but with an affinity for a mean steak and a deep regard for fresh fish,
Dining In
is
all about building flavor and saving time. Alison's ingenuity seduces seasoned cooks, while her warm, edgy writing makes these recipes practical and approachable enough for the novice. With 125 recipes for effortlessly chic dishes that are full of quick-trick techniques (think slathering roast chicken in anchovy butter, roasting citrus to ramp up the flavor, and
Read More chevron_right
Frequently bought together
Frequently Asked Questions About Dining in: Highly Cookable Recipes: A Cookbook
Books like Dining in: Highly Cookable Recipes: A Cookbook
Book Reviews
(8)
Did you read Dining in: Highly Cookable Recipes: A Cookbook? Please provide your feedback and rating to help other readers.
"Highly cookable," inspiring and fun

Virginia B

, Sep 20, 2021

I love Alison's style. I owned her second cookbook before buying this one and it hooked me and totally transformed my approach to cooking. Her cooking totally aligns with my preferences: tangy, crunchy, savory, fresh, unfussy. I'll continue to follow Alison's career with great interest.
THE most pretentious cookbook I have ever read.

Derived From Web

, Nov 13, 2019

The most pretentious cookbook I have ever read is called Hipster. I have been collecting and reading cookbooks for over 30 years. This one was bought on the recommendation of an online friend. I wish I could get my money back. Not everyone living in NYC has access to exotic ethnic grocery store ingredients. Maybe you should have named your book that way if you wanted people to cook like that. The entire time I was reading your book, I felt like I was being talked to. I am donating it to our local library because I couldn't finish it.
Kinda Funky

Derived From Web

, Jan 15, 2019

I am a very experienced cook. I have at least 1000 cookbooks. Most of the time, I change up recipes to meet my needs. I had to have this book because it came with so much fuss and fuss. The food and recipes are funky, the editing poor, and the pictures are so bad, that I don't like her style. I have made a number of the recipes and they are all average. I don't know who this is written for, the home cook, the educated cook.
Great recipes, poor editing

Derived From Web

, Aug 23, 2018

I' ve made at least five recipes from this book. I will cook through the whole book. There are a number of editing mistakes. A recipe will call for two cups of something in the ingredient list, but only one cup in the directions, and then only one cup in the directions, explaining where the additional cup goes in the recipe.
Uninspired

Derived From Web

, Aug 22, 2018

I am returning the copy. I am an adventurous cook and enjoy a variety of flavors and sources of food. I didn't find many of the recipes or photos interesting. I don't need to keep this book for the simple recipe of bacon roasted pork tenderloin with caraway'd cabbage and apples because I only interested in that one recipe. There are so many great books out there right now and this can't hold its weight against them. Too nice for me.
Fantastic

Derived From Web

, Dec 19, 2017

I don't buy cookbooks because I'm a 24 year old woman who's always been able to find a recipe online. This is my first. Something about Roman's approach to " highly- Cookable" food and rich flavors appealed to me, and at $15 for a beautiful hardback, I decided to read it. I have not been discouraged. The recipes are exciting and fresh. I cooked anchovy butter chicken for a group of friends the day I got it. Dining In made me excited about cooking again, as I had grown tired of cooking at home. The best potato I have ever eaten is the smashed potatoes.
BUY THIS BOOK. DO IT. DO IT.

Derived From Web

, Nov 28, 2017

I have a cookbook addiction. I like to read them in bed with my coffee in the morning and my dog on the couch on Sunday afternoons. Sometimes I like to cook out of them too. So many cookbooks these days are good for inspiration only when you leave a normal, busy life and don't have a lot of spices in the pantry. This book is good for everyone. If you want to cook out of it, read it again. The recipes are easy to understand. Everyone in my life will receive one for the holidays this year. Purchase this cookbook. It's up to you to do it. It's time to do it.
An Investment For Your Social Status

Derived From Web

, Nov 28, 2017

I can't cook, but thanks to the straight- forward recipes that are written in a way that people can understand, I can make a decent dish. Whenever I want people to think that I have my life together, I use the anchovy- butter chicken and pasta with crispy squid. Having the book alone, with its beautiful imagery, high- quality construction and wonderfully contemporary aesthetic, is enough to fool people into thinking I'm sophisticated, if all else fails. I'm hosting a liquid dinner party. I can see myself cooking from some of the recipes in Dining In for a long time to come. The book is very good and I would recommend it to anyone.