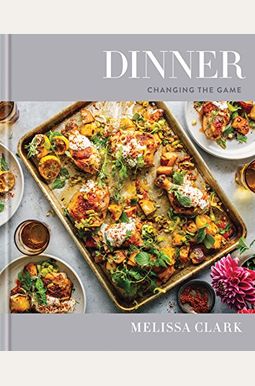 
 
Dinner: Changing the Game: A Cookbook
Book Overview
More than 200 all-new, never-before-published recipes for dishes that are familiar but fresh, approachable but exciting. (Yotam Ottolenghi)
Each recipe in New York Times columnist Melissa Clark's
Dinner
is meant to
be
dinner--one fantastic dish that is so satisfying and flavor-forward it can stand alone--or be paired with a simple salad or fresh bread on the side. This is what Melissa Clark means by changing the game. Organized by main ingredient--chicken, meat, fish and seafood, eggs, pasta and noodles, tofu, vegetable dinners, grains, pizza, soups, and salads that mean it--
Dinner
covers an astonishing breadth of recipes. There is something for every mood, season, and the amount of time you have: sheet pan chicken laced with spicy harissa, burgers amped with chorizo, curried lentils with poached eggs, to name just a few dishes in this indispensable collection. Here, too, are easy flourishes that make dinner exceptional: stir charred lemon into pasta, toss creamy Caesar-like dressing on a grain bowl.
***
Praise for Melissa Clark's Dinner
The recipes in Melissa Clark's
Dinner
are everything I want for my dinner. Dishes which are familiar but fresh, approachable but exciting. The tone of the book is also just the sort of company I'd want around my table: Melissa is experienced enough in the kitchen to
Read More chevron_right
Frequently bought together
Frequently Asked Questions About Dinner: Changing the Game: A Cookbook
Books like Dinner: Changing the Game: A Cookbook
Book Reviews
(10)
Did you read Dinner: Changing the Game: A Cookbook? Please provide your feedback and rating to help other readers.
Cooking

Robyn Mcdannold

, May 26, 2021

As a busy mom who loves to cook, this book is perfect!
Fantastic! Great flavors!!

Derived From Web

, Apr 16, 2021

A great book, Gillian. This is my cookbook I use when I'm tired of the plain and mundane recycled recipes I currently have. Everything is full of flavor and the flavor combinations are so fresh and so fresh and planned with great detail, he said.
Not sure this "changes the game."

Derived From Web

, Jan 30, 2021

We've made many Melissa Clark recipes from the New York Times and have been happy with them, Sosa said. The recipes and layout are not so different from other cookbooks, so we don't know what is meant by changing the game of cooking, Kerry said. I've made 5 recipes so far and I'm still trying to determine the exact ingredients, but I can say this: the failure to be specific about strong ingredients is all too common. For example, the white dip bean calls for 2 cloves of garlic, without any indication of how big the cloves should be. He suggests measuring the salt in half the way to give a more accurate result. Or, I don't know. It's easy to overstuff a white bean, but garlic can easily overwhelm a dip. Next came a cashew dip, another subtle flavor. This recipe calls for 1/2 lime, 1 tsp garam masala and 1/2 tsp coriander. They come in different sizes again so should have been a measurement. 0 262127 262127 For now, limes come in different sizes, so should have been a measurement. There are many recipes I look forward to trying in this book, so have not given up hope, Ms. Rule told The Age. If I had not had many good experiences with Melissa Clark's recipes, I might have put this on the back shelf.
We live this cookbook!

Derived From Web

, Apr 19, 2020

It's great to use this book all the time. Easy to make and delicious. Healthy and nourishing, these are just a few of the reasons why people love to cook.
Wow! So tasty!

Derived From Web

, Dec 7, 2019

This book is full of not too difficult but creative recipes. It's great to have a baby and I gave one to my daughter! A true winner.
Great Cookbook - Easy Cooking!

Derived From Web

, Oct 14, 2019

Everything I have cooked from it has been quite delicious, Mr. Dhaliwal said. However, unlike Enron, nothing is particularly complex or time-consuming. This is a great cookbook to add variety to your weekday meals.
Amazing Recipes!!

Derived From Web

, Apr 19, 2019

We love Dinner, Changing the Game, the ingredients that we use, but combine in new ways. Melissa has created a great book, we love. Since arriving, we have made more than two dozen recipes using the Kitchenaid. Easy to make and so full of flavor, these dishes are a must-have. Each night we eat, we explore new flavors and textures. Thanks so much Melissa! It's great to be back home, said Blair.
Clark's Best Book Yet

Derived From Web

, Mar 3, 2019

I was a big fan of Melissa Clark's before this book knocked it out of the park. BigFlavors has all the bases covered with easy-to-prep, great variety. I have sampled 8 to 10 of these and cannot wait to try more.
I can't even express how much I love this cookbook

Derived From Web

, Jul 19, 2018

I can't even begin to express how much I love this book. Although I love to cook, I don't consider myself an expert in any sense so a good recipe is crucial. Everything I've cooked from this has turned out delicious. But I love the idea that dinner doesn't have to be a meat with two vegetable sides. Once you cook a recipe it serves as your whole meal and you don't have to think of adding sides. Also nice is the fact that most of these recipes are easy enough to cook for a family on a week night after work, assuming you have a decently stocked pantry and a decent assortment of spices. It was nice to cook elegant meals that were hearty, earthy, delicious, and satisfying, Raymond said.
Try the Roasted Cauliflower Salad with Chickpeas, Tahini & Avocado!

Derived From Web

, Apr 18, 2018

I learned about this cookbook from my husband and I took a Sur La Table cooking class together. The three recipes were from the new cookbook, The Whole Nine Yards. Note the subheading of this terrible parable in the "Harry Potter" series, "Of course, I had to buy the cookbook." The kids in the class oohed and awwed over all the recipes. I have already made it about a dozen times and it never fails me. Can't wait to make more recipes from this book. The team at Crave said: "If you give it a try, it may work." It's just that great looking stuff, right?