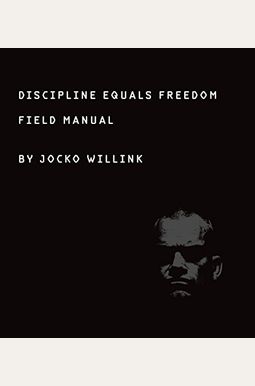 
 
Discipline Equals Freedom: Field Manual
Book Overview
The instant New York Times bestseller
FIND YOUR WIL, FIND YOUR DISCIPLINE--AND YOU WIL FIND YOUR FREDOM
Jocko Willink's methods for success were born in the SEAL Teams, where he spent most of his adult life, enlisting after high school and rising through the ranks to become the commander of the most highly decorated special operations unit of the war in Iraq. In Discipline Equals Freedom, the #1 New York Times bestselling coauthor of Extreme Ownership describes how he lives that mantra: the mental and physical disciplines he imposes on himself in order to achieve freedom in all aspects of life. Many books offer advice on how to overcome obstacles and reach your goals--but that advice often misses the most critical ingredient: discipline. Without discipline, there will be no real progress. Discipline Equals Freedom covers it all, including strategies and tactics for conquering weakness, procrastination, and fear, and specific physical training presented in workouts for beginner, intermediate, and advanced athletes, and even the best sleep habits and food intake recommended to optimize performance.
Within these pages discover the keys to becoming stronger, smarter, faster, and healthier. There is only one way to achieve true freedom: The Way of Discipline. Read this book and find The Way.
Frequently bought together
Frequently Asked Questions About Discipline Equals Freedom: Field Manual
Books like Discipline Equals Freedom: Field Manual
Book Reviews
(14)
Did you read Discipline Equals Freedom: Field Manual? Please provide your feedback and rating to help other readers.
You CAN regain discipline and get it even if you've never had any !

Derived From Web

, Jan 15, 2021

If you need discipline in any area of life, this book will help you!!! I eat 5 miles a day, walking less... and losing weight. At times, we are our own enemies.
GET SOME

Derived From Web

, Nov 14, 2019

THIS IS AMAZING! I AM NOT A READER, BUT I READ THIS TIME ALL OVER. THIS WILL HAVE YOU SO MODIVATED THAT YOU CAN GO OUT INTO THE WOLD AND CHOKE A GRIZZLY BEAR WHILE DELIVERING ROUND HOUSE KICKS TO THE MIGHTY CHIN OF CHUCK NORRIS ALL AT THE SAME TIME!
Great motivator

Derived From Web

, May 6, 2019

I have all Jocko's books and have very little criticisms of his efforts. My son and I actually started to feel good about it because of this and the Warrior Kid series. I did not find the type of font or background a distraction like some others.
Awesome book

Derived From Web

, Apr 11, 2019

Disciplined mornings make for disciplined days, and motivation will take you so far only. These are great passages and I recognize some from podcasts, and these were some powerful topics. So, for me, to have a book full of passages that Jocko has created is just awesome. I am only 13 and enjoying it so much! Would def recommend to anyone who wants to be led to freedom.
Do the work. Get up early.

Derived From Web

, Aug 21, 2018

The first part of the book is outstanding in its clarity on self-discipline. The format is mildly annoying with its bold typewriter font exclamations, but it gets the point across and I assume that is how the author talks. I am by no means a pacifist, i served 20 years in the Israeli army and reserve, I enjoyed the weapons training and being in the field, but I had enough. I train every day and with all due respect 250 pushups is not intermediate level. If you are 60 like me, I will give you some free advice on how to get up at 5, do 1 pushup on Day 1 and add 1 each day. Do this for 120 days and you have created a habit without having to learn Rav Maga without needing a glock and without kidding yourself that you are a US Navy Seal. Cause : You aint.
This is a pretty amazing little book

Derived From Web

, Mar 19, 2018

It is a little basic and it isn 't new if you have listened to his podcasts. HOWEVER, it is a consolidated version of all his major ideologies in a single place. This is the type of book that you should read quickly every month or two to maintain discipline in achieving your goals. Nothing out of this world, but this book does have the potential to make a huge impact on your life.
Get you some!

Derived From Web

, Feb 4, 2018

Exactly what it says is it is a field manual. If I had to describe it, I would call it the ultimate excuse killer. Jocko Willink shows you how to navigate the mine field of excuses you'll encounter while you're after it, however it may be. From procrastination to injury, from where to what degree when to your own weakness. Jock lays out straight forward truths to act on if you want to walk your own disciplined path. I believe that anyone who is striving for more discipline in their life, for any reason, will find this book inspiring and helpful if they are willing to be honest with themselves. Read it through with the audio book so that you crack it open later in your head in the Jocko Willink voice. What are you waiting for, get the book and get after it.
Should be titled "The Ultimate Guide to Life"

Derived From Web

, Jan 15, 2018

Most of what is written here are things we know intrinsically, but are things we refuse to act on. Jocko presents it straight, gives basic examples of what sinks in, lays ideas in a way that is respectful and not preachy and does so in an easy to read fashion. This book can be blown in short order, but its gift is making you take the time on each page. It has a classic, paper feel and the white on black makes it easy to read. This book looks good also aesthetically. The only downside of making the message as on point as it is, you will have to search why on some of his absolutes if you don 't already know.
Very Motivating

Derived From Web

, Jan 13, 2018

This book could be used probably as a motivational leader and daily tool. After reading each chapter, I was motivated to get things done!
"Dont negotiate with weakness period"

Derived From Web

, Nov 17, 2017

Great book, simple and easy reading, nonetheless very enriching, it does not suggest a irrealistical formula, it drives the focus to you as the only person responsible for your success, not accepting excuses and just doing it, I especially like one among many others the line dont negotiate with weakness.