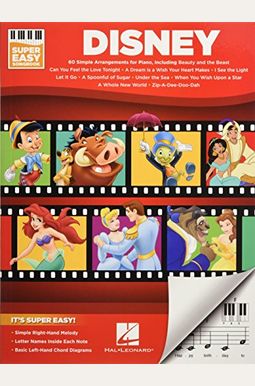 
 
Disney - Super Easy Songbook
Book Overview
(Super Easy Songbook). It's super easy This series features accessible arrangements for piano, with simple right-hand melody, letter names inside each note, basic left-hand chord diagrams, and no page turns. This edition includes 60 Disney favorites: Be Our Guest * Can You Feel the Love Tonight * Chim Chim Cher-ee * A Dream Is a Wish Your Heart Makes * Friend like Me * Heigh-Ho * Kiss the Girl * Let It Go * Mickey Mouse March * Part of Your World * Reflection * A Spoonful of Sugar * That's How You Know * True Love's Kiss * When You Wish upon a Star * Whistle While You Work * Winnie the Pooh * Written in the Stars * Yo Ho (A Pirate's Life for Me) * You've Got a Friend in Me * and many more.
Frequently Asked Questions About Disney - Super Easy Songbook
Book Reviews
(11)
Did you read Disney - Super Easy Songbook? Please provide your feedback and rating to help other readers.
Perfect for beginners, help interest little ones in learning

Derived From Web

, Aug 22, 2021

The book is used by my 5 year old daughter who has been in piano lessons for about three months. It's a good compliment to the other beginner books that her teacher gives her," Ms. Kennedy said. It's a lot more melodic and can sing-along, too. It is extra motive to learn by reading the books. Only the book teaches to play with right hand only, and everything is written in treble clef. Yes, this makes it easier to learn, but I kind of want my kid to use her left hand as well. Yes there are chords available for each song that the kid can use left hand to play but I don't think chords is for beginners and this book is for beginners. I wonder if the parent can play the chords? The book is a good supplement to core curriculum, but not everything about it is perfect. Easy to play, too, Mr. G. Spink said. Just not suitable for primary book for learning, which is probably not what it was designed for.
Nice fro my students

Derived From Web

, Jul 6, 2020
So many songs. Easy for those just beginning.

Derived From Web

, May 7, 2020

I chose this book for my kids because they are just learning piano keyboarding for the first time. They love Disney, and wanted to play some familiar tunes. This book has enough songs to keep them occupied for a while, he said. It has new stuff like Frozen and old classics too. Compared with some other books, this is a great value. Easy versions of songs are available with right hand melodies only. No left-handed notations are present, but chords are listed for those who want to play them.
For my piano students

Derived From Web

, Feb 9, 2020

I recommended this book to a couple of my very young piano students who were playing quite a bit of music by ear. This book is a great read, Levine said. They were familiar with many of the tunes and it was a great resource, they were able to pick out quite a few of the melodies, he said. It is definitely as good as a piano teaching book because there are no fingerings in the book for students who want to play the melody.
Easy learning for toddlers

Derived From Web

, Feb 2, 2020

Amazon said it had received orders for over 1 million copies. They include large letters and pictures of Disney princesses. My granddaughter, who has only a single interest in technology, is thrilled to be learning the keyboard.
Incomplete Medley Songs

Derived From Web

, Jan 24, 2020

Many of the songs are shorter than the 40 minutes I expected. Do You Wanna Build a Snowman? The whole thing is a parody, except that Ana ends up singing "Ok, bye." It's just that the first time the lines came out, the cold never bothered me. Bare Necessities by Janet Evanoff is a book that truly only has the bare necessities and doesn't include any of the Disney Medleys. I've enjoyed the letter-notation and appreciate the chord diagrams at the beginning of each song.
Read carefully to know what you are getting

Derived From Web

, Oct 30, 2019

Note the subheading of this terrible parable in the "Ten Commandments" series, "How to Train a Beginning Piano Student." Some of the chords don't seem quite right, either, making it easier to play, Mr. Dhaliwal said. Even with the assistance of a piano teacher, it is nearly impossible to play. I think I should have read more closely.
It really is super easy!

Derived From Web

, Aug 29, 2019

Piano player Jennette Tamayo said she started playing songs on the piano as soon as she got the call. It's just that the "super easy" part was wrong. It's easy enough for an adult beginner like myself or kids to pick up the game. They even include bass clef chords at the top if you want the song to sound more like a barbershop quartet. He has a lot of my favorite Disney songs, including "The Little Mermaid" and "Frozen."
Best beginners Piano book.

Derived From Web

, Jan 15, 2019

Piano lessons by Michael LiCalsi. Piano lessons are available at no cost today through AmazonBasics. com.
GReat for kids!

Derived From Web

, Oct 10, 2018

They love it that they can play familiar songs, songs that they hear on their favorite movies, so that's a huge plus, he said. I'd been in hiatus for more than 20 years, and I liked that I could still play using simple songs, he said. Only problem is that the book appears so worn out now, as this has been the favourite in the house since we got it 5 months ago. They liked it so much they brought it to neighbors to share with their children, ages 3 to 6, who are also just starting to learn piano. Great purchase for me, but I am going to photocopy their favorite pieces so that the book will stay intact.