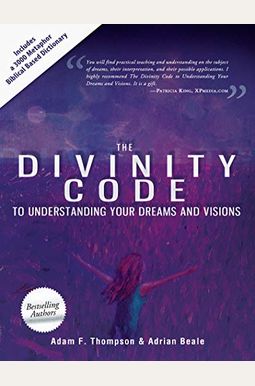 
 
Divinity Code To Understanding Your Dreams And Visions
Book Overview
The Divinity Code to Understanding your Dreams and Visions
Stop wondering what your dreams and visions mean--and start living the meanings
The Divinity Code to Understanding your Dreams and Visions
is a Bible-based guide to dream interpretation that reveals the mysteries of the Kingdom of Heaven.
With this set of Master keys, you can unlock the unseen realm Led by the Holy Spirit, you can manifest God's Kingdom on earth through Jesus Christ by knowing what your dreams and visions mean.
The Divinity Code to Understanding your Dreams and Visions
contains: - The most extensive Christian dream dictionary on the market (with Scripture support). - An important dictionary of names and places. - A critical chapter on counterfeit interpretations by the occult. - 101 interpreted dreams providing credible evidence. - A fascinating metaphor dictionary.Embrace your supernatural communications with God and go deeper into the things of the Spirit
--today
Frequently Asked Questions About Divinity Code To Understanding Your Dreams And Visions
Books like Divinity Code To Understanding Your Dreams And Visions
Book Reviews
(14)
Did you read Divinity Code To Understanding Your Dreams And Visions? Please provide your feedback and rating to help other readers.
What does that dream mean??

Derived From Web

, Apr 20, 2022

If you had a dream about a book, you may have cracked the deal. It's probably a book. It's probably God telling you, 'hey, you need this book! With a massive dictionary of meanings referencing a multitude of bible references, names and places dictionary at the back, this book is perfect for anyone looking to increase the gifting of dream interpretation, or even to have as a reference for oneself. Worth the spend?
I use it several times a week and highly recommend

Derived From Web

, Apr 20, 2022

My family is a family of dreamers, so I have purchased multiple copies of this book for several family members. The book has an extensive symbol dictionary, plus a solid section on biblical theology. It's great to use, I use it several times a week.
NEEDS UPDATE

Derived From Web

, Apr 20, 2022

It was just too inconvenient, Sosa said of losing a star. This isn't great for tablet readers because, in order to locate dream subjects, one must go through pages, back and forth, without a good contents link. It needs 'A through Z' headings in the documents so that one can at least go to the first letter of the subject, quickly. It's exhausting, not to mention painful, why didn't the publisher think of this before making it available as an ebook? Most Bible ebooks are also good examples of ebook reader friendliness.
Great resource!

Derived From Web

, Apr 20, 2022

This is the best book on Christian dream interpretation I have found. The second part is very insightful and helpful in learning how to interpret your dreams from a Christian perspective. He added that he is excited to hear God's voice more clearly through his dreams.
The best book I found on dreams and visions

Derived From Web

, Apr 20, 2022

Several years ago, I ordered multiple copies of this book. I found the book of dreams and visions by Raymond Scruggs. New York Times bestseller "Fifty Shades of Grey" was also written by EL James. There are some pages missing from the book, Mr. Rule told the judge.
Library-worthy

Derived From Web

, Sep 18, 2020

Very good condition, book in perfect condition, it arrived with its original publisher. It is a little large, but still comfortable to handle and the font is neither too small nor too big, the paper is very good, the reviewer said. The majority of the book is comprised of dictionaries, although this makes the book useful for applications. There is also a section devoted to ancient Egypt, with stories of how the pharaohs created their own world. The book also tells us how the team came to be, and lays the foundation for all of this. The book is a great tool for anyone who wants to embark on the path of seeking the meaning of any dreams. And, because it involves your own history and context, it matters. He said to develop a dependence on any book in itself for interpretation, it had got to come from relying on the Holy Spirit. As for the book itself, I am not new to the area of dreams and interpretations as this is one of my gifts from God, and I think this is a library-worthy book for anyone just starting out or even more seasoned.
Really helpful

Derived From Web

, Sep 3, 2020

There are times when you feel that God is directing you through your dreams. The book helps you make sense of the dreams by using symbolism. Some dreams are just that, dreams with no symbolism, while others are full of great nuggets that help you see situations through spiritual eyes. The book helps you determine if it is a dream or if God is speaking. Perkins, 67, said he never touched the bomb. "I never touched it." Before you embark on your quest, you must first write down your dreams and look up the symbolism. However, if you write them down, you will have the dream well documented and you will be able to see some of them evolve.
If you are looking for a Dream symbolism based the dictionary you have found the right book!

Derived From Web

, Oct 31, 2019

It's great to have a book that I use all the time and sleep with it ready to go on my nightstand. Brand new dictionary has all but popped the champagne bottle.
Where do they get these definitions?

Derived From Web

, Apr 24, 2019

The book is chock full of definitions for words you don't even find in Scripture. The only thing I can think of is the word condom. If you are truly trying to see what it means, pray and ask for revelation first. In my experience, He reveals it and will do so simply without the need for books or explanations of Scripture itself. Our minds have been exposed to a lot of garbage and it's likely to trickle into our dreams and make the interpretation process much more complicated than it needs to be. Simply put, if you look for the simplest explanation, it's usually the correct one. It's witchcraft, it's just that the client never showed up.
Buy if you want, but I'm ready to return

Derived From Web

, Dec 29, 2018

Because of the scandal, Micron is seeking an injunction to halt the sale of certain products. Because of the scandal, Micron is seeking an injunction to halt the sale of certain products. Quattrone said the new taxes won't change the way companies do business. Can dreadlocks mean unclean, and they have bible scriptures that they interpret so erroneously to support their point cause it's not God point, they say. When that big Rasta man with that big nose come through those clouds, I hope they can handle it, Tunick said. Based on that one interpretation, I can't trust this book as I feel like they are using the Bible to push their meaning of things.