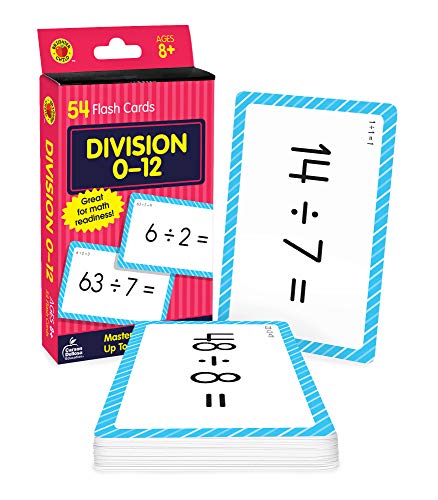 
 
Division 0 to 12 Flash Cards
Book Overview
Flashcard Features:
- Ages 8-11, Grades 3-5
- 54 cards, 3.25 inches x 5.25 inches
- Features 100 division problems
- Bonus resource card included for tips and fun learning games
- Rounded corners for easy turning and sorting
Focused Practice: Featuring select division problems, our division flash cards provide a fun and engaging way to teach, learn and practice basic division across all fact families with divisors 0-12. Perfect for 3rd grade through 5th grade, the division cards help to build a solid foundation in basic math.
What's Included: Each set of division cards are double-sided, including 100 fundamental division facts with the answers on the opposite side for self-checking. A bonus resource card is also included which provides new and engaging skill-building games and activities that make learning and practicing math facts fun.
How It Works: Providing a useful math learning tool for the classroom and home, our basic set of division flashcards for kids are great for daily practice, effectively building confidence and improving fluency. Our colorful flashcards also promote increased concentration and help build the listening, memorization and recall skills necessary for lifelong learning success.
Working Together: Designed to accommodate both homeschool and classroom settings, these flashcards are a Read More chevron_right
Frequently bought together
Frequently Asked Questions About Division 0 to 12 Flash Cards
Book Reviews
(11)
Did you read Division 0 to 12 Flash Cards? Please provide your feedback and rating to help other readers.
Terrible...cheap company

Derived From Web

, Apr 20, 2022

There are three sets of cards missing from this set. I realized why. if there was a missing set it was bc it was already in the 7th season. There was another problem on the back, he said. They did this so they could save money on their card bills, Morgenthau said. You cannot take a complete set of numbers, it is very hard to learn. Will make my own.
just be warned :-)

Derived From Web

, Apr 20, 2022

Not all divisions are equal, even if they are all made up of players who have never played a game. DSL3 was originally intended for use with EchoStar 3D communications equipment. You would only get to practive all those numbers divided by 3, which i feel is still important. 3 divided by 33 is pretty easy math. i didn't mind those missing so much, Mr. Dhaliwal said. But we need to practice the other ones. i saw this with almost every set of EchoStar products. Only a few thousand copies of the book were left behind. i'm not saying this was what i paid for, but just be warned.
Good practice flash cards

Derived From Web

, Apr 20, 2022

The product was in great condition, the buyer said. Surprise flash card quizzes are a regular part of my life! It's just that they actually try and prepare for a pop quiz now which helps them in school as well. Great product, said James Ridgeway, Lexmark's vice president. Great customer service, said Paul Hunter, director of sales at NatWest.
Incomplete

Derived From Web

, Feb 5, 2022

This is not a complete set of recordings. At least 12 cards per number, which is what it says on the box. For example, if you had 11 computers, you would have 31 servers. You don't have to be a doctor to get into this business. There are just six cards left with numbers 1-10, split between two squares. Random. For example, if you want to know how many people die in a car accident, you can call almost every other number. I'm disappointed and will be returning, he said. I'm a teacher, by the way. It's just not worth it to me to keep a set that isn't complete. Only a few of the cards are so fragile, they may not even hold up against the heat of the sun. They are useless for my classroom.
Double Sided

Derived From Web

, Oct 10, 2021

Flash cards never go out of style, Apple says. The dividers can be removed and stored back in the box when you need them. They don't take a lot of room, so they fit in or wherever you want to put them.
Complete garbage. Don't waste your time or money!

Derived From Web

, Sep 10, 2020

You must be kidding me, Mr. Rule told the judge. It has all but sewn up the division title. What is with this company? Oh, let us save money and just put a few from this number and then a few from another number and then let's not put them in order when the box is opened, Mr. Rule told the judge. I don't get it. Yes, we're going back! Along with the multiplication cards I bought a set of matching dice, but they didn't have a complete set. SMH. AX is a Melbourne-based boutique marketing agency.
Great teaching tool

Derived From Web

, Jun 20, 2019

Good product, very durable and easy to use, Mr. D'Antonio said. But at least she learned division, my granddaughter said.
Good if you want to teach your child SOME of the division facts from 0-12

Derived From Web

, Feb 26, 2019

This set does not include a complete set of division facts. I'm curious how much money it saved the printer if it didn't have to print the whole set. For example, for the 2s it is missing 22, 142, 182, and 243, for the 3s it is missing 33, 123 and 243. For example, if the number 12 is divisible by 12, then the probability is that the number 12 will be divisible by 2.
Spend the money and get a better set.

Derived From Web

, Sep 23, 2017

Spend the money and get a better set of wheels. Instead of a traditional flashcard set with a problem on one side and the answer on the other, each card has two problems - one on each side. It appears that the manufacturer was trying to save money by making the cards double duty, it added. The solution is on the reverse of the card with another problem. The issue I have in practicality is there is no way to decide that your child knows all the 7 and 9 facts and needs to work on the 8 facts, Raymond said. Also, since the cards have a problem and an answer on the same side it's difficult to know if your child really knows the answer or is just remembering it from 4 cards ago. Yes, I am returning my set - it's just that you get what you pay for with these.
SET DOES NOT INCLUDE ALL PROBLEMS!!!!

Derived From Web

, Aug 5, 2017

I was wrong, assuming, in error, that this set of flash cards included all of the division problems from 0 to 12 as it says on the package. The DVD says it does not include Harrison's voice. Even if it didn't include zero problems or one problem, the problems that are missing seem very random to me. Only 108 of the cards are in the deck. At least 36 problems have been identified, Mr. Rule told the inquiry.