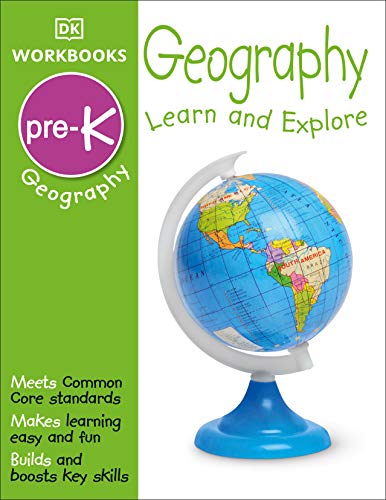 
 
DK Workbooks: Geography Pre-K: Learn and Explore
Book Overview
Ideal for ages 3 to 5, this workbook is packed with simple, fun exercises that will help your child understand basic geography concepts.
It's the perfect introduction to the fascinating world of geography. Your child will discover new hints, tips and facts with every page they turn. From humans and the natural world, to earth and the solar system. This Pre-K workbook helps boost children's geography skills. It unpacks basic geography concepts through fun activities and exercises. Your child will explore world maps, and learn about the continents, countries, oceans, rivers, deserts and mountains of our planet. With the help of leading educational experts, the
DK Workbooks: Geography
series is the perfect addition to schoolwork. Level-by-level, these homeschooling books offer parents at-home practice work that your kids will enjoy They even come with gold stars for completed activities and a certificate of accomplishment as a reward for finishing the workbook. There is also a parents' section that contains answers, tips and guidance to provide support. It's packed with learning materials and activities that explain geography for kids in an easy-to-follow format. Through fact boxes, exercises, puzzles and mazes, your child will build knowledge, develop cognitive thinking and get ahead of the curve. Our curriculum meets Common Core standards, so
Read More chevron_right
Frequently bought together
Frequently Asked Questions About DK Workbooks: Geography Pre-K: Learn and Explore
Book Reviews
(9)
Did you read DK Workbooks: Geography Pre-K: Learn and Explore? Please provide your feedback and rating to help other readers.
Homeschool Pre-K Geography

Derived From Web

, May 15, 2022

A different workbook that introduces children to nice types of maps and globes. It is only 47 pages long, so it is roughly one semester long. We do science for the first semester and geography for the second semester. The only times it has been a problem are the times when they want the child to color a picture. I have a star deducted because of the glossy pages. I have to admit that it did not occur to me to teach geography at this age! This book, especially out of the DK series, has been absolutely amazing for our children. It has encouraged their love of learning about the world around them... natural vs. man-made, lakes vs. oceans, islands vs. continents and so on. We also used this Inflatable Political Globe, 16-Inch to make Geography lessons hands-on learning.
but I feel it's a good way to get them "into" the subject if you're ...

Derived From Web

, May 15, 2022

I worked with my kindergartener and my 1st grader through this book. I suggest first going through this book pre-school. You go through it fast, but I feel it's a good way to get them into the subject if you do it for the first time. Both the pre-school book and the kindergarten book are in my opinion a little high. My first grader is just right for the Kinderbuch and even enjoyed the Pre - Kindergarten book. I can 't imagine a 4 year old doing it really. There are gold stars that children can finish on each page that they put. Most pages don 't really need to be written if you want to save the book. We just pointed out instead of coloring in or circling.
Wordy & a bit abstract.

Derived From Web

, Jun 13, 2020

My 5-year-old type A usually LOVES workbooks and can actually do most of the work on a kindergarten curriculum, which is great because he is due to start in the fall. But this workbook did not appeal to him just yet. It is very wordy, and the exercises sometimes require critical thinking, which can be a bit abstract for 5. Not to mention, I would have to sit with him and read everything to him, whereas with his summer book Brain Quest, he could be more independent, which he enjoys, but it was not very popular with mine.
mostly pointless

Derived From Web

, Feb 19, 2020

I am not sure what I expected here. I came looking for some prewriting things like mazes and lines to write and added this to my pile. My first year old blew through the first 17 pages in minutes, but after doing a bit better with some activities, but all in all, it is a 30 seconds per page workbook. There is an answer key in case you really struggle with it, but if you are over the age of 2, you probably won 't need the key. Pages ask for things like here are 2 shelves, is this toy above or below that one... then on the next page. The only new word or concept for him was sphere to describe the globe. He learned something so : It is definitely not a curriculum for homeschoolers, as I have seen other say they use it. It is just a test to see if your child understands the concept and is ready for a written test.
Gold stars for DK

Derived From Web

, Oct 15, 2019

We bought several DK workbooks for our oldest, and these workbooks are always solid. This is the first DK workbook we bought for our second child, and he loves it and is understanding a lot more from it than I thought he would! Who would? What do you think?
No gold stickers!!!!!

Derived From Web

, Sep 29, 2019

It is a beautiful workbook for the price of around $5. Like another reviewer mentioned, Michigan was not labeled, but it is an easy fix. The community maps are simple enough that you can add additional things that they did not include if you want. There are, however, NO Gold Stickers like the Photo Shows! The certificate of achievement is like another female, like someone else mentioned. My son won 't care, but I imagine that some of my little guys will.
It is fantastic at introducing geography concepts and topics that are basic ...

Derived From Web

, Aug 25, 2017

It is great at introducing geography concepts and topics that are basic, but I wouldn 't think to teach otherwise. The lessons are simple, right on target for the age group, and often give practical application so that you can use the idea in a tactile way. My daughter was 3 when we started and I have recommended this book to many friends.
Great prep for kindergarten!

Derived From Web

, Jul 10, 2017

This activity book is absolutely love! It is well illustrated and uses the appropriate language for older children. My daughter loves to do her activity book. We typically do a few pages and then quiz her on what we learned. I would definitely recommend ''. My daughter has been in a day school with an advanced curriculum and beginning kindergarten this fall, but the book is very informative and she learned a lot of new things.
Fun book to do together

Derived From Web

, Jun 2, 2017

My four year old is blowing several pages per day through this book. Unlike her writing and math books, this book isn 't very intensively written, so it doesn 't tire her as quickly. It introduces topics that I might not have taken the opportunity to discuss otherwise, such as the compass rose or a map key. It requires a caregiver to do a lot of reading reading, so it is a fun thing to do together compared to writing books where she writes and I only watch and critique.