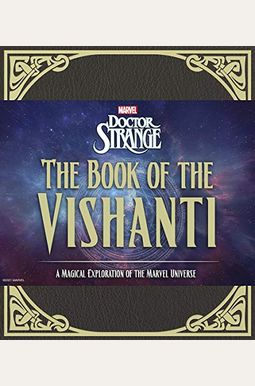 
 
Doctor Strange: The Book of the Vishanti: A Magical Exploration of the Marvel Universe
Frequently Asked Questions About Doctor Strange: The Book of the Vishanti: A Magical Exploration of the Marvel Universe
Book Reviews
(6)
Did you read Doctor Strange: The Book of the Vishanti: A Magical Exploration of the Marvel Universe? Please provide your feedback and rating to help other readers.
Great for any Dr Strange fan

Derived From Web

, Mar 22, 2022

Finally a book that explains all the magical beings I have been reading and is very nice and construction and the pages look like old scrolls...I love it.
Neat Book

Derived From Web

, Feb 13, 2022

Good amount of stuff I did not know, plug the skipping of pages because you were not worthy yet was a neat little thing. Definitely worth the buy.
A Strange Deep Dive, disappointing illustrations

Derived From Web

, Dec 27, 2021

The text is a fun deep dive into Doctor Strange's universe, with spells and characters explored in brisk prose. Based on the now decades-long mythos of worlds created by Stan Lee and Steve Ditko. The illustrations unfortunately don 't have the dazzle of Ditko or some other trippy visuals associated with the best of Doctor Strange comics or the excellent film. This part is a let down for me. Drawings are drab and lifeless, and often feel like the artist did not have the time or interest to spend on them to bring a sense of beauty and excitement. IMO, I have seen other examples of Valdrighi's work and this is not in the same league as his best.
A complete marvel guide to the mystical

Derived From Web

, Dec 25, 2021

It is great if you want to know the deeper Lore as a fan. Lots of great trivia and fun artwork. High Retrospective Value As a ttrpg player it is basically going to be used as a world guide for my next game, as it features realms, spells, items and characters with enough detail to adapt to the mechanics of a game.
'Who are you in this vast Multiverse?'

Derived From Web

, Dec 20, 2021

So... Do you ever wish that you could invoke magic like the Sorcerer Supreme? Do you want to unlock the hidden secrets of a master of the mystic arts?!? Do you FINALLY want to be able to access the Mirror Dimension so that you can practice your spells away from curious family membersfriends? Want to build your own Sanctorum from the blueprints? Well... me too. So, if you figure out what it is like ''. Unfortunately, this Codex will not unlock your hidden Arcana. However, it will be a joy to own as a hardcore MarvelDr. Strikely aficionado is required to avoid such oddness. When Steven Strange joined the MCU, he brought a miscellany of supernatural lore, backstories, and esoteric wonders with him. This book will help you in your quest to see all this in context and better understand the myriad of magical artifacts, incantations and characters scattered throughout the strange mythos. The artwork contained is also crisp and well-executed.
A very nice book.

Derived From Web

, Dec 18, 2021

Love the book, but they could have made it a little more... authentic... slightly worn and maybe a bit larger.