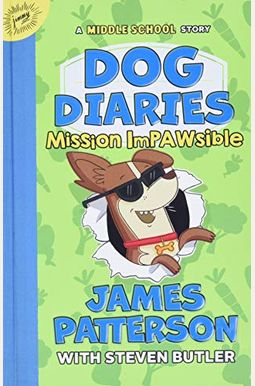 
 
Dog Diaries: Mission Impawsible: A Middle School Story
Book Overview
Grab your sunglasses and apply sunscreen, because summer is here and Junior is getting his very own doggy vacation It's me, Junior, back again with another TAIL-WAGING tale of mischief-making I'll tell you all about the FUR-RAISING time I had when my pet humans went on a trip without me, and the horrible place they left me. Here are some of the adventures I had:
How I survived on a diet of icky VEGETABLES, with no yummy, drool-inducing MEAT in sight
My SUPER-SECRET plan to steal delicious HAMBURGERS
How my pooch-pals and I cooked up a grand scheme to BREAK FRE and get back home.
It's a dangerous mission, but as I always say, you can't keep a good dog down
Frequently bought together
Frequently Asked Questions About Dog Diaries: Mission Impawsible: A Middle School Story
Book Reviews
(8)
Did you read Dog Diaries: Mission Impawsible: A Middle School Story? Please provide your feedback and rating to help other readers.
Hilarious!

Derived From Web

, Aug 7, 2021

They are a quick read for adults and my children love learning about "Doglish ''. We had already gone through the series and my kiddo wants to read the books again! We can 't wait for the next installment!
I highly recommend all books in this series!

Derived From Web

, Jul 6, 2021

We have all the books in the Dog Diaries series and I highly recommend them! Not only does my second high schooler love this series, I also enjoy it when we read it together. The books make both us giggle and we often make jokes about the rainy Poop Room '' and other dog-isms we picked up from the series. These are engaged stories that are both good-written and parent friendly! You won 't be disappointed in the series with any book!
My daughter loved reading this series!

Derived From Web

, Mar 8, 2021

My daughter loved absolutely this series! She had voices for all dogs! All around the great series!
Funny and engaging!

Derived From Web

, Mar 6, 2021

My 7 year old granddaughter loves this series of the books. I gave her the first book and she asked for the rest of the series before finishing the first book. The dog is the writer and narrator and speaks directly to the reader. My reading level is 3rd grade4th grade, end of my granddaughter.
Love this series

Derived From Web

, Dec 14, 2020

James Patterson, thank you. I love sharing books with my 9 year old and I can enjoy together. It shows him reading books and keeps it in his school scores. I also forget to write the reviews on these. But when I looked it up, there was a new one that you BET already has in my shopping cart. We have another collection to enjoy TOGETHER!!! It is an adorable dog that tells the way he sees things. Through a dog's mind and what he thinks things mean or do. It is funny and adorable. Just the right size for my son obsessed with pups. Keep them coming, please. It has made it easier to transition from picture books to digital books. He had a hard time beginning to read books with no pictures, what so ever. But these books made him more easily move. He will be ready for books with no apologies in no time.
Great book my son likes it

Derived From Web

, Aug 25, 2020

My son is now hooked on this series. He finished the recent Dogman books so that he will keep him busy and he actually likes this series as well.
Great stories for young readers

Derived From Web

, Jun 12, 2020

My son is hooked on this series, he was slightly disappointed that this book was thinner than the first. It still hooked him up and he finished it in two days. It would have been better said with that said yes if there was more added to this book to have made it longer for my 8-year-old to read. My son even said that the first story had more ramifications than this book.
Fun book!

Derived From Web

, Apr 23, 2020

My 11 - year-old son loves these 3 books. Hoping in the series for more. If your child likes Diary books and/or dogs, I recommend. He took him teo nights of reading before bed to finish.