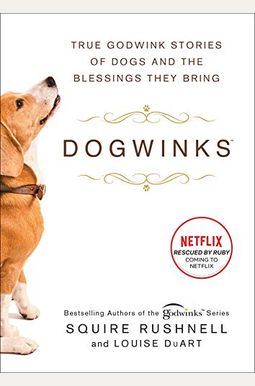 
 
Dogwinks: True Godwink Stories Of Dogs And The Blessings They Bringvolume 6
Book Overview
The bestselling and beloved Godwink series returns with a charming, dog-focused collection of stories, all of which provide plenty of hope, encouragement, and laughter.
With delightfully uplifting stories and enthralling prose,
DogWinks
is the perfect gift for dog lovers of all backgrounds. Featuring several never-before-published and true stories about coincidences and divine intervention,
DogWinks
is an inspirational and entertaining book that illustrates the overwhelming power of faith and how miracles can change our lives and those of our canine companions.
Frequently Asked Questions About Dogwinks: True Godwink Stories Of Dogs And The Blessings They Bringvolume 6
Book Reviews
(10)
Did you read Dogwinks: True Godwink Stories Of Dogs And The Blessings They Bringvolume 6? Please provide your feedback and rating to help other readers.
Dogwinks

Jill Zodrow

, Oct 21, 2021

I loved this book. All the short stories were inspiring. I passed the book on to my daughter who was reading it on an airplane where she met a woman who was nervous about flying. My daughter lent it to this woman who enjoyed reading the stories so much that she forgot about her fear of flying. My daughter learned the woman had one more flight to make it home so gave her the book. I was disappointed not to get the book back but God knew someone needed it more than I did.
Not very good

Derived From Web

, Sep 6, 2021

We bought these for ourselves and for a friend but is only the first story worth reading. After reading several stories, we lost interest because they are not as intriguing as the first. We have spent the money sorry.
Dog lovers unite!

Derived From Web

, Jun 25, 2021

This is a beautiful and touching book full of wonderful stories, all about dogs that have met people at a critical moment in time. If these stories don 't move you, go to the doctor and get checked your heart! I also love the reflections at the end of each story and how God is intricately woven into each story. A sure winner of a read for those of you who love dogs... and even those of you who don 't.
Wonderful stories

Derived From Web

, Jun 22, 2021

I have read half of the stories and they make you happy and make you cry as they are sentimental. I bought 5 to give to relatives.
A true delight!

Derived From Web

, Jun 14, 2021

I love the books by Godwinks! I am so glad he wrote a poem about dogs for all of us who love them so much. Thank you, Squire!
Awesome Book!

Derived From Web

, Jun 8, 2021

I read this book in 3 days! '' Once you start reading it, you'll get trapped in it. It is just an incredibly uplifting book!
If you love dogs and God, you have to read this book.

Derived From Web

, May 24, 2021

None of the stories waste the time of the reader with too much fluff and filler. Most stories will leave you with tears in your eyes. You'll probably love dogs and read the book even after you read it with God. It is a very easy read so that kids will also love it.
Precious

Derived From Web

, May 20, 2021

Such a wonderful book... I cried during each story. God's special agents are dogs. I highly recommend this book to all.
Good read, well told

Derived From Web

, May 14, 2021

The authors have done a short version of the first story Ruby on Home and Family last week. It was well-told. It was well-told. I ordered 2 copies, one for myself and one for my granddaughter. I just started the book and find the stories both heartwarming and heart-tweaking. MK MK is a MK variant of the MK.
A great book for a time like this

Derived From Web

, May 6, 2021

Our dog came to our rescue when my wife was ill a few years ago. He stood by her side day and night and the feelings were incredible. Today he is still our best friend. This book is filled with great stories, which will make your day feel good. Godwinks, thank you for the Dogwinks and the Godwinks! Tell yourself a friend!