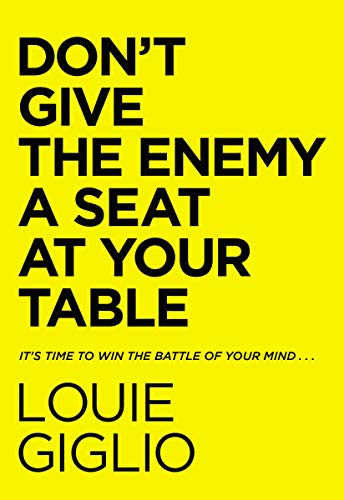  
Don't Give the Enemy a Seat at Your Table: It's Time to Win the Battle of Your Mind...
Book Overview
Discover how to break free from the chains of negative thinking and experience true freedom from unhealthy thoughts and emotions.
The Enemy is constantly seeking to fill your mind with destructive and harmful thoughts--whether of fear, worry, insecurity, anxiety, temptation, envy. . . . It's all too easy for Satan to manipulate his way into a seat at the table intended for only you and Jesus, and to try making himself at home in your mind. It's an ongoing battle, but one you can win
In Don't Give the Enemy a Seat at Your Table, bestselling author and pastor Louie Giglio shares practical ways to overcome the Enemy's lies and instead find peace and security in any challenging circumstance or situation. By drawing from Psalm 23 as a framework, he offers biblical insight on how to . . .
Cancel the lies that will wreck your life.
Take empowering steps to live fully alive in Christ.
Stop the spiral of shame, temptation, and insecurity.
Restore peace and rest in your life.
Embrace the true purpose behind your journey through challenging circumstances.
Break free from the endless cycle of destructive thinking.
You can find freedom from the war inside your mind--if you allow Jesus, the Good Shepherd, to lead the battle. Learn how to find encouragement, hope, and strength no matter what valleys you face. It's time to reject the lies and listen to the truth.
Frequently bought together
Frequently Asked Questions About Don't Give the Enemy a Seat at Your Table: It's Time to Win the Battle of Your Mind...
Book Reviews
(15)
Did you read Don't Give the Enemy a Seat at Your Table: It's Time to Win the Battle of Your Mind...? Please provide your feedback and rating to help other readers.
simple and mind blowing at the same time

Derived From Web

, Mar 12, 2022

An exegetical approach to psalm 23 is awesome. Change will be allowed when applied. This is a must read for all.
The enemy has been at my table…

Derived From Web

, Nov 17, 2021

Do you know if you are in a rut and believe the lies of the enemy every single day? I am here. This book has been used many times in a small group. I watched a video of Louie Giglio acting out and it was amazing to see how cunning the devil is. I bought the book that I just finished because I know I will read it again. This is a great picture of our choice to listen to God or the enemy. When we decide to fight Satan's lies in our minds to the Word of God, we will have victory. Our only saving grace is the Word of God. To know and to dwell on it. To act on it and to dwell on it. To act on it out of trust in Him. The enemy is a liar. He was, is and always will be.
Doesn't make sense

Derived From Web

, Oct 28, 2021

If you can get past that, you can move on. The book gets worse. Don't give the enemy a seat at the table is the title of the title. Is it possible to use a verse that says God prepares a table? The way to read yourself into the text is wrong. Anyone who gives this book five stars and a good review is just looking for a self help book with no contextual meat to it.
Wow!!!

Derived From Web

, Sep 14, 2021

You can begin to apply the book to your life immediately. The book is very good.
Great Read

Derived From Web

, Aug 22, 2021

This book is for everyone. The tool encourages both the seasoned believer and the young person. I want our small group study to start soon.
Jesus is all we need. Louie has a way with words that truly changes the meaning of Psalm 23. True growth for the relationship between you and your Shepherd awaits you.

Derived From Web

, Aug 6, 2021

I recommend this book to anyone who wants to grow in Christ and learn from a different point of view.
Great book to help keep your mind where it needs to be. Thanks for always keeping it real.

Derived From Web

, Jul 31, 2021

The battle for the hearts and minds of Christ followers is real. I will recommend it to my friends.
Again!

Derived From Web

, Jul 26, 2021

I will be studying this book again. The book and study guide is the topic for our small group. Excellent!
Great book about spiritual warfare.

Derived From Web

, Jul 3, 2021

I like him. I knew this book would be great because I had heard of his teaching videos. It is. I can only say that I was familiar with a lot of what the book says. I use all of the scriptures to fight the enemy. It was full of things I had heard before. It is a great book, and it is good to be reminded. I think this book is for newer Christians or people who have never been taught about spiritual warfare, because he leads thePassion events for college age adults every year.
Life Changed

Derived From Web

, Jun 17, 2021

Almost every page has a highlight or underline after reading this book. Needed a book. I was able to experience freedom from allowing the enemy to sit at my table and try to drown out the voice of God with negative thoughts. The book will change your mind and heart.