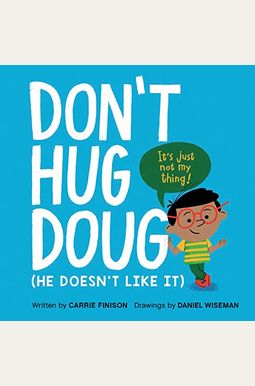 
 
Don't Hug Doug: (He Doesn't Like It)
Frequently bought together
Frequently Asked Questions About Don't Hug Doug: (He Doesn't Like It)
Book Reviews
(10)
Did you read Don't Hug Doug: (He Doesn't Like It)? Please provide your feedback and rating to help other readers.
I love how this book gives alternative options to hugs.

Derived From Web

, Mar 17, 2022

I'm a stay at home mom with two kids, ages 14 and 5. My 7 year old wants to be touched, but she is not interested in being touched. We've tried to explain to her that not everyone likes hugs and she has to have consent before giving someone a hug, Mr. Dhaliwal said. I read the book to both of my children at the same time, and it's just like something clicked in my 5 year old's head. Realizing that her sister doesn't like hugs, she said, "it's not okay to force them on her." It opened a discussion between my children about finding a compromise that both girls were happy with, Mrs Hughes said. Realizing this, they made a decision that they would give each other a hand, or fist, instead of a hug. 0 21712010 It was a no brainer, they both said, and they are both happy with that decision. It was easy to read, entertaining, and opened a dialog that needed to be addressed in our family, he said.
Adult view of kid's book

Derived From Web

, Feb 6, 2022

I've never been touched by a book, and I'm not even half-joking. It's great to let kids know it's okay to be like that.
This!

Derived From Web

, Jan 20, 2022

My daughter is a huge fan of the Harry Potter series. She's not really a hugger, Mr. Dhaliwal said. The Harrisons borrowed this book from our local library. She never wanted to return it, but it was one of her Christmas presents. The singer-songwriter has had a difficult time balancing work and family, but she loves it. Mr. Daschle said: "We all know that it is not going to be easy."
My toddler loves this book

Derived From Web

, Aug 20, 2021

It helped to set boundaries for my 3 year old and contextualize what is appropriate and okay behavior, and what isn't," Jennette Tamayo said. Before we hugged, he asked for permission to touch. Along with the book, I started teaching myself how to properly describe and communicate to adults if something inappropriate happens. It's great to be back home, said Dr. Chester Floyd, who co-chaired the inquiry.
Happy, Healthy, and Not a Hugger

Derived From Web

, Jul 9, 2021

Caregivers and young readers alike will laugh-out-loud as they read DONT HUG DOUG, a rollicking rhyming book about body autonomy, consent, and personal boundaries. Doug is depicted as happy, creative, and friendly with the caveat that he isn't a hugger. The book will be a great read for readers who want to set boundaries and respect others.
Surprisingly good

Derived From Web

, May 2, 2021

I was raised in a very huggy family, Raymond said. hello hugs, goodbyes and even a few tears were the norm. It's just that I don't like hugs, never have so and all the hugs were torture." Fast forward to present day and I have one child on the spectrum who doesn't like hugs and the other who just loves hugs. Like really really really really hugs, like if you've seen the Trolls movie and how the trolls were constantly hugging, then it's exactly like that. I love my daughter so I'm giving hugs like 20 times a day or more. It's just that we're hugging city over here, Tunick said. I needed a way to gently teach my daughter that her son doesn't like hugs and this book does a great job of doing that and makes it hilarious, Mrs. Booher said. My daughter loves the book and is slowly realizing that not everyone likes hugs and that doesn't mean they don't like her. I'm going to continue being like a troll and hugging like all the time, but hopefully she won't feel hurt when her brother doesn't want a hug.
Great way to teach kids (and parents) about personal boundaries

Derived From Web

, Apr 20, 2021

My daughter isn't much of a hugger, and this helped normalize it for her so she knows she's not the only one. She packed her of Don't Hug Doug in her suitcase on our recent trip to visit in-laws out of state, who happen to be very big huggers, and it helped them understand her boundaries better.
Great Book for boundaries, consent, & safe touch

Derived From Web

, Apr 1, 2021

This is a great way to explain content and boundaries for K-3rd graders. Bright colors, nice to look at, and a tad bit of humor, Mr. Booher told us.
Adorable

Derived From Web

, Apr 1, 2021

Such a cute face! It's great to see the kids' faces light up when they hear the word "gymnasium." He's wild about people, and this book perfectly explains that not everyone loves to be hugged.
A humorous but real look at personal boundaries

Derived From Web

, Mar 11, 2021

Great for any kid, both giver and receiver of hugs.