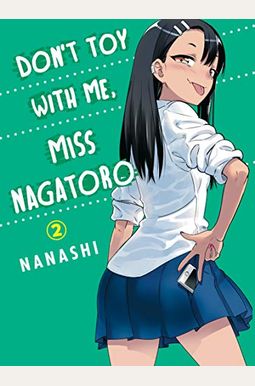  
Don't Toy with Me, Miss Nagatoro, Volume 2
Frequently bought together
Frequently Asked Questions About Don't Toy with Me, Miss Nagatoro, Volume 2
Book Reviews
(8)
Did you read Don't Toy with Me, Miss Nagatoro, Volume 2? Please provide your feedback and rating to help other readers.
As fun as Volume 1

Derived From Web

, Oct 5, 2021

Despite it's skinny length, the first volume manages to be a successful follow-up to the second volume. While it is not an astronomical improvement, nor does the story begin to pick up and commit to lingering arcs, but the fact that the quality is in no way diminished is a good sign. I hope the story soon picks up.
More or less the same as Vol.1 - Still loving it

Derived From Web

, Apr 12, 2021

It is more or less the same as Vol.1, more Teasing and Tormenting by Nagatoro. We see a slightly protective side of her when the other girls are involed, which was neat to see. Not completely sure if there is an overarching plot here yet, but if you enjoyed Vol.1 and are mostly the same in a different form + a few additional girls, go on and give it a read! I'll pick Vol 3 and keep it going.
Great in every way!

Derived From Web

, Oct 10, 2020

I really enjoy these characters and their relationships with one another ''. It's silly, it's fun and it's raunchy. It's just a good time to be. The art is also very nice. I highly recommend! ''
So nasty, that she's adorable.

Derived From Web

, Jun 21, 2020

It is becoming more and more clear that Nagatoro has feelings for Senpai. But it begs the question : why, exactly? What would attract a beautiful, energetic, popular girl like her to a mousey withdrawn, nervous, introvert like him? There you have it ya. We will see just how long we have to wait. Good art, good. Dialogue, good, but at times kind of harsh on her end. Characters, somewhat believable and in Nagatoro's side you just wanna say, I hate to hate you, as the song goes.
My boy is getting brave

Derived From Web

, May 19, 2020

Here we have nothing to say. If you liked the first volume of these skits, bam, here is another for you.
Better than the first volume.

Derived From Web

, Apr 10, 2020

You also see a much cuter side to her as she begins to show her more natural behaviors.
Is this even going anywhere???

Derived From Web

, Mar 8, 2020

Seems to be a new series, sadly I probably won 't bother reading onward or purchasing any repetitive volumes, because it is just a waste of time and money. I was not expecting some elaborate plot, but even the jokes and I guess if you want to call harassment romance well, even those parts are just dull now and after reading the same non - sense for two volumes it becomes predictable in a very cringe.
naga-chan keeps up her torture of senpai.

Derived From Web

, Feb 19, 2020

Volume 2 has more of the sweet miss Nagatoro continuing her delightful assault on her Senpai's sensibilities. This is a must have manga!