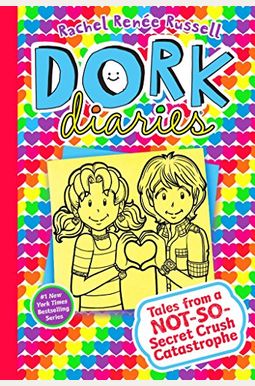 
 
Dork Diaries: Crush Catastrophe
Book Overview
Nikki Maxwell's adventures continue in the twelfth installment in the blockbuster #1 New York Times bestselling Dork Diaries series
In Nikki Maxwell's newest diary, it's the countdown to the end of the school year, and Nikki's juggling some big questions about how she'll spend her summer. She's also facing an unexpected crush catastrophe--there's a new kid interested in Nikki, but the last thing she wants to do is accidentally hurt Brandon It all comes down to a big decision Nikki has to make, and drama like she's never faced before
Frequently Asked Questions About Dork Diaries: Crush Catastrophe
Books like Dork Diaries: Crush Catastrophe
Book Reviews
(10)
Did you read Dork Diaries: Crush Catastrophe? Please provide your feedback and rating to help other readers.
Trash

Derived From Web

, Jan 12, 2020

I read it first and am horrified by the content. The writinggrammar is what you do not want your child learning and the content portrays a young girl with low self-esteem, and lack of respect for herself, her parents, her siblings, and her classmates, he said. The book is in the trash. This is exactly what I don't want for my daughter. What do you get when you're insecure, self-obsessed, and want to be another insecure, self-obsessed, jealous? He said: "Hateful human being." No stars, trash.
Not bad

Derived From Web

, Oct 22, 2019

It's just that the DVD is so good, I think people would have liked to have seen it. It's very good looking, Tunick said. The quality of the products is very good. The most important thing is that the price is reasonable, he said.
Adorable

Derived From Web

, Jun 4, 2019

I am a little past this book series target audience so take that into account, he said. I like to read these books just for fun, not to read them. But then again, I never had the same problems with her. I like how many references this has to other books so I like the consistency in the narrative, he said. Even though the cover is half-naked, the artist's work is always super cute. I can't help but wonder if I was that bad. Some of the stuff she wrote in her diary is clearly out of proportion but after all, she writes, "it's all there." I'm sure any kid would love to read this and I'm sure plenty of kids can relate, he said. I am actually interested in finding out what happens next, Mr. Dhaliwal said.
My granddaughter already has four of these books.

Derived From Web

, Jul 8, 2018

In fact, my granddaughter already has four of the five. It's great to be back home, said Gillian, "I have just started to download them on kindle for her so she can collect them all."
It's so full of drama

Derived From Web

, Apr 8, 2018

Every time I turned a page my mouth would open so wide it touched the floor I recommend this book to everyone with an inner dork inside.
Awsome

Derived From Web

, Nov 16, 2017

It's one of my all-time favorites serises. I can't wait to see the book. The book will be released in April. In a generous gesture of uncharacteristic compassion, Schwarzenegger said: "I can't wait. At walmart I went to the book section and saw the eleventh book of Dork Diaries and begged my mom to get it because the beginong hooked me in. If anything wrong was spelled it was my fault. Berkshire Hathaway made no secret of its interest in acquiring the rights to the "Harry Potter" series.
Has a bit of the young love to it

Derived From Web

, Nov 6, 2017

My 4th grade daughter absolutely LOVES the series. Has a bit of the young love to it, and deals with mean girls, but at that age, kids are getting more and more curious about these types of things. She has since read the entire book, reread it a billion times.
Spot on!

Derived From Web

, Oct 25, 2017

My daughter has already finished the book and I can't wait to read it! She loved it, the show's creator and executive producer said. I love hearing her laugh in her bedroom when she's reading a book. The customer service was excellent, and the product was highly recommended.
My daughter approves.

Derived From Web

, Oct 25, 2017

It was a great deal for both the book and my daughter.
Great book😝😝

Derived From Web

, Oct 19, 2017

I love this book it is solo good along with the others my sister just started reading dork diaries and she can't wait for the next book to come out.