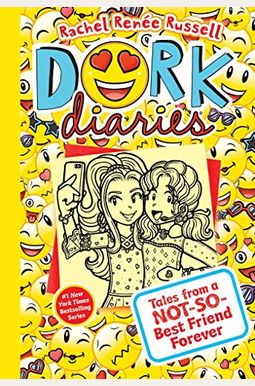 
 
Dork Diaries: Tales From A Not-So-Best Friend Forever
Frequently Asked Questions About Dork Diaries: Tales From A Not-So-Best Friend Forever
Books like Dork Diaries: Tales From A Not-So-Best Friend Forever
Book Reviews
(10)
Did you read Dork Diaries: Tales From A Not-So-Best Friend Forever? Please provide your feedback and rating to help other readers.
VERY GOOOOOOOOOD BOOK(*lol* = drowning chearleader)

Derived From Web

, May 13, 2021

This book is my favorite book. It's cool that this is a diary, but it's also interesting and has plot twists. I still like this book and I'm a boy. I'm leaving for more of these.
amazing

Derived From Web

, Dec 30, 2020

My 9 year old daughter loves reading all of the books in the series and she has learned a lot of new words.
A great book for girls at any age!

Derived From Web

, Dec 15, 2019

My daughter is 12 years old. She was a big fan of Dork Diaries. The book is always great.
12 year old girl APPROVED!

Derived From Web

, Nov 4, 2019

My 12 year old daughter already has the entire Dork Diaries collection so she was anxious to get the 14th book. We said we would but got in earlier than that. She read the entire book in a couple of days.
Does not promote healthy role models for our young girls

Derived From Web

, Oct 31, 2019

Please don't let your girls read this book. Before you give it to your children, read a few pages first. It's about promoting a superficial obsession with looks, technology, and fame. It's not about virtues or positive lessons. The reviews written here are written by girls, not parents, who read the book. Do more research for parent reviews. Positive role models that teach love, caring for others, and depth are what our young girls need. Do your research.
Granddaughter's favorite

Derived From Web

, Oct 28, 2019

I had to bring the book to my granddaughter the day after it arrived because she finished it that night. She loves graphic novels, especially Dork Diaries, Babysitter Club, and every one I have bought for her. I don't mind getting them for her if she is reading.
will not disappoint

Derived From Web

, Oct 24, 2019

During the book my daughter said that it was fun and she enjoyed it. She only had a smile on her face when she walked in. I'm looking for a word of a book.
Awesome! 👍🏻

Derived From Web

, Oct 24, 2019

I have been enjoying it! I have been taking a break, and now I have more reading material. You should make a book with Brandon's point of view in Dork Diaries. Many start a new series like that. The person is Charlotte Nell Kolpak.
Great book 👍

Derived From Web

, Oct 23, 2019

My daughter read this book in 2 hours and kept reading it. She said she hopes there is a book with 15 and 5 stars.
AWESOMEEE

Derived From Web

, Oct 22, 2019

I have been reading this series since I was six years old. Each and every book is full of laughter, sometimes you are scared of what will happen, but most importantly, it is delightful. nikki and brandon are close to her, but she is her classic self. This book has a lot of quizzes you can take, and I really like that about it. I recommend this series to everyone because it is on of the best. It's!