Buy 3 Get 1 Free
Our Best Sale Yet! Add 4 Books Priced Under $5 To Your Cart Learn more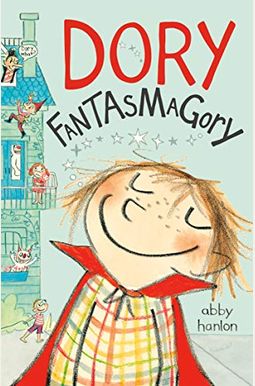 
 
Book Overview
Move over, Junie B. Jones and Ivy & Bean Here comes a lovably energetic little sister with a BIG personality--and an imagination to match
As the youngest in her family, Dory really wants attention, and more than anything she wants her brother and sister to play with her. But she's too much of a baby for them, so she's left to her own devices--including her wild imagination and untiring energy. Her siblings may roll their eyes at her childish games, but Dory has lots of things to do: outsmarting the monsters all over the house, escaping from prison (aka time-out), and exacting revenge on her sister's favorite doll. And when they really need her, daring Dory will prove her bravery, and finally get exactly what she has been looking for. With plenty of pictures bursting with charm and character, this hilarious book about an irresistible rascal is the new must-read for the chapter book set.
Frequently bought together
Frequently Asked Questions About Dory Fantasmagory
Books like Dory Fantasmagory
Book Reviews
(10)
Did you read Dory Fantasmagory? Please provide your feedback and rating to help other readers.
Finally. A perfect book to bridge fly guy to more wordier books.

Derived From Web

, Feb 8, 2022

I have a daughter who is struggling to read. We go to the library several times a week and hope that she will like one of the books. We haven't found a book that is in between fly guy and more wordy chapter books that are smaller in size. She would like to read a book that would bridge the two and boost her confidence. The book has been there for a while. She thinks that the fonts is small. There is a page with mostly text mixed in with pages with just a few sentences with illustration to a page that has one sentence with illustration which helps break it up. We were really happy to find this book.
DORY FANS!

Derived From Web

, Feb 8, 2022

We love him! We were in awe when we discovered Dory. We like reading a lot of books. The book was very special. We read the book many times. They have listened to the audiobook many times. We had borrowed the book from the library, so I decided to buy it. My daughter was interested in reading the first longer book. The story is wacky and cute and silly and it's so imaginative that it's hard to believe. I'm not sure why it hasn't won any awards yet. I can't wait for the 3 rd one. I would like to thank you for writing a wonderful story for my children.
Adorable story, perfect for my nine year old

Derived From Web

, Feb 8, 2022

The story is perfect for my nine year old. She has read the cover a number of times. The baby of the family has a huge imagination. She has an imaginary friend named Mary who leads her astray. The bad witch is named Mrs. Gobble Gracker. When Mr. Nuggy and Dory attempt to make a poison soup to deal with Mrs. Gobble Gracker is my favorite part of the movie. The illustrations are similar to a child's pencil drawing, and add to the charm. This is a quick and easy read because of the many drawings. My daughter has read a lot of excerpts and they are hilarious.
This book is a great beginner chapter book

Derived From Web

, Feb 8, 2022

This is a great book for beginners. It combines a great story with illustrations that have speech bubbles. A very active imagination is what drives her big siblings crazy. There is fighting and ignoring, but this is the way real kids act, and it provides a moment where we can stop and talk about feelings, and what would be better ways to act on them. This story captures the imagination of my 3 year old and we often read it together as a family. This book is very good.
This is a GREAT book that I read to my first grader

Derived From Web

, Feb 8, 2022

I read this book to my first graders. The annoying little sister who has an imaginary friend named Mary and has a big brother and big sister who are always trying to keep her from bothering them, is named Dory. The villain, Mrs. Gobblegracker, is always after Dory and leads to a lot of adventures. I immediately searched to see if there were any others that I could find and bought them for my daughter's kindergarten class to have in their collection of chapter books. I found a third one and ordered it from Amazon.
My daughter and I love this book!

Derived From Web

, Aug 16, 2021

My daughter and I like this book. As soon as we finished the first book, we bought the second. Can't wait to get the books. It's not a good idea to buy a book for kids to read. There is a chapter in which Dory is talking about poisoning a witch. She tries it but it doesn't work. It caught me off guard and that is the only thing I didn't like about the book. This is the reason for 4 stars.
This Book Was So Funny!

Derived From Web

, Jul 3, 2020

It is very funny that I read it. Her brother and sister dislike her very much. She has a lot of friends. After Dory's brother and sister tell her about Mrs. Gobble Gracker, is my favorite part of the movie. They made up Mrs. Gobble Gracker so that she wouldn't act babyish. That didn't work at all! She asks silly questions like Is she a vegetarian? Does she cast a vote? Does she like eating ice cream? Is she a fan of anything? Is she wearing a long black cape? Does she own a cell phone? Does she eat rabbits? The question about rubber chickens was my favorite. It's funny. I think you will like it. I' ve read it many times and some pages have been ripped.
so cute!

Derived From Web

, Jun 26, 2020

I'm a huge fan of dory. I like to pretend to be the characters. I will get your books in real life. Isn't that ridiculous? I'm going to keep the book in my bookshelf for the rest of my life. Thanks for making this book! !
Worst book I have ever read! Here's why.....!

Derived From Web

, Jun 25, 2020

Bad words. I made sure I didn't say the bad words in the book and used better terminology for my kids. You' re Nuts, Stupid, Shut Up!, and other words were just felt like leaving out! The brother and sister don't like her. Even though she's 6 years old, they call her a baby throughout the book. The parents are not in contact with her. They are not nice. There's no love at all. They don't play with or be with her. Dad grabs her by her foot. Her mother is angry with her when they interact. Her parents don't have a good relationship with their youngest daughter. Her own mom calls her ' Rascal' as well as her siblings and sis. What? It's weird, why would anyone want this kind of separation for other children. I enjoy writing positive reviews. This book is the best. There are other books in this TERRIBLE SERIES.
Dory, what a great imagination.....great little story👍

Derived From Web

, Oct 14, 2018

There are several books in this series, it is good to read this one first, she has a quiet imagination and when reading the pages you get all evolved with what may happen next. The others are also wonderful. I bought a lot of this book for my kids to read in the summer. The girls and boys loved it. The story kept the kids interested and they looked forward to a new chapter the next day.