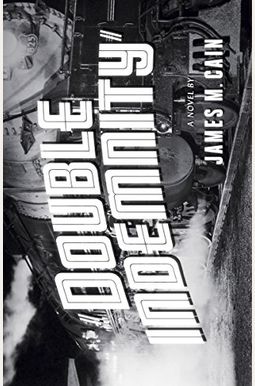 
 
Book Overview
James M. Cain, virtuoso of the roman noir, gives us a tautly narrated and excruciatingly suspenseful story in Double Indemnity, an X-ray view of guilt, of duplicity, and of the kind of obsessive, loveless love that devastates everything it touches.
Walter Huff was an insurance salesman with an unfailing instinct for clients who might be in trouble, and his instinct led him to Phyllis Nirdlinger. Phyllis wanted to buy an accident policy on her husband. Then she wanted her husband to have an accident. Walter wanted Phyllis. To get her, he would arrange the perfect murder and betray everything he had ever lived for.
Frequently Asked Questions About Double Indemnity
Books like Double Indemnity
Book Reviews
(16)
Did you read Double Indemnity? Please provide your feedback and rating to help other readers.
A NOIR CLASSIC AMONG NOIR CLASSICS

Derived From Web

, Jun 4, 2022

At a recent Texas appearance, a woman asked me about the titles I considered the most significant in American Noir - fiction. It tells the story of Walter Huff, an ordinary good man who goes spectacularly wrong. Walter wants to get rid of her husband and Phyllis Nirdlinger, an insurance agent, shows her how to maximize her gain. To succeed, they must fool Phyllis Nirdlinger's insurance company, Huff's husband and daughter, and the daughter's boyfiend. On the way, DOUBLE INDEMNITY becomes a chilling morality tale, not to mention Cain's masterpiece.
Love it!

Derived From Web

, Jun 4, 2022

I love most of James M. Cain's work, such as The Postman Always Rings Twice and Mildred Pierce. It's tough, real and was based on an actual incident. They have neither illusions about life. I read it for the fourth time in a few hours and read it again. It is to be enjoyed with a glass of something strong, but not too strong. The story is already this.
Brilliant 40s crime novel

Derived From Web

, Jun 4, 2022

Seduced by a beautiful sociopath and lured by the promise of wealth, insurance agent Walter Huff decides to use his insider knowledge of the insurance industry to plot the perfect crime with a big payoff. James M. Cain's minimalist style allows his plot to advance quickly in this short novel. His characters are effectively revealed and have great economy. Phyllis Nirdlinder, the femme fatale of the piece, is a chilling psychopath-a key difference from the similarly brilliant, though often radically divergent, Billy Wilder film adaptation. Some criticize the conclusion of the novel, but I found it haunting.
Although I'm not very fond with James M. Cain's works........

Derived From Web

, Jun 4, 2022

I thought that Double Indemnity was one of the best crime - thriller - novels I ever read. They decide to kill Nirdlinger's husband to collect his wealth. Double Indemnity is highy recommended if you're in the mood for murder and money with great characters, terrific tension and memorable pacing. Crime and punishment from the 1930s can be a very interesting thing to watch.
Brutal psychological tension.

Derived From Web

, Jun 4, 2022

The perfect crime planning. Falling in love with a psychopath is a great gift. Can a love affair based on the murder of someone's husband have happy results? The pressure, brought on him by his company and the cops, brings brutal tension to the story. A little too overplotted after a great first half, but finishes strong. Rainy reading for a Fascinating night.
HIDEOUSLY BEAUTIFUL

Derived From Web

, Jun 4, 2022

Walter Neff is a bored insurance salesman who fantisizes ways to cheat the company by committing the perfect murder without ever doing anything about it. Just because you know the movie, don 't think that you see the book. After nearly seventy years after the publication, still shocking! POSTMAN is great, but this is bigger!
Double Surpise!

Derived From Web

, Jun 4, 2022

This may be Cain's best book, but it is only my second best. The Cocktail Waitress was more intriguing and featured a better character development. As with most of Cain's stories, however, the best and most critical turns are saved until the last. After so many years, it is still a good read. May be a little early for some. 2014 : Ann Jones, 2014.
Historically Correct - Based on 1920's murder

Derived From Web

, Jun 4, 2022

In reality, James Cain wrote Double Indemnity about the murder case of Ruth Snyder and Judd Gray in 1920, who killed Snyder's wealthy husband. Ruth Snyder's trip to the electric chair was one of the most famous executions of the century, when a photographer attached a camera to his ankle and photographed Snyder in the chair as the current rushed through her body. It was then published on the front of the New York Daily News and became the most famous photo of the decade.
Poor formatting and all text underlined

Derived From Web

, Dec 17, 2021

Originally, I gave the Kindle edition a star due to its poor formatting, but Cain's novella is such a masterpiece that it would not be fair. All the text is indentation and there is no underline. Clearly, this book has been published by some non-technical person or business.
Great but... the movie is better

Derived From Web

, Jun 2, 2021

As great as this novel is, I'm sorry to say that I like the movie so much that I didn 't really like it as much. The original was not as good as I remembered.