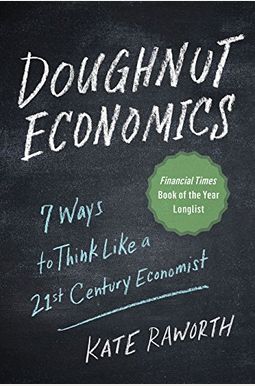 
 
Doughnut Economics: Seven Ways To Think Like A 21st-Century Economist
Book Overview
This Description may be from another edition of this product.
A Financial Times Best Book of 2017: Economics
800-CEO-Read Best Business Book of 2017: Current Events & Public Affairs
Economics is the mother tongue of public policy. It dominates our decision-making for the future, guides multi-billion-dollar investments, and shapes our responses to climate change, inequality, and other environmental and social challenges that define our times.
Pity then, or more like disaster, that its fundamental ideas are centuries out of date yet are still taught in college courses worldwide and still used to address critical issues in government and business alike.
That's why it is time, says renegade economist Kate Raworth, to revise our economic thinking for the 21st century. In Doughnut Economics, she sets out seven key ways to fundamentally reframe our understanding of what economics is and does. Along the way, she points out how we can break our addiction to growth; redesign money, finance, and business to be in service to people; and create economies that are regenerative and distributive by design.
Named after the now-iconic doughnut image that Raworth first drew to depict a sweet spot of human prosperity (an image that appealed to the Occupy Movement, the United Read More chevron_right
Frequently Asked Questions About Doughnut Economics: Seven Ways To Think Like A 21st-Century Economist
Book Reviews
(5)
Did you read Doughnut Economics: Seven Ways To Think Like A 21st-Century Economist? Please provide your feedback and rating to help other readers.
Great vision

Derived From Web

, Dec 30, 2020

I agree with the writer's vision of the economy. It will work in many countries except the US. Despite the constant public health education, we can't get 23 of the population to take simple responsibility such as wear mask and maintain safe distance despite the fact that the virus is lethal and highly contagious. In the United States, individualism, liberty and personal freedom are more important than civic responsibility. Our mode of operation must be self- disciplined in order to save our planet's near exhausted resources and our daily contributions to self- destruction. In the United States, tribalism dominates. Truth, logic, science, and morality must be damned! I don't see self- discipline being valued in this country.
Good argument, poorly written

Derived From Web

, Jul 21, 2020

Great ideas, poorly communicated. The author spends at least every other page over explaining simple concepts through analogy, and then explaining the analogy and giving the history of the analogy. I think she intended to try and keep the book attractive to non- economist, but I worry that oversimplified approach might only attract people who already agree that the old system of economics does more harm than good It is missing the technical nuances and academic style that are necessary to achieve the lofty goal. Very sad.
An important, necessary book

Derived From Web

, May 31, 2019

Kate cuts through to the heart of the numerous false assumptions that underlie the economic dogma of our age, and she does so in a way that is measured and thoughtful. This is a discussion we need to have about the economy. A framework that is both logical and necessary for humanity to survive the 21 st century is built by her answers and research. The structure of the future she envisions is both optimistic and revolutionary, even though she has no idea what it will take to get there. It is a call to action to destroy the citadels of economic dominance that exist and replace them with a system that will allow all of us to live within the boundaries of our planet. I believe that this will be considered one of the most important books of the 21 st century.
Interesting, but kind of utopic

Derived From Web

, Feb 12, 2019

I agree with the author that the pursuit of GDP growth from the global economy is a bad idea and that alternative thinking and metrics are needed. Social attempts to change this are not enough, and I don't see any political will to do so. It will take more than just a generation of doughnut economists and social enterprises to achieve such a substantial accomplishment, and thus this book seems a bit over optimistic.
A cogent argument about the need for fresh economic thought.

Derived From Web

, Mar 5, 2018

Economics was left with the impression that it was dull when I studied it at 'A' level. The course I was taking at the time was obsessed with the wonders of the free market and deregulation. Reading Ms Raworth's book has been very enjoyable. It brings economics to life as different ideas are discussed and the different purposes of economics are discussed. This gives a framework for the argument for a different way of thinking about economics and what economics should focus on to provide a means of support for everybody.