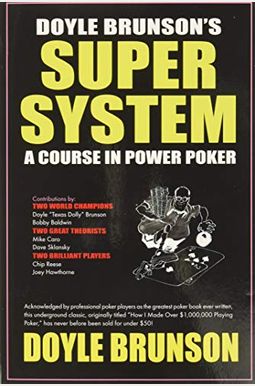 
 
Doyle Brunson's Super System
Frequently Asked Questions About Doyle Brunson's Super System
Books like Doyle Brunson's Super System
Book Reviews
(11)
Did you read Doyle Brunson's Super System? Please provide your feedback and rating to help other readers.
Well it looks like I must have a quick learner in the family.

Derived From Web

, May 31, 2022

I purchased the last book I bought, Texas Holdem For Dummies. I read that one, and the next thing that I knew was sitting next to Doyle in Las Vegas and he said : I should read his book. SO, I purchased it. This is pretty easy to read RIGHT. If you remember half of the stuff in this book, you will wipe your friends blind at your local home game. Even if the purchase is in the six figures, Yea only a few people know the odds and know how to play them. This book distinguishes the best from the rest. If you don't have that one GET IT, but read Texas Holdem first for Dummies! First, understand this book and it will help you to get a dummies book.
Still relevant!

Derived From Web

, May 31, 2022

SUPER SYSTEM is dated, but besides the tested strategy of the legendary poker player, there are many interesting anecdotes about his life as a poker player before it was a legitimate and celebrated profession. Though it is longer than it needs to be, it is a great starting point for new poker players looking to take their game to the next level. And his life from Lakers - Prospect to World Poker - Champion would make a great movie. What is the deal with Hollywood poker players? Why haven 't you made Doyle's story into a movie yet? Do it while Dolly is still alive in Texas!
A classic on poker theory

Derived From Web

, May 31, 2022

While many elements of Doyle's approach are considered fundamental, others remain outdated concepts of how to play the game, especially no-limit hold 'em. Even for the modern player, reading Brunson's thoughts on the game is important because even if it is not how you play personally, it is a style of play that every top player understands. Any one who wants to improve their understanding of the game and its history should read this book.
super system

Derived From Web

, May 31, 2022

The style that Doyle has written this book is good for poker players who have been playing for some time, but want to take their game to the next level. I am only half the way through, and I understand concepts about poker and what it is to be a poker player on which I don 't have a grasp before. This is going to be a great help in my game!
Brunson

Derived From Web

, May 31, 2022

Textured in the great classic and timeless text. I purchased this same book many years ago, but could not appreciate it and would not appreciate it. Now '', who has been playing regularly, find it very interesting and valuable.
Excellent

Derived From Web

, May 31, 2022

Doyle Brunson plays the role of Brunson. What needs to be said more? The book is long and excellent. I need only four words more.
Good stuff but dated

Derived From Web

, Mar 7, 2022

This is a book with great info throughout, but it goes back to a time when there were a number of different styles of poker that you don 't see anymore. Texas Hold 'em is dominant. It is well covered, but not like most of us want, as Texas Dolly tries to be more comprehensive. Would have been a bit disappointed if I had gone retail for this amount of information on Texas Hold 'em.
Terrible print quality!

Derived From Web

, Jul 11, 2021

I rarely write reviews, but this is my second order. Many pages are either faint or very blurry, as if they ran out of ink. First order, I thought it was just a bad copy, but the second order was just as bad.
The greatest book written on poker

Derived From Web

, Feb 5, 2021

Some of the ideas are out of date, it was written 4 decades ago! However, it will provide any poker player of any level with vital information to improve their game. I played Texas Holdem for 20 years and still refer to it. I recommend it highly ''.
Poker bible

Derived From Web

, Sep 27, 2019

This book teaches a personal style of poker - play which is not my aggressive style. The discussion about how to play different hands is, however, spot on. There are a few chapters on Hold 'em in the book, for people who play other forms of poker, there is even more information. Considering I have read only 2-3 chapters, I still consider this a good purchase for anyone who wants to improve their game.