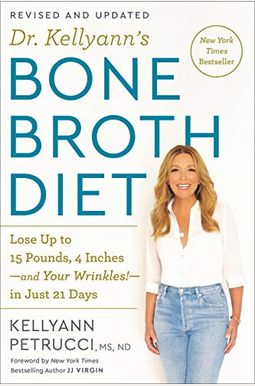  
Dr. Kellyann's Bone Broth Diet: Lose Up To 15 Pounds, 4 Inches-And Your Wrinkles!-In Just 21 Days, Revised And Updated
Frequently Asked Questions About Dr. Kellyann's Bone Broth Diet: Lose Up To 15 Pounds, 4 Inches-And Your Wrinkles!-In Just 21 Days, Revised And Updated
Book Reviews
(4)
Did you read Dr. Kellyann's Bone Broth Diet: Lose Up To 15 Pounds, 4 Inches-And Your Wrinkles!-In Just 21 Days, Revised And Updated? Please provide your feedback and rating to help other readers.
Decent advice

Derived From Web

, Mar 2, 2022

The book and diet method are straight forward. Some of the techniques can be helpful in your weight loss journey. If you have ever watched a video or heard KellyAnne speak, you will know how restrictive the plan is compared to how she makes it sound in her media. It's difficult to fully implement the plan.
Love this way of eating. It has given me back my life.

Derived From Web

, Feb 18, 2022

It's only 21 days and I told myself to try it. You can do anything for 21 days. I'm still following this program 78 days later and I love it. There are reasons. My legs and knees went numb within the first 21 days. I can get down and back up off the floor so I don't have to deal with the pain that comes with doing housework. There are 2. I am sleeping better. I have not slept well in decades. There are 3. I am feeling better all the time. I feel 30 years younger than I am. 4. I'm losing weight.
Last diet you will ever do

Derived From Web

, Feb 15, 2022

This is working. It's not that hard if you do what you're suppose to do. You can see results quickly and they last because you follow the guidelines 80% of the time. 20% is left for you to enjoy special occasions and treats, but then back to the more healthy options.
Easy to Read and Follow Diet Plan that worked

Derived From Web

, Jan 24, 2022

I'm on a 21-day diet. I lost 4 pounds in 4 days. I made sure that I was not doing the fast on difficult days where I would want to cheat or eat and get 'hangry'. So far, so good. This is the same thing you've read before. I like the idea of drinking from the soup. Frank's hot sauce is added to it for added flavor. I didn't start the fast day until after the 4th day. It's going well so far. I drink the water when I am hungry. It seems to be filling. The recipes are easy and similar to what I've done before. I would recommend that you try it and make sure that your family is behind you. When they eat, eat your food. You aren't hungry because you are smelling their food. They eat the same as me, but with different sides. It hasn't been too bad to get ready for the family.